Stretch Mesh Swatch Booklet Reviews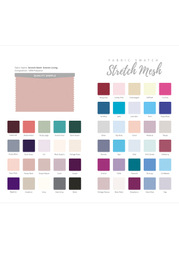 Stretch Mesh Swatch Booklet
Swatches
$10
product info

 
Grace Mosley
Reviewed On:
March 21, 2020
I've found that their colors run much darker than shown online, at least when I view them from my iPhone. Here is a more accurate photo in case you are in a rush and can't wait on swatches!
Was this review helpful to you?
taterchip07
Reviewed On:
February 19, 2021
Nice sized swatches and helped me pick out my colors!
Was this review helpful to you?
akischuk
Reviewed On:
December 18, 2020
The swatches are super helpful with getting a better idea of the colors. I was worried about trusting what the colors look like online. Now I can see what they really look like!
Was this review helpful to you?
cartermarie24
Reviewed On:
December 02, 2020
The presentation of this swatch kit is beautiful! Additionally, the colors online are much lighter than they are in the swatch, so it is helpful to be able to see and feel the fabric in person before choosing (for example, Dusty Rose in Person looks like Desert Rose online). The reason I only give this 3 stars is because the swatch kit does not provide you with examples of all their colors. I received the kit and was rather disappointed that none of the colors presented looked quite like what I wanted. I thought I was going to have to give up on Azazie or choose a color I didn't love. I looked through the only colors available and noticed a color I really liked (Desert Rose) was not on the swatch. So after ordering the swatch kit, I still had to order a specific swatch for that color. Not a big deal at all because their prices are good. It was just a bit disappointing I couldn't see all the colors in the kit I bought.
Was this review helpful to you?
emariehomesley
Reviewed On:
September 22, 2020
Very nice Swatch books! I've been trying to figure out what color dress to put my bridesmaids in. The colors look different on computer screens so If you plan on ordering your dresses online I recommend spending a little extra to get the swatch books. Now I can match my bridesmaids dresses and wedding colors perfectly without being concerned that things will clash. Just so you are aware, not every color that is on the Azazie website is in the swatch books but thats because they just added new colors.
Was this review helpful to you?
slemley1992
Reviewed On:
September 19, 2020
Book is perfect. Has every color and a bigger piece of fabric to get a good feel. Definitely purchase before buying dresses because colors look different online. better to see it in person.
Was this review helpful to you?
Crystall Robynne Ange-Flannery
Reviewed On:
August 08, 2020
So excited for my bridesmaids to pick their dresses based on these swatches!
Was this review helpful to you?
amymgerman
Reviewed On:
May 13, 2020
Swatches are small as many have mentioned but definitely worth ordering to get the accurate color. I would not rely on the computer screen as the colors are much different in person. Quick delivery.
Was this review helpful to you?
paige
Reviewed On:
April 15, 2020
If your unsure about colors getting the swatch book helped to see what the colors may look like in person. Why a 4 star? The swatches are TINY! So kind of hard to get a glimpse and its not all the colors. I'm guessing it's their most popular ones which is fine but one of the colors wasn't in there that I was looking at so it made my decision slightly harder.
Was this review helpful to you?
erica.cain
Reviewed On:
March 15, 2020
very helpful when choosing our colors!
Was this review helpful to you?
denawal
Reviewed On:
October 21, 2019
Definitely helped in making a color decision. Some colors were not quite as pictured on the website.
Was this review helpful to you?
Alyssa
Reviewed On:
October 15, 2019
I think for the price it should have full-sized swatches of ever color. It has one full size swatch and tiny squares of all the other colors. It has been helpful so far to compare colors. Jade looks completely different in real life than on my laptop screen. I'm choosing it over Peacock and Dark Green which I originally liked online. It's also been useful to have the book to compare the colors to the table clothes at reception venues and the primary color at the church. The book has definitely been helpful but I just wish the swatches were bigger.
Was this review helpful to you?
thecrafter44
Reviewed On:
June 16, 2019
The booklet is a great resource to have if you are always designing and creating with colors. I appreciate the opportunity to have all the colors available in a booklet, but only a few of the swatches are of the large size. Most of the booklet contains tiny samples only of the unique colors we can choose from. I prefer ordering each color separately, and then you will have a large swatch of that color. Another reason to get a large swatch of each color is that you will see slight variations in the fabrics. For example, taupe in chiffon is a touch lighter than the taupe in satin. The stretch mesh feels a little different than the stretch lining. Again, your booklet only provides the stretch mesh. So I think purchasing the individual color swatches is the better way to go. You can put together a booklet yourself and then you would have a large piece of each color in each fabric also, for reference now or in the future.
Was this review helpful to you?
mcdougle.margaret
Reviewed On:
April 24, 2019
If you order a swatch of a color that has the option of stretch mesh fabric, such as dusty sage, a sample of stretch mesh is included with that color swatch. Do not order this if you are already ordering a specific color swatch. However, this would be a great option if you do not have a specific color in mind and would like to look at a variety of colors and compare.
Was this review helpful to you?
Samantha Holland
Reviewed On:
March 29, 2019
I would highly recommend getting this before ordering your dresses to see and feel the material in person, also seeing the color in person helps!
Was this review helpful to you?
sofishmary
Reviewed On:
December 19, 2018
Great booklet to help visual the color and texture of the bridesmaid's dress!
Was this review helpful to you?
Sarah Ann
Reviewed On:
November 20, 2018
The booklet arrived quickly and according to the tracking information provided. First thoughts when I looked at the booklet, it's much larger than what I thought it'd be. The image on Azazie makes the book look smaller. For me, the booklet is extremely helpful as I have many favorite colors. It's nice to compare and then choose my official wedding color. Other people were NOT lying when they said the colors seem to be off. I have to say five colors look slightly different than they do online, so I'm glad I ordered the swatch book! Ultimately I'm picking Dusk as it is nice in stretch mesh. Overall it's handy to have this book to refer to when I'm gauging what colors I want to use from the stretch mesh material! Excited for my bridal party to order from Azazie based on this experience!
Was this review helpful to you?