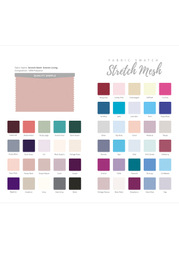 Stretch Mesh Swatch Booklet
Swatches
$10
product info
Refine Reviews By:
Sort By:
Ratings (Show High to Low)
Helpfulness (Show High to Low)
thecrafter44
Reviewed On:
June 16, 2019
The booklet is a great resource to have if you are always designing and creating with colors. I appreciate the opportunity to have all the colors available in a booklet, but only a few of the swatches are of the large size. Most of the booklet contains tiny samples only of the unique colors we can choose from. I prefer ordering each color separately, and then you will have a large swatch of that color. Another reason to get a large swatch of each color is that you will see slight variations in the fabrics. For example, taupe in chiffon is a touch lighter than the taupe in satin. The stretch mesh feels a little different than the stretch lining. Again, your booklet only provides the stretch mesh. So I think purchasing the individual color swatches is the better way to go. You can put together a booklet yourself and then you would have a large piece of each color in each fabric also, for reference now or in the future.
Was this review helpful to you?
mcdougle.margaret
Reviewed On:
April 24, 2019
If you order a swatch of a color that has the option of stretch mesh fabric, such as dusty sage, a sample of stretch mesh is included with that color swatch. Do not order this if you are already ordering a specific color swatch. However, this would be a great option if you do not have a specific color in mind and would like to look at a variety of colors and compare.
Was this review helpful to you?
Samantha Holland
Reviewed On:
March 29, 2019
I would highly recommend getting this before ordering your dresses to see and feel the material in person, also seeing the color in person helps!
Was this review helpful to you?
sofishmary
Reviewed On:
December 19, 2018
Great booklet to help visual the color and texture of the bridesmaid's dress!
Was this review helpful to you?
Sarah Ann
Reviewed On:
November 20, 2018
The booklet arrived quickly and according to the tracking information provided. First thoughts when I looked at the booklet, it's much larger than what I thought it'd be. The image on Azazie makes the book look smaller. For me, the booklet is extremely helpful as I have many favorite colors. It's nice to compare and then choose my official wedding color. Other people were NOT lying when they said the colors seem to be off. I have to say five colors look slightly different than they do online, so I'm glad I ordered the swatch book! Ultimately I'm picking Dusk as it is nice in stretch mesh. Overall it's handy to have this book to refer to when I'm gauging what colors I want to use from the stretch mesh material! Excited for my bridal party to order from Azazie based on this experience!
Was this review helpful to you?