Strapless Backless Plunge Bra Reviews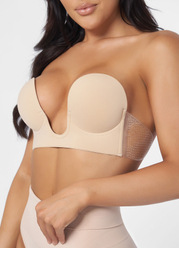 Strapless Backless Plunge Bra
Shapewear
$29
product info

Style Strapless Backless Plunge Bra by azazie is a bridesmaid dress in a comfortable . The fashionable dress features a neckline and back style. azazie's Strapless Backless Plunge Bra style comes in sizes A0-A30. 
Photo Reviews (1)
Newest Reviews
Ratings
Helpfulness
ilovekory06
Reviewed On:
July 01, 2021
Color:
Nude
i tried it for my bridesmaid dress appointment and it didn't fit/stay on for longer than like, a minute! it kept coming up on the sides! now, i'm not sure if it was just too small (i got a D) or it just totally sucked, but i definitely won't be getting another one! how do i get a refund?!
Ladybuglys515
Reviewed On:
October 06, 2021
Color:
Nude
This got the job done, but beware when peeling off. ? thought it would take everything off with it. It didn't want to stick on the sides though, but thankfully my dress kept it in place. I would just splurge in a nice low cut bra I could use anytime over this one time sticky bra.
maddienphotography
Reviewed On:
June 27, 2021
Color:
Nude
This bra fits horribly! The sticky adhesive to keep it on just falls off. Probably the worst stick on bra I've ever used.