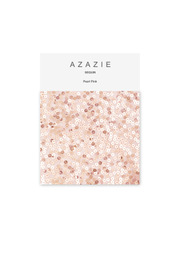 Sequin Swatches
Swatches & Fabric
$1
product info

Interested in adding some sparkle to your bridal party? Take a look at our new sequin swatches. Whether you plan on mixing and matching fabrics or going all out glamorous, you can't go wrong with our seven amazing color options. Order today, you won't be disappointed! Swatches ship via USPS First Class Mail*. All swatch sales are final. Ask a question
ncwilkum2929
Reviewed On:
2018-02-02 11:20:57
I'm honestly afraid to order a dress in the sequin fabric after looking at this swatch. Is this even a good showing of what the entire dress will look like? If so then this is a very bad showing. The beads are way too far a part and the lining is very very thin. It's a shame because I really wanted my bridesmaids to wear gold sequin, I will have to continue looking elsewhere. It's hard enough buying things online for me, so when I see such a bad swatch I'm automatically out.
kaitlen.flynn
Reviewed On:
2017-10-04 11:23:05
Color:
Burgundy
Short and sweet- this is a fiery red swatch. There's nothing burgundy about it.
79dansbury
Reviewed On:
2018-05-23 21:09:17
Color:
Pearl Pink
they give you a nice big sample piece!
MicheleMOB
Reviewed On:
2018-03-25 06:59:30
Color:
Burgundy
The swatches are definitely worth it because depending on the fabric to what the actual color is. My daughter wanted red for her bridesmaids but to get the red she wanted for the style they picked she ended up going with the "burgundy" one. After she made her decision I ordered both burgundy and the sequined burgundy. Then took the swatches that would make up the bridesmaid dresses and put it together so when I eventually look for my MOB dress, I am sure I won't clash. Plus we can be sure the decorations won't either.
webbleswedding18
Reviewed On:
2017-11-27 08:49:53
Color:
Pearl Pink
Sequins were really cheap and kept falling off of the swatch. Definitely would not order a dress in this material!