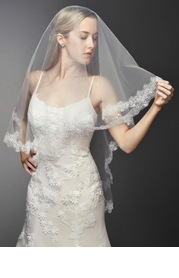 Sandrine Veil
Wedding Veils
FABRIC: Tulle and Lace
$19
product info

The attractive chapel bridesmaid dress by Azazie has a cut in a fabulous tulle and lace. Style Sandrine Veil features a neckline, and comes in a full size range (A0-A30). Ask a question
Refine Reviews By:
Sort By:
Ratings (Show High to Low)
Helpfulness (Show High to Low)
Amber
Reviewed On:
July 08, 2019
Received a sample of this veil with my dress sample and thought it was quite pretty. It's more of a rounded rectangle shape which I don't think is super clear in the photos and there are sequins stitched inside the flowers. Overall I liked it, but not for myself. It would, however, be very pretty for a spring bride.
Was this review helpful to you?
martina.kvitkovicova
Reviewed On:
May 08, 2020
It is a beautiful veil with nice details at the end, exactly like pictured.
Was this review helpful to you?
the.robinsons0923
Reviewed On:
October 24, 2019
As pretty as it is, I just really did not like it as a Vail. I really didn't like how it just gets thrown over my head and lays flat. Obviously you could add a crown or hat or something to jazz it up however it just wasn't for me. To be 100% honest I used it as the table cover on my cake table.
Was this review helpful to you?
ameandcai
Reviewed On:
October 07, 2019
I got this as a sample and I wasn't in love with it. I felt this would be best for a Communion or something over a wedding.
Was this review helpful to you?
cdk
Reviewed On:
September 04, 2019
This veil was horrid! I got it as a sample with my sample dresses, and while it looks decently pretty on the website, it looks (and feels) insanely cheap in person. The flowers on the edges do not look elegant at all, as the pictures online show. They look like a 3 year old drew them, and the sequin details make it look even tackier. Besides the design, the feel of the tulle is rigid/stiff and hard to work with. Not sure how the other veils that Azazie offers compare to this one, but veils I've looked at in person from other stores feel super buttery and soft. This was NOT that at all, felt just like a piece of the cheapest tulle from the craft store. I have nothing but good things to say about the dresses from Azazie, but after sampling this veil, I definitely won't be ordering my veil from here as well.
Was this review helpful to you?