Melanie Try-on Dress Reviews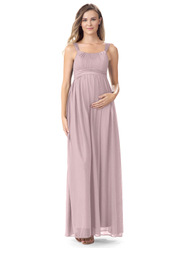 Melanie Try-on Dress
At-home Try On Dresses
$10
product info

Fun and flirty, this faddish Mesh bridesmaid dress is appropriate for any wedding from the beach to the church. Your bridal party will love this attractive Empire dress with a Scoop neckline. A pleated detail at the front and back of the flowing skirt makes it perfect for the reception or a city hall wedding. 
Katie
Reviewed On:
November 16, 2019
I tried a sample of this dress, although I'm not pregnant, because I thought the style might work if we try to get pregnant before the wedding I'm in. Overall, I liked it! Very comfortable, very simple. Would work for pregnant or not.
Was this review helpful to you?
Michaelatheys58
Reviewed On:
September 30, 2020
Color:
Dusty Blue
Size Ordered:
A12
Great dress
Was this review helpful to you?
a.schimmoeller14
Reviewed On:
June 01, 2020
I was really disappointed with this dress. It says it is stretch, however; it fit me in my second trimester but not in my third. It does not give and the zipper is really hard to get over the band.
Was this review helpful to you?
Abby Johnson
Reviewed On:
February 14, 2020
Color:
Vintage Mauve
body type:
Hourglass
This dress fit true to size. I always have trouble finding dresses that will be floor length even in heels and this gave me an extra 4-5 inches of fabric to work with. The fit was also flattering for someone who is or isn't pregnant. I'm still very early in my pregnancy, but I have a wedding I am attending right around 30 weeks and this would work well.
Was this review helpful to you?
besmith245
Reviewed On:
October 13, 2019
I wore this dress when I was 26 weeks pregnant. I went with my pre pregnancy size and the only alterations I needed was to hem the bottom. It was very comfortable and matched the other bridesmaids dresses perfectly. I was a little worried about that since the material is a "stretch" material and not a chiffon like the non maternity dresses. Also, there's plenty of room to grow in the belly area so I think I could have worn it later in the 3rd trimester, as well.
Was this review helpful to you?