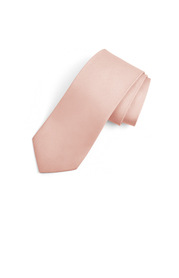 Gentlemen's Collection Wide Tie
Groomsmen Accessory
FABRIC: Twill
$16
product info

Azazie Gentlemen's Collection Wide Tie is a classic choice for your groom and groomsmen. The wide design is ideal for more formal affairs. Constructed in a lovely charmeuse and available in all our dress colors to perfectly match any suit, bridal attire, and wedding palette. Please note that all accessories may not be an exact color match to the corresponding dress due to color variations between fabrics. Approx. 60" x 3.2" wide at widest point. Ask a question
staub.arielle
Reviewed On:
2018-07-13 09:08:32
Color:
Stormy
This fabric is a perfect match for my bridesmaid dresses, which are made with chiffon fabric.
josemaggy
Reviewed On:
2018-06-28 15:49:39
Color:
Burgundy
Pretty good, color is same as dress - what I expected
angelsnell2010
Reviewed On:
2018-06-20 03:35:09
Color:
Royal Blue
Great quality and matches my dress perfectly!! Great price too!!
Taylor Ambroselli
Reviewed On:
2018-06-07 21:16:26
Color:
Dark Navy
I am sooo very happy with my purchase and experience with Azazie. My husband needed a tie to match my dress for a wedding that we have coming up soon and so the Azazie team was very considerate/responsive and they told me that they would rush on this order and get it to us ASAP. We received it in plenty of time before the wedding and we are so extremely happy and thankful with this experience!! Thank you Azazie!!
kgrunwald
Reviewed On:
2018-05-31 08:00:29
Color:
Mist
Very happy that Azazie came out with more colors to match the bridesmaid dresses. It is very hard to find ties that match the "Mist" color, so these are perfect! Better quality than expected. We will see how they look in a couple of weeks!