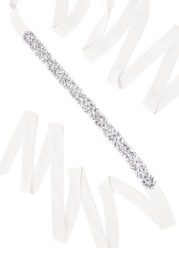 Chiffon Sash with Starlight Beading
Sash
FABRIC: Chiffon
$40
product info
marielvasquez_13
Reviewed On:
2018-05-17 09:33:02
Color:
Red
This sash is very beautiful. I wore it with a custom made dress "Iman" and I looked stunning. It looks very classy.
alehmann3
Reviewed On:
2017-11-08 19:19:59
So cute! Added just enough sparkle to the Francesca dress!
leah.demetri
Reviewed On:
2017-10-17 17:14:30
Color:
Dusty Blue
Added the perfect amount of sparkle to the Felicity dress!
nobbsn
Reviewed On:
2017-03-13 09:33:56
Color:
Peach
Belt looks absolutely fabulous with my Azazie Kate peach bridesmaid dress! I am super excited for my bridesmaids to sparkle some right alongside me!!! Highly recommend!