Pannier Reviews 7 reviews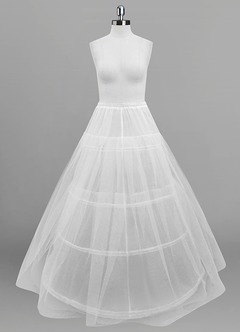 Pannier
Color: White
Body Type: Hourglass
You guys, can I just tell you how beautiful this dress made me feel... AND LOOK?!?!? I have to be honest, I was so scared to order my wedding dress online. I had this voice in the back of my head saying "it's too good to be true." As soon as my dress was delivered, I opened the package and it took my breath away. Then, I put the dress on. O.M.G. Ladies... I ugly cried. Isn't that the tell tale that you should "say yes to the dress?!" It fit SO well and I didn't even send in my exact measurements. **This is what I suggest doing. Go to a bridal store, try a dresses on that are near your size. The dress you like the most (style, fit, size, etc) is the one you need to go home and research. Make sure you find out the designer so you can go their website and find the exact measurements for their size guide. This way, you can cross / compare their size to Azazie's size guide and order a more true fit. The ONLY thing I had to alter on my dress was the hook at the top of the zipper in the back. The shoulders fit a little loose and the easiest way to fix it was moving the hook in further. I had numerous seamstresses look at the dress but they were afraid to touch it because they didn't want to cut into the details on the sleeves. This is how we came to the resolve of moving the hook in. It was cheap, easy, and quick to fix!** My bridesmaids and my mom also ordered their dresses from Azazie. We chose the color "Stormy" for the wedding party and have received SO MANY compliments on how beautiful and complimentary this particular color is. I will tell you that the we chose floor length dresses (each bridesmaid chose the dress she wanted, just had to be floor length and the stormy color) and they came very long. This is nice, especially if you have tall bridesmaids as I did, but be forewarned that those dresses will likely need to be altered. All in all, the ladies in my party loved their dresses and had a good and easy experience purchasing from Azazie's website (even my mom). I will also say that I was blown away by the wide variety of bridesmaids dresses offered on the website. Truly, something for everyone! Every bride deserves to feel beautiful on her wedding day, no matter their budget, shape/size, or style. With all sincerity, Azazie made that possible for me! I truly feel like Azazie hits every marker on the head and highly recommend them to anyone and EVERYONE! *Wide selection of styles and sizes. *Great quality. *Fits well. *Competitively priced. THANK YOU AZAZIE!!!!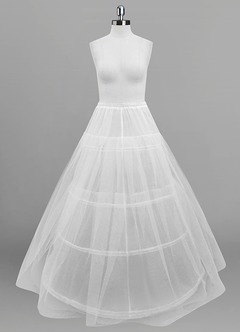 Pannier
Color: White
Body Type: Straight
The pannier is BIG, but you can make it smaller! I was unsure about it at first. The first picture is with the top loop in which I thought looked a little funny, then we took the loop out and it looks great! I am still unsure if I am going to use it or not, but I was happy when I found out it could shrink and that the top loop was able to be taken out.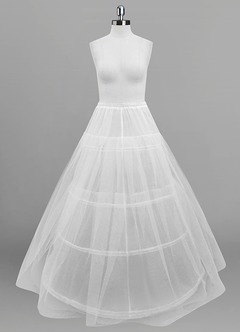 Pannier
This was not flattering with the dress I loved. It was a great addition to be able to play with.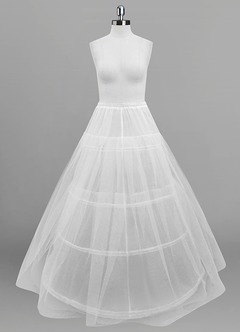 Pannier
Color: White
Body Type: Hourglass

This was a funny thing to put on, and I'm not sure I did it right the first time. The waist had to be cinched down a lot to stay on me, so the "hips" stuck straight out from my waist. Thankfully, my seamstress discovered that the metal hoops are removable. I think wearing the crinoline by itself will be just the thing with my Angelique BG.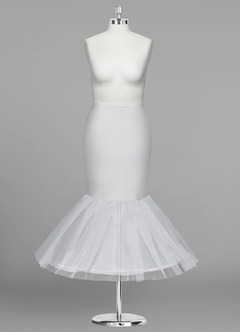 Azazie Mermaid Pannier
Color: Ivory
Body Type: Straight

It helps a LOT if your dress is getting caught in your heels.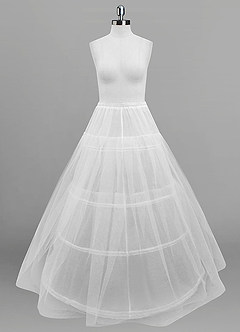 Azazie Pannier
The pannier was the perfect addition to my Ethel gown. It really made it the beautiful, full gown I saw in the pictures. The only thing about this is that came extremely wrinkled (not a big deal, it's easy to steam things). The biggest thing, however, were the adjustment rings. It is extremely hard to adjust the rings (I even cut myself at one point). When I received it it was pulled to its broadest point so it was waaayyy too big. Adjusting it alone took over 30 min. Either way, I was happy with it and the comfort level by the time it was adjusted :).