Blush Mark Romantic Adventure Dusty Sage Embroidery Tulle Maxi Dress Reviews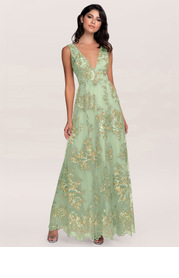 Blush Mark Romantic Adventure Dusty Sage Embroidery Tulle Maxi Dress
Dresses
$79
product info

Fun and flirty, this fabulous Tulle bridesmaid dress is appropriate for any wedding from the beach to the church. Your bridal party will love this attractive Maxi dress with a V-Neck neckline. Whether you dress it up with statement jewelry or down with flats and a cardigan, it epitomizes timeless beauty. 
Photo Reviews (5)
Newest Reviews
Ratings
Helpfulness
Ccassidy23
Reviewed On:
September 27, 2021
Color:
Dusty Rose
body type:
Straight
Size Ordered:
5179
The dress is absolutely stunning. I was the matron of honor and wanted to stand out. I received so many compliments on the floral design! The only flaw was the length. It's extremely long! I was able to avoid hemming it because I had 5in platform heels. Otherwise, the seamstress would have needed to cut it at the waist due to the scalloped bottom, making the alterations more expensive than the dress.
jkbk
Reviewed On:
April 29, 2021
Color:
Dusty Rose
Love this dress!!!! I bought this dress for my sister's upcoming wedding. The embroidered mesh top layer of the dress is outstanding and the scalloped hem edge is stunning. The quality of the fabric and style surpasses the price. The dress is very long. I bought a L, but pretty certain I could have bought a M, but want a little more fabric for alterations. I did have to have the dress hemmed at the waist and the deep bust-line reduced for my taste. All things considered, even with alterations and purchase price, I did not break the bank and I am super happy to have a beautiful, comfortable, flattering dress to wear to my sister's wedding. Bonus-my sister loves it too!
shannonvee84
Reviewed On:
March 19, 2021
Color:
Dusty Rose
I love the dress. It's beautiful and the embroidery is so pretty. I am about 145 lbs and 5'4" and I ordered the large. It fit perfectly around the bust area and shoulders but it is at least 6 inches too long for me. I would have to be around 6 feet tall or just under for this dress to fit properly. So now I have to pay an extra $150 or possibly a bit more to have a seamstress take it out at the chest seam (because the hem is scalloped and full of embroidery so you can't just cut it there) and move the zipper down and then remove the excess fabric from both layers and then put it all back together. Yes I love the dress and the colour but I probably would not have bought it if I knew how long it would actually be on me. Who is that tall?!
MMC
Reviewed On:
February 23, 2021
Color:
Dusty Rose
This dress is amazing! I actually sized down from a medium to a small (However I am in between sizes so I wasn't sure which to go with because my hips are wider but the dress flows so the hip size doesn't really matter). The top is larger and I am not blessed up top so sizing down to a small worked well! The dress is long so you will need to wear high heels unless you are taller!
Thu
Reviewed On:
December 19, 2019
This is one of the few dusty rose/neutral blush color that looks good on my light skin! The embroidery on the tulle is so elegant, just be aware there could be some fraying of the thread if the fabric is caught on anything. I normally wear size 12/14 in retail stores, and the 0X was a perfect fit, except it was VERY LONG on my 5'3" body. It is a very deep v neck, but I found if I wear a cute bralette or bandeau, it provides a little more modest coverage if desired. It's a very light and twirly dress; would look great on the dance floor!
amelldubbaneh
Reviewed On:
October 18, 2021
Color:
Dusty Rose
Size Ordered:
L
Love! Wish this fit. Was too long and a bit too big on the shoulders. Would've cost me more to have it altered
talarmo
Reviewed On:
October 09, 2021
Color:
Cabernet
Size Ordered:
XL/0X
I LOVED the dress, unfortunately it was a bit to small around the band. The length of the dress (61") is a bit to long. I'm 5'3" and even with 3" heels, it would still need to be altered/tailored. I returned to and ordered one size larger. And the deep V may be a concern if you are large breasted. I would highly suggest putting in some type of support. We'll see how round 2 goes.
Bj_trigger2
Reviewed On:
September 09, 2021
Color:
Dusty Rose
body type:
Hourglass
Size Ordered:
XS
I love, love, love my dress, the only thing I will need changed is the length of my dress as it came in a 58inch and I am only a 56inch, but other than that the dress fits me perfectly and is all around stunner! It also did not take to long to get the dress after ordering. I can not wait to wear it to my brother's wedding next month. Thank you
bdt_625
Reviewed On:
June 06, 2021
Color:
Dusty Rose
Overall a beautiful dress. I ordered per my measurements and the waist and bust are about 2-3 inches larger than the size chart. Returning it for a smaller size, but having to pay for extra shipping to order a replacement size.
Courtney
Reviewed On:
May 22, 2021
Color:
Dusty Rose
The dress is gorgeous I'm just unfortunately between sizes. The S is a bit loose around the waist/under the bust but otherwise fits great but the XS was too tight and could barely hold my boobs in. The length is perfect and I hope with the right heels I can get away without getting it shortened.
reneeobert
Reviewed On:
May 06, 2021
Color:
Dusty Rose
Really pretty dress but I am petite and there was way too much material from the waist down. It made my hips look enormous.
Jay
Reviewed On:
April 27, 2021
Color:
Dusty Rose
Over two weeks after ordering this "ready to ship" dress, my order was still stuck in "preparing your shipment.". I was refunded the shipping costs, which I appreciated, but it arrived one week later than the estimated delivery date. As others have said, the dress is VERY long. The top is loose on my small figure. Altering this dress is complicated due to the fabric and it won't be ready in time for the event I bought it for, but I'll hang on to it for future use.
Mimisouvanh
Reviewed On:
March 04, 2021
Color:
Dusty Rose
Size Ordered:
M
Beautiful, great quality, the front was too revealing for me so I had to return it ;(
hanbonana
Reviewed On:
February 24, 2021
Color:
Dusty Rose
Way bigger and longer than what I imagined Returned immediately
andrealane350
Reviewed On:
January 22, 2021
Color:
Dusty Rose
I'm 5'4, 120 lbs, 36b. I ordered a size small, but the dress was too big on me in every way. I imagine a taller, fuller figure would fill the dress much more nicely. However, the waistline did show a little more pudge than hide it. While the photo makes the gold detailing seem to be "screened" onto the fabric, it's actually embroidery done in thick white, pink, and gold thread. The hem of the dress is also extremely unique, making it difficult to alter.
Shirley
Reviewed On:
October 27, 2020
Color:
Dusty Rose
body type:
Hourglass
Size Ordered:
M
This dress is stunningly beautiful. It is for one of my bridesmaids. She loves it and is very excited to wear it. We are beyond happy! The dress is so beautiful!
redefine.coach
Reviewed On:
October 04, 2020
Color:
Dusty Rose
body type:
Hourglass
Size Ordered:
M
The dress was beautiful but fit large. My friend bought it from me and is going to wear it to my wedding next year. :)
3cherylscott
Reviewed On:
September 21, 2020
Color:
Dusty Rose
I was disappointed with this dress. More purple than pink. It was extremely small in the busy. Very long too.
constructionprincess32
Reviewed On:
August 22, 2020
Color:
Dusty Rose
The fabric of this dress is GORGEOUS! The embroidery is stunning in person & the colors are very flattering even for my pale skin tone. I was a little concerned about how deep the V neck was, but planned ahead & ordered an extra yard of the mesh fabric to make it a little more modest. However, the style Is definitely cut for a taller hourglass shape - my measurements were all with the size L range, but the bust was overly large (beyond what can be reasonably modified). The length is also beyond alteration - there was still several inches on the floor with 3" heels (I'm at 5'-5" without shoes). The scalloped lace edge detail would require alteration at the waist to shorten the skirt, so between those two issues I would basically have to reconstruct the dress. Unfortunately, it has to go back.
Sbarrin
Reviewed On:
August 09, 2020
Color:
Dusty Rose
body type:
Pear
This dress is gorgeous! Fit was perfect! I was concerned what the quality would be for such a great price, and I'm completely satisfied. Highly recommend.