Blush Mark Magical Day Dusty Sage Chiffon Maxi Dress Reviews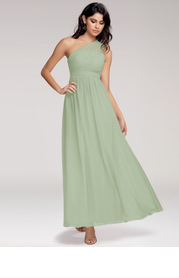 Blush Mark Magical Day Dusty Sage Chiffon Maxi Dress
Dresses
$49
product info

Fun and flirty, this beautiful Chiffon bridesmaid dress is appropriate for any wedding from the beach to the church. Your bridal party will love this graceful Maxi dress with an One-Shoulder neckline.  
Photo Reviews (5)
Newest Reviews
Ratings
Helpfulness
rwagg113
Reviewed On:
July 08, 2021
Color:
Dark Navy
I ordered this dress and another one shouldered dress and this one is the winner. It's comfy enough and fits close to perfect. The tule-ish bit at the top is a little scratchy in some spots. The length I received is wayyyyy to long and will need to have it hemmed on top of the purchase. After my girlfriends wedding I plan on hemming it again for a shorter style to possibly be able to wear more than once. Overall it's a lovely comfy bridesmaid dress. Oh and I'm about 5'6" and 180lbs and got a size XL
Amanda Morales
Reviewed On:
January 29, 2021
Color:
Dusty Rose
body type:
Hourglass
Size Ordered:
5179
Love it!! Excellent. This are for my bridesmaids
Chelseaboshart
Reviewed On:
January 28, 2021
Color:
Dark Navy
Wonderful dress. I ordered this party dress to compare with the "Charlotte" bridesmaid dress, as I am going to be in a wedding. It was such a perfect dress, the shoulder was fabulous, and I loved the way it cinched at the waist but had some stretch so I didn't feel squeezed. Ultimately I wound up returning it because my mom swore that the other dress was more flattering- but had my mom not been there- I would've kept this dress and never ordered the "Charlotte." I felt so cute, flirty AND comfortable. For size reference, I ordered the XL- I'm about 175lbs- size 14ish- 5'3 and if I kept it- I would've definitely had to have the bottom hemmed at least a solid 6 to 8 inches shorter depending on the heel. More for flats.
Clementine
Reviewed On:
January 12, 2020
I love this dress so much! I got it in Mulberry red, which was discontinued I think. I got 2X, not knowing if it would fit, but it is just perfect! I love the shape of this dress, and the fabric is very nice too. I feel like a Greek goddess.
Kelly Gray
Reviewed On:
December 29, 2019
Color:
Dusty Rose
I was so excited when my matron of honor dress came. When the time came to try it on everything fit perfectly except right under my boobs/rib cage.
Thebryants4ever
Reviewed On:
May 20, 2021
Color:
Dusty Rose
Beautiful dress and color! It was darker than what I anticipated, however, it's still very much what we need. The dress is for my sister in law to wear at my wedding, but we had to return it, only bc she should have ordered a bigger size. It flows beautifully and is surprisingly, EXTREMELY lightweight which means she will be comfortable on the dance floor! Can't wait for the correct size to come!
coffee4jamie
Reviewed On:
April 08, 2021
Color:
Dusty Rose
Size Ordered:
XL/0X
Too small needed to return it.
Moe
Reviewed On:
February 01, 2021
Color:
Dusty Rose
body type:
straight
Size Ordered:
S
Love the dusty rose color! It fits perfectly! Great customer service too!
Ty
Reviewed On:
September 15, 2020
Color:
Dusty Rose
Dress was pretty but definitely ran small on my small body type which is probably not good. A little too tight and the waist band is a little higher up than what's shown on the picture
Morgan
Reviewed On:
August 27, 2020
Color:
Cabernet
The dress was fine, with the exception of the bust which was WAY too small, especially for a size large. The dress was nowhere near zipping around the bust. I don't think sizing even two times up would be of any help since the bust area is SO small and the rest of the dress fit like a typical size large. I am usually a M-L and wear a D cup, which is considered a more large cup size, but nothing so out of the ordinary that would make the dress so ill-fitting up top. Wouldn't recommend for ladies above a B cup, but the dress itself was pretty and the material was nice.
Chanel Dunlap
Reviewed On:
July 24, 2020
Color:
Dusty Rose
Really cute and nice dresses however it was right around bust. My size in bust is 44 DD's but it was tight. Couldn't zip the dress up
Robyn.wheat
Reviewed On:
July 14, 2020
Super cute dress but size WAY up. I even measured but it was still too small. If you are "busty", I'm 34D. I ordered a medium but had to return and reorder the large.
Kathryn Ranieri
Reviewed On:
April 14, 2020
Color:
Cabernet
body type:
Pear
This dress is beautiful! It will need to be hemmed for me, it's way too long. Besides that it fits great! I can't wait to wear it!
canichols95
Reviewed On:
March 22, 2020
Color:
Dark Navy
The dress its self is very pretty. However, the bust was smaller than anticipated and the hem was atrocious. The bottom of the dress looked to just be hacked off with no care.
tess.pepitone
Reviewed On:
January 18, 2020
body type:
Hourglass
Size Ordered:
2X
Dress and color are beautiful. The area for the bust is on the smaller size lengthwise but I think the waist was true for size. Even went up a size, there just wasn't enough room. Wish it would have worked!
Yuki
Reviewed On:
December 23, 2019
Love the style, its very comfortable and it flows. Really like the dress, only complaint is that it runs small.