Blush Mark Earnest Of Style Burgundy Jersey Maxi Dress Reviews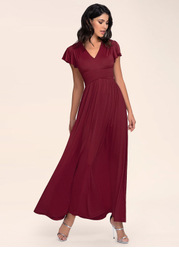 Blush Mark Earnest Of Style Burgundy Jersey Maxi Dress
Dresses
$43
product info

The chic Maxi bridesmaid dress by azazie has a cut in a comfortable Jersey. Style Blush Mark Earnest Of Style Burgundy Jersey Maxi Dress features a V-Neck neckline, and comes in a full size range (A0-A30).  
Photo Reviews (2)
Newest Reviews
Ratings
Helpfulness
lcvoth23
Reviewed On:
October 06, 2020
Color:
Burgundy
body type:
Hourglass
Size Ordered:
L
I really liked this dress! It definitely runs small, I'm usually a medium in dresses but I got a large and it's still very fitted. The fabric is stretchy though, which is nice, and very high quality (it feels quite heavy, but not too thick for summer). The length is great too, I'm 6' 0" and it's still maxi length on me. The cross panel fabric in the front is sewn in place, but there is a sash long enough to tie in the front or the back.
scrawfo3bcc
Reviewed On:
August 26, 2020
Color:
Burgundy
Beautiful!!! I was hesitant about ordering a dress on line but this dress is perfect! With the dresses empire waist and length it is very flattering for a plus size woman.
Barbara Persinger True
Reviewed On:
September 15, 2020
Color:
Burgundy
Size Ordered:
2X
The burgundy was more of a red color than burgundy color. Comparison of The picture online and the dress I ordered. Very comfortable
Cleo
Reviewed On:
June 11, 2020
Color:
Burgundy
I love this dress and it's definitely worth the money! It fits well, is extremely comfortable, and is really nice quality.
Mallory Friebis
Reviewed On:
May 24, 2020
Color:
Burgundy
Very comfy and fits well. However the color is a bit lighter than the picture and I will probably not be able to use it as a bridesmaid dress bc it will not match the wedding colors properly.
Hayley
Reviewed On:
January 28, 2020
body type:
Hourglass
Size Ordered:
2X
This dress was very soft and comfy. The material was heavier than I expected and I was surprised by how sturdy it felt. It's long on me and I'm 5'4. I would need to wear some heels or have it quickly hemmed for flats. I think it's a good party dress, but I could also see myself wearing it on a nice day trip and dinner.
Princess
Reviewed On:
December 23, 2019
body type:
Hourglass
Size Ordered:
0X
The fabric is very good and the style looks very beautiful, but the bust area wasn't that stretchy so it didn't fit how I wanted it to.
Samantha
Reviewed On:
December 23, 2019
body type:
Hourglass
Size Ordered:
S
I really liked the way this dress felt on, and it was very flattering through the waist. The color is more of a red/rust and not what I would call Burgundy. The seam down the front of the skirt has a bit of an awkward placement, but wouldn't deter me from wearing. The main thing I was not fond of was the way the shoulders fit. The pleating on the top of the shoulders felt bulky and made me feel broad, which I wasn't a fan of, but I did get quite a few compliments while I was wearing this one. Love the flutter sleeves and the fabric though!
Sharon
Reviewed On:
December 23, 2019
body type:
Pear
Size Ordered:
S
The dress fit well. The material of the dress is really comfortable and fresh. It is a bit tighter on the top, so maybe someone with a larger top might want to size up. The dress length fit me really well and I am 5'0 feet tall.