Blush Mark Dreaming Of You Purple Velvet Maxi Dress Reviews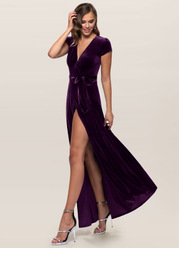 Blush Mark Dreaming Of You Purple Velvet Maxi Dress
Dresses
$46
product info

The lovely Maxi bridesmaid dress by azazie has a cut in an elegant Velvet. Style Blush Mark Dreaming Of You Purple Velvet Maxi Dress features a Surplice neckline, and comes in a full size range (A0-A30). Whether you dress it up with statement jewelry or down with flats and a cardigan, it epitomizes timeless beauty. 
Photo Reviews (2)
Newest Reviews
Ratings
Helpfulness
Dragonfly Bride
Reviewed On:
October 04, 2020
Color:
Navy Blue
Positive: - Great design - Great color - Easy to get in and out - Got many compliments Negative: - V Neck ends is too deep - Sewing ends are not that tidy - Too wide - Had to spend more in alteration (hem, waist and arm holes taken in.
phippsalisa
Reviewed On:
March 16, 2020
My dress arrived today! It took less than a week to get it . I have to say , it is so beautiful and fits just right. My measurements are not the standard so I was nervous about proper fit ( bust 47, waist 47 1/2, hips 53). I am 5' 10". I ordered a 3x and it is a good fit for me. I love the weight of the velvet fabric . I think it will be wonderful for my sons fall wedding. It really isn't as revealing as the photo suggests. I may have a simple alteration to close up the plunging neckline a bit. The only thing I would say is a little surprising is the color seems more towards a frosty navy blue.i was looking hard for a pretty velvet gown for the wedding , I am so-pleased with my purchase!
maddi
Reviewed On:
July 23, 2021
Color:
Cabernet
body type:
Straight
Size Ordered:
5181
krh0412
Reviewed On:
March 09, 2021
Color:
Navy Blue
Low in the V, but a safety pin and dress tape did the trick! Prefect for a winter wedding. The velvet would be too heavy and warm for a warmer wedding day. Fit well and hid extra weight.
emilyschneider025
Reviewed On:
February 22, 2021
Color:
Dark Green
I bought this as a bridesmaid dress for my best friend and it is absolutely perfect. It is extremely soft and fits her perfectly. The slit is not super showy, however, the neckline is extremely plunging. We are going to put a stitch in so it is not too much. Overall I am extremely satisfied with this dress!
tordon14
Reviewed On:
January 31, 2021
Color:
Cabernet
i bought one for my bridesmaids to try on before buying and we are absolutely in love! the quality was better than we expected and we're are all obsessed with the look of it!
j83
Reviewed On:
January 30, 2021
Color:
Dark Green
Nice I size up. So it was to big size down on this one
kat.f.hastings
Reviewed On:
January 18, 2021
Color:
Cabernet
I really love the fit of this dress. It fit me like a glove!
kelsjohnson1
Reviewed On:
January 01, 2021
Color:
Dark Green
Love this! I'm 5'11" and this dress fit me really well! would definitely recommend!!
hicksan18
Reviewed On:
December 24, 2020
Color:
Dark Green
A must-have in every collection. Well made and true to size. I have a pear shape, but somehow it has enough material and falls in just the right places. A Christmas favorite
Danielle.deep.15
Reviewed On:
December 20, 2020
Color:
Navy Blue
This dress is beautifully made and very comfortable. The slit in the front is not as risky as the image, you have to actually pull the wrap open and walk for it to look like that so you do stay covered nicely. The velvet feels amazing and soft and makes the dress very comfortable to wear. The deep v neck does go down just above my sternum but covers the breast area nicely. Some fabric body tape makes it stick just so your breast area stays covered. I would recommend tiring the knot for the wrap on the side as if you do it below the bust you add bulk and it's not flattering. I am 5'7 140lbs with an athletic built, hourglass shape and this dress fits perfectly in size small with heels.
luzete
Reviewed On:
November 30, 2020
Color:
Dark Green
body type:
straight
Size Ordered:
3X
olsonpso
Reviewed On:
November 18, 2020
Color:
Burgundy
Size Ordered:
S
Everyone loved the dresses! The color was perfect and we were totally pleased with them!
emily.grocki
Reviewed On:
November 09, 2020
Color:
Burgundy
I'm 5'8 and 130lb, and the small fit just right. Even though I'm fairly tall the dress was still long on me. I wore 1" heals with the dress so that I didn't have to hem it, and it just rested on the floor. I was able to walk easily without having to lift the dress. One could easily wear higher heals, but I'm already the same height as my husband and don't like wearing big heals around him. The over all quality of the dress, for the price it is was great.
ellekovalev04
Reviewed On:
October 31, 2020
Color:
Dark Green
daveandheather
Reviewed On:
October 29, 2020
Color:
Dark Green
The dress arrived quickly, fits perfectly and the color matches the picture - all at a great price! Very nice! We'll be shopping here again! =)
Gigi
Reviewed On:
September 18, 2020
Color:
Burgundy
I usually fall in between sizes at other stores - at the end of medium but beginning range of large, so one is too tight while the other is too loose. I was very pleasantly surprised to find Azazie's sizing chart captured all of my measurements in one size range and when the burgundy dress arrived, it fit perfectly! The dress drapes very nicely and has a very flattering silhouette - the only "downside" is the length is too long but that's not a true con since it's always better to have more fabric than needed and alter the length after you've picked/found the shoes you'll wear with the dress.
chelcoke
Reviewed On:
August 24, 2020
Color:
Burgundy
This didn't fit too small or large for me. The problem was more the cut. I typically wear a petite 0-2 in US dress sizes (ordered a small) , and I am 5'3". My issue was the v-neck on the chest dipped past the bottom of my bra. Also the hem to the slit seemed to be more towards the center than to the side. When I walked in the dress, it exposed more than what I was comfortable with. I will have to return, but this leaves me in a bind because it was supposed to be a bridesmaid dress. If you typically wear petite women's sizes, this dress may not work for you.
Chloe
Reviewed On:
August 13, 2020
Ordered a M, and have a waist of 28, bust 36. 5'10 tall. This is beautiful material and hangs wonderfully and its long enough to wear with heels. It so rare that dresses are made longer to accommodate all heights and sizes so that was wonderful. I have a smaller chest so i didnt fill it out great but if you are at least a B cup it should work wonderful. Can't beat the quality of this item even if you spend $150 on a similar dress. My only reason for not giving 5 stars- I ordered based on the measurements on the size chart, so it was a little disappointing that it was pretty loose in places I was concerned may be too small, so if you are "close" to the smaller size by an inch or two, definitely go smaller. Will likely return the Medium and order a Small.
Babybluangel248
Reviewed On:
July 07, 2020
Color:
French Blue
Love this dress. Super flattering and not cheaply made. I went by the size chart and it was a little too big. Definitely a good one to have in your closet though.