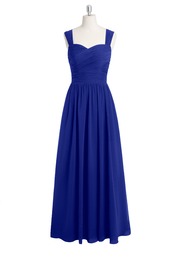 Azazie Zapheira
Bridesmaid Dress
FABRIC: Chiffon
$119
product info

Style Zapheira by Azazie is a floor-length A-line/princess bridesmaid dress in a simple chiffon. The attractive dress features a sweetheart neckline and back zip back style. A pleated detail at the front and back of the flowing skirt makes it perfect for the reception or a city hall wedding. Azazie's Zapheira style comes in sizes A0-A30. Ask a question
vetmedhosp
Color:
Dusty Rose
Reviewed On:
2017-01-20 08:25:26
We are so pleased with the bridesmaid's dress our daughter will be wearing in her brother's May wedding. She lives overseas and Azazie was very helpful in assuring that the sample size gowns she needed arrived while she was home for the holidays, just as promised. We placed the actual order for her dress on the same day she tried on the samples and it arrived even sooner than expected. Although she is not available to try it on, I am certain that it will be a perfect fit and that it will be a beautiful wedding! Thank you so much!
Josie.patino
Reviewed On:
2017-01-12 18:07:15
I fell in love with site, I believe I loved almost every dress. They looked amazing in the pictures and I loved how you could custom size your own dress. Well when I received it, it looked like an Amish girls wedding dress, needless to say I was not happy. I remember it stating that you could not return custom sized dresses, well I get that, but the dress looks nothing like it should. I thought well they pay for alterations, there is no altering an ugly dress. The pictures below of the actual sent dress and the pictures on the site, even if I had it fitted it is not flattering, so I am out $150....
elizabethlovett
Reviewed On:
2016-11-30 04:48:53
I am the bride I order the dress for 1 of might bridesmaid. The dress looks beautiful. The dress was a little wider than it needed to be.
elizabeth_2017
Color:
Champagne
Reviewed On:
2016-11-27 10:46:19
I tried out the custom size and it fits like a glove! Thank you!
Chattytoland
Color:
Steel Grey
Reviewed On:
2016-10-29 11:02:50
The dress is beautiful. We ordered the dress for my son's wedding in December. It fits my daughter like a glove. It won't need anything done to it, depending on her shoes. Great quality.
kjzapko
Color:
Wisteria
Reviewed On:
2016-10-11 11:35:41
I ordered 5 different dresses for my bridesmaids and this was one of them. The girls all ordered a sample size to try at home which helped them make their decision on size. Due to a review that some dresses ordered for a group came in with color variation, I decided to order all 5 dresses on one order to ensure they came from the same dye lot. They came in with color and styles all looking great and I will be distributing them to my bridesmaids when I see them. WARNING: If you order multiple dresses at once, they only give you 1 garment bag per 2 dresses. I was very disappointed that each girl will not have a garment bag to keep her dress covered for the next couple months and to and from the tailor. Make sure you order extra bags at time of purchase OR have each girl order her own dress to ensure they each get a bag. It doesn't seem fair that if each girl orders separately, they'd get a bag, but the way I ordered, I do not. True, they are only $5 each, but you then have to pay shipping again and I wasn't willing to do that. After all, I'm sure I am not the only bride on a budget! I found cheaper ones at Walmart.
sophiek0219
Color:
Wisteria
Reviewed On:
2016-08-09 16:48:28
Loved this dress! With a DD bra size I never thought I would be able to go braless in a dress, but the structure in this dress was so supportive I didn't even have to worry about it for the 12+ hours I wore it. It's also wonderful to find a dress that looks just as good on short and curvy girls as tall and thin ones. I was very happy I did custom sizing, since regular sizes would have been too big around my waist and hips. Got compliments all night!
Allie Dixie
Color:
Dark Green
Reviewed On:
2016-05-14 14:24:35
It is flattering and fit well! My advice would be - if you like a looser fit, measure a little more generously. Mine is quite snug, but I prefer it that way. It's amazing - I wear a 34 DDD (curvy build; 5'8"; 170lbs) and I do not need a bra with this dress!
Sara Moore
Color:
Dark Navy
Reviewed On:
2016-05-02 12:18:07
WOW! I am so absolutely happy with this purchase! I was nervous ordering from a website, but the custom sizing couldn't be more accurate! The dress is still pretty long, but that may have been my fault, and hemming is a simple alteration! This dress fit my body perfectly, and I was more than impressed with the quality! The fact that it has breast cups sewn in behind the fabric is a nice added touch that I didn't expect, and is proof of the quality of the garment and the attention to detail that was shown. Will be keeping this company in mind in the future, and recommending!
cjh013
Color:
Fuchsia
Reviewed On:
2016-04-03 14:02:51
I ordered 5 of these dresses for my bridesmaids, and they turned out great! I did the free custom sizing option to fit the different body shapes. 4/5 of the girls gave me very accurate measurements, and the dresses fit perfectly. There was enough extra fabric built into the dress to be let out and fit my 5th girl. I noticed that they automatically add 2in to the length of every dress for heals. Since my girls preferred flats, I contacted them to add less length which worked very nicely. It was awesome to be able to get the same quality of dress for much cheaper and much faster than in a bridal store. Thanks Azazie!
AC
Reviewed On:
2016-03-23 13:02:28
It's a good dress, and was the perfect color for my friend's "purple ombre" wedding. I will say that the waist line does stop higher than my natural waist because I have a large bust size. It ended up having ALMOST an empire waist look. Other than that I loved it. I got compliments on it from wedding guests as well.