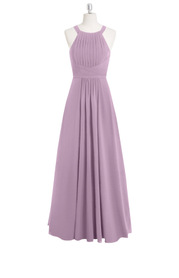 Azazie Winona
Bridesmaid Dress
FABRIC: Chiffon
$119
product info

Style Winona by Azazie is a floor-length A-line/princess bridesmaid dress in a gorgeous chiffon. The fantastic dress features a halter neckline and keyhole back style. A pleated detail at the front and back of the flowing skirt makes it perfect for the reception or a city hall wedding. Azazie's Winona style comes in sizes A0-A30. Ask a question
Haylee Hunter
Reviewed On:
2016-10-06 12:37:10
This dress was stunning. It fit perfectly with only slight alterations to the straps. The built in bust allowed me to feel comfortable without a bra and gave full coverage and lift. The fabric was so elegant and I felt I got much more of a dress than what I paid.. I would recommend Azazie to everyone, they do a great job. Thanks you!!
smathis016
Color:
Dark Navy
Reviewed On:
2016-11-09 07:15:23
The dress is really comfortable and practical for multiple occasions! I went through the custom size process and measured it carefully, following the guidelines. It still turned out a little bigger in the bust area than expected. It doesn't appear to look large on me, it's just not as snug as I expected. One very important thing to keep in mind is that I believe Aazie takes in consideration that you will be wearing high heels with the dresses. The bride wanted us to wear flats, so there's at least 3-4 inches of material that touches the ground. I will have to me mindful when walking to avoid tripping. Or wear heels and disobey the brides request. ;) This feedback also applied to the other bridesmaids. Bottom line, I love this dress and can't wear it at the wedding.
cindya1008
Color:
Burgundy
Reviewed On:
2016-10-11 11:39:06
The dress was for my daughter but it fit her PERFECT!!! It's more than I expected. Fabric looks very nice and elegant. Received before expected date!!
lminnis1986
Color:
Spa
Reviewed On:
2016-10-04 14:57:02
Don't trust the measurements listed in the sizing chart. The dress itself was beautiful, but the measurements listed for a size 12 are not accurate. They fit my measurements to a T and it was too small in the bust area. Fit perfectly everywhere else which is a shame. I had to return it and order the next size up.
Lisa Howell Griffin
Reviewed On:
2016-10-02 15:28:33
My daughter wore this in her brother's wedding as a bridesmaid. It was absolutely gorgeous and the color (mulberry) really photographed beautifully. Everyone was very pleased! We did get the $10 samples for sizing. I would definitely recommend this! We knew exactly what size to order by doing this!
bethanymparker3
Color:
Dark Green
Reviewed On:
2016-06-22 20:56:44
The quality of the dress is great; the material is good and it doesn't look cheap at all. My only criticism is with the custom sizing for this particular dress; I feel confident that I took my measurements correctly, but the straps on top are just a little loose. It looks fine when it's on, but I would feel more comfortable if it was a little more snug. All in all, I highly recommend Azazie for special occasions, especially weddings. This is my second time using them for a wedding and I, along with everyone else in the bridal parties, have been very pleased with the quality of the dresses!
andrea.garrison
Color:
Blushing Pink
Reviewed On:
2016-06-13 05:05:21
I am so glad we found AZAZIE - I ordered the Winona Bridesmaid Dress in Blushing Pink for a sorority event for my daughter. The dress fit perfectly, the color was exactly what we needed and the quality is exceptional. I will definitely be ordering from AZAZIE again!
csbranson
Color:
Blushing Pink
Reviewed On:
2016-04-12 12:51:15
We ordered this dress in a custom size. It came three weeks early and fits like a glove! The workmanship is excellent and the material drapes perfectly. We are using this as a prom dress, but I have another daughter who ordered this exact dress for a bridesmaid dress and it was so lovely we decided to order the same one for my younger daughter to wear to prom. Very pleased and will definitely tell others and order again!
bride884
Color:
Peacock
Reviewed On:
2016-02-07 08:03:00
Very happy with this dress. The waist is very flattering and the back is beautiful. Fit was excellent.