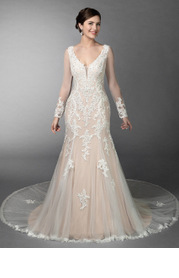 Azazie Wilma BG
Wedding Dresses
FABRIC: Tulle
$349
product info

This Cathedral Train, Trumpet/Mermaid dress by azazie is constructed in an elegant Tulle, Lace. Azazie Wilma BG features a V back back style and a V-Neck neckline. Azazie Wilma BG by azazie comes in sizes WD0-WD30. Whether you dress it up with statement jewelry or down with flats and a cardigan, it epitomizes timeless beauty. 
laura.peer
Reviewed On:
November 20, 2019
The sample was gorgeous. I was very impressed with the quality and appearance of this dress. It was a bit large on me, but true to the measurements. I am in between the listings for a 14 and a 16, so ordered the 16. Definitely in the top choices for my big day!!!
Was this review helpful to you?
Haley
Reviewed On:
March 03, 2021
Color:
Diamond White/champagne
body type:
pear
Size Ordered:
WD22
I ordered the only available size of this dress to try at home and made the mistake of thinking I could "clip" the dress into place. I am not a size 22 (the size of the dress), but more of a 12-14. It was beautifully made, with lovely little details, and I would have loved to have seen it in the right size on me. Unfortunately it was SO BIG and impossible to cinch to my body, it was really hard to tell how it should actually look and I do not have an accurate idea of the fit.
Was this review helpful to you?
Stephanie
Reviewed On:
September 14, 2020
Color:
Diamond White/champagne
body type:
Hourglass
Size Ordered:
WD16
This dress is very light weight so its very easy to move in. It fit good although in the picture it flared in the bottom, and when trying it on it does not keep that shape showed (I am sure maybe you can purchase something to put under the skirt to achieve the shape) It does have stretch to it which is something I really liked as well. It did fit large on me I weigh 190 and very curvy
Was this review helpful to you?
Tressa Alderson
Reviewed On:
October 31, 2019
body type:
Hourglass
Size Ordered:
WD18
I was blown away by the detail and complexity of the lace. Absolutely stunning. It is a little itchy, but I could care less. The dress looks expensive and is flattering on my figure and that's what I will remember after the itching has passed. Love it in the champagne as well! Gives density to the fabrics. The 18 was not the right fit but was accurate for the measurements described. I'll be getting this in custom sizing for my big day!
Was this review helpful to you?
alondrnicole7
Reviewed On:
May 17, 2019
body type:
Pear
Size Ordered:
WD10
It's a nice dress, but it was larger than I thought. I'm 5'7" and 150 pounds and ordered a size 10, should've ordered an 8. The color is not exactly like the pics, I personally didn't love it. But the quality is really good, it looks expensive! And it's also comfy, the only thing is it's a little itchy after a while.
Was this review helpful to you?
Amanda Lakes
Reviewed On:
January 10, 2019
This is an absolutely gorgeous dress if you don't care about comfort. The lace and beading is beautiful. There are layers of different lace and netting that aren't shown very well in the photos that you just have to see in person to appreciate. It's really lovely and looks at least 3 times as expensive as it is. It is well made and the placement of the lace is well thought out and flattering. That being said I found it very uncomfortable as much of the bodice is transparent with beading which gives a scratchy feel on some delicate skin. If you want the WOW factor though, it may be worth it to suffer a little because the dress is beautiful. The structure of the dress is great as you won't want to wear much under it and they've made that possible with appropriate shaping and anti slip features. If you're wanting to wear ahapewear this probably isn't the dress for you. If comfort isn't a top priority I'd definitely recommend trying this beauty.
Was this review helpful to you?
dianetf02
Reviewed On:
December 05, 2018
Color:
Diamond White/champagne
body type:
Pear
El traje es hermoso! Tiene detalles en el encaje, lo cual lo hace aún mas bello. Me encantó.
Was this review helpful to you?