Azazie Wedding Garment Bag Reviews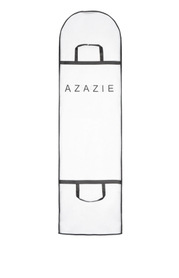 Azazie Wedding Garment Bag
Garment Bags
$9
product info

Style Azazie Wedding Garment Bag by azazie is a bridesmaid dress in a gorgeous . The lovely dress features a neckline and back style. azazie's Azazie Wedding Garment Bag style comes in sizes A0-A30. 
kathia_delvalle
Reviewed On:
February 17, 2021
i love itttt
Was this review helpful to you?
kay
Reviewed On:
February 08, 2021
I only received 1 of the 3 bags I ordered. How do I get the other 2?
Was this review helpful to you?
carter.fudge.wedding
Reviewed On:
February 06, 2021
Due to COVID when I ordered 3 bridesmaid dresses I only got 2 garment bags. I couldn't exactly not give them all one, so I took the one from my rehearsal dinner dress so that all bridesmaids could have one. But I still wanted one to keep my dress in. Why? Plastic wrap is just...ugh. These are nice, lightweight, and you don't have to deal with the static. Also, these fold up to carry : anyone else really love that my arm is fully extended above my head because I'm carrying a long dress that I don't want to drag on the ground look? It's a great look. And I'm going to need that because man do I have a lot of stuff to transport. Very happy knowing my dress will not only be protected, but easy to carry. Zipper closure on one side with hole in the top to poke a hanger through. Bag folds into 4 sections. Bottom and top fold toward the middle and then you bring the handles together which button snap together to keep from opening up.
Was this review helpful to you?
carissarhomme
Reviewed On:
November 27, 2020
Good quality garment bag! Definitely will be using it for a long time and preserve my dresses for special date nights. ?
Was this review helpful to you?
tamisalazar
Reviewed On:
October 29, 2020
Great thanks
Was this review helpful to you?