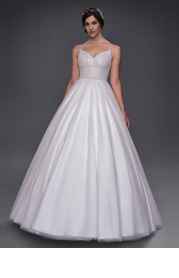 Azazie Vera BG
Wedding Dresses
FABRIC: Satin
$349
product info

This Chapel Train, Ball-Gown dress by azazie is constructed in a simple Satin, Tulle, Lace. Azazie Vera BG features a Back Zip, V back back style and a V-Neck neckline. Azazie Vera BG by azazie comes in sizes WD0-WD30. Accented by glittering rows of sequins, the dress has a polished ladylike appeal that's entirely elegant. 
Kerri
Reviewed On:
June 23, 2020
Do NOT buy the Platinum thinking it'll look like a Light Grey (as shown in the picture) it came in a NUDE bodice with WHITE Lace and White Liner for the skirt with WHITE tulle on top and ONE layer of a DIRTY Grey Tulle underneath. It's also quite "cheap" looking and had NO support for "The Girls".
Was this review helpful to you?
jadeoliver
Reviewed On:
May 13, 2020
Color:
Diamond White/nude
While I thought this would be my favorite when I took this gown out of the bag, I was shocked to see how heavy it was and difficult to walk in. It's a beautiful dress and the beading is really nice however, I felt like the torso was so short and I had to really work to get it to look like a natural fit. The train was very long as well and I did not see that mentioned It was one size too small for me so I was not able to zip it all the way, but I felt like it should have fit a little better. The straps were so uncomfortable and I could feel the weight of the entire dress on my shoulders. It even came to me on two hangers so that should have been my first clue. I've read that some people think that it has cheap qualities but I actually liked the material used and how the belt connected together. My biggest complaint was the weight of the dress and maybe that's because I was specifically looking for a lightweight option for our mountain hike elopement.
Was this review helpful to you?
Jenna
Reviewed On:
October 28, 2018
Color:
Diamond White/champagne
I paid for a sample which came quickly and was flawless. So needless to say I purchased this dress for my wedding. When I recieved the dress it was very clearly unfinished. I spoke with someone regarding my issue and was assured that I could send it back and have the problem corrected "in plenty of time for alterations". Free sending my dress back I waited for some kind of expected delivery date and got nothing. When I contacted the company again they avoided answering that question, but after asking several times they told me that the "Goal" was to get it to me with barely a week before the wedding. Thank god I was able to get through to someone who got the dress here slightly faster so I actually did have time to get alterations. (My wedding is next week and I don't have it back yet but it will be done on time). Long story short my experience makes me think that you have to act like a jerk before the company cares that they've screwed up. I've gotten no follow up since the dress finally arrived and this was probably the most stressful part of planning my wedding.
Was this review helpful to you?
Amanda
Reviewed On:
June 07, 2018
I got the sample to try and really love it! Unfortunately the sample size is much smaller than my actual body so it doesn't quite fit right, but I was able to get an idea of what it will look like -- and I think it's the one! I'm probably a size 20, and the dress in the photo is the sample size 16, white/nude. I think I'll get it in either the white on white or white/champagne.
Was this review helpful to you?
victoriaravenhurst
Reviewed On:
July 21, 2020
Color:
Platinum
body type:
Straight
Size Ordered:
WD26
Disappointed in the color. "Nude" backing on the bodice made it look awful. The rest of the dress is amazing. Good length beading was great. Order the size to fit the largest part which is my natural waist and it was about 4 inches too big around the entire bodice
Was this review helpful to you?
Chloe Taylor
Reviewed On:
July 29, 2019
Color:
Diamond White
body type:
Pear
Size Ordered:
Custom size
Did not like the fabric of this dress at all. This was my last choice out of the three samples I tried and liked it the least. Felt like cheaper quality than the other dresses I got.
Was this review helpful to you?
Brooke Parfrey
Reviewed On:
October 12, 2018
Color:
Diamond White/nude
This dress is beautiful. The detailing was incredible and it fit me perfectly so the measurements are fairly accurate. The dress also feels so light and fun. I loved it!
Was this review helpful to you?