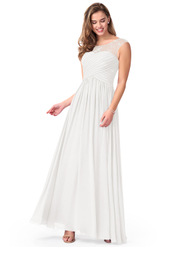 Azazie Tobey
Bridesmaid Dresses
FABRIC: Chiffon
$149
product info

The lovely Floor-Length, Floor-Length bridesmaid dress by azazie has an A-line/Princess cut in a beautiful Chiffon, Lace. Style Azazie Tobey features a boat, Illusion neckline, and comes in a full size range (A0-A30). A pleated detail at the front and back of the flowing skirt makes it perfect for the reception or a city hall wedding. 
Reiley Augenstein
Reviewed On:
December 03, 2018
body type:
Hourglass
Size Ordered:
A6
LOVE LOVE LOVE this dress! A little small, but it was even prettier in person!
Was this review helpful to you?
jsnerson
Reviewed On:
October 02, 2018
Color:
Burgundy
body type:
Hourglass
Size Ordered:
A12
Great dress! The quality is good and it fits perfectly! I almost never pick a size based on of a size chart recommendation but did for this dress and it fits like a glove! I also received my dress about a week sooner than it was expected. The only complaint is that the dress is very very long so I will have to get it tailored.
Was this review helpful to you?
gallaghere1995
Reviewed On:
July 06, 2018
Size Ordered:
A14
I loved this dress! Out of the entire bridal party, most guests agreed they liked my dress the most. It was very flattering on my figure, and is a great dress to wear if you are planning to wear your hair up. In regards to alterations, I only had to get my dress hemmed and taken in up on the shoulders. I totally recommend this dress!
Was this review helpful to you?
Sharonna.nuest
Reviewed On:
April 24, 2018
Color:
Dusk
Size Ordered:
A20
Gorgeous and fit like a glove!! Was the perfect dress for my sister's wedding this last weekend!
Was this review helpful to you?
keperrot
Reviewed On:
February 16, 2018
Color:
Silver
I could not recommend Azazie more! I will be honest, I was extremely skeptical at first. I was 8 weeks pregnant when I ordered my dress. The entire process, customer service went above and beyond to answer my questions and figure out what measurements to use when ordering my dress. They also assured me they would cover the first $50 in alterations to ensure the dress fit properly. I wore the dress when 24 weeks pregnant and the only alteration needed was the hem since my bump required the front to be longer. It fit wonderfully, especially for not being a maternity dress! The quality of this dress is on par, if not better, than some of the $300 bridesmaids dresses I have worn. And I love that it comes with a garmet bag. I strongly encourage any bride to use Azazie for their bridesmaids dresses.
Was this review helpful to you?
Brittani Cordes
Reviewed On:
January 28, 2018
My matron of honor and my jr.bridesmaid wore this for my wedding. It was so flattering and looked great for a December wedding. My natron of honor had a baby three months before and she felt very comfortable in this dress because of the flattering fit.
Was this review helpful to you?
lgeorge2768
Reviewed On:
October 03, 2017
Color:
Grape
I was very happy with my Azazie dress. It arrived in a timely manner, the color was amazing and the fit was right on. It was extremely hot the day of the wedding, however the material made the dress extremely comfortable.
Was this review helpful to you?
Kim Gutman
Reviewed On:
July 29, 2017
I wore this as a bridesmaid for my friend's wedding -- we all wore different Azazie styles in Dusk. I think this is a beautiful dress! I used the custom measurement option, but my dress was too loose in the waist, so I had to get it taken in by a seamstress. Other than that snafu, I was very impressed with the quality of the dress. The bottom chiffon tends to get very clingy, so maybe bring a little tube of anti-static spray for the big day. But these dresses look really high-quality, and I felt super comfortable and classy. The longer I wore it, the more I loved it! (I'm pictured with another bridesmaid who is wearing the Rochelle.)
Was this review helpful to you?
Aurora Derdzinski
Reviewed On:
September 21, 2016
I recently purchased from the Azazie company. I ordered the bridesmaid dress called Tobey in the color burgundy. I would highly recommend this dress and company. My sister is getting married in November and wanted dresses that were inexpensive, and yet good quality. The Azazie Tobey dress delivered on both. This dress is going to be ideal for anyone on a budget looking for a bridesmaid dress, or even just a nice evening gown and wants a little lace detail and a wide range of colors to choose from. It is also ideal for a bride who may not want to burden her bridesmaids with a high price, but won't settle for poor quality. The criteria I used to evaluate the dress were: • custom sizing accuracy • physical dress versus the dress online • quality of material and make • delivery time and quality I was most nervous about the custom sizing when ordering the dress, but it came and fit me perfectly. If you are looking for a place to order a bridesmaid dress where you just plug in the measurements and order, knowing that when it arrives, it will fit well without tailoring, this dress and company will do that. The custom sizing worked optimally and asked for all the right measurements. It is worth noting that the website does not ask for a measurement for torso length. I am a little short wasted and noticed that the dress was a little long for me in the torso. But this is very minor and won't be noticed. The picture of the Tobey online matched the dress I received. Color is the most difficult feature to judge when ordering online. After my sister had decided on a color, she was able to order a fabric swatch. The dress matched the swatch color exactly. The dress was made with a good quality chiffon and was not see-through in any areas. It also had good structure around the waist. There were no tears or rips in the chiffon or at the seams, hem, or zipper of the dress. The zipper also was hidden and not an obvious eye sore. The time from ordering online to delivery was better than we had hoped. The website gave a time range for delivery and it came in the beginning of that range. The confirmation e-mail provided a tracking number and we could track it from city to city and it came on the day it said it was supposed to be delivered based on the confirmation e-mail. It was very efficient and came in very sturdy and clean packaging. The dress even came with a cloth dress bag to put the dress in once it was opened. I believe the Azazie Tobey made in burgundy chiffon is a wonderful dress you would look beautiful in on anyone's special wedding day. The custom sizing is accurate and doesn't need extra tailoring. I believe this dress is an inexpensive, well-constructed dress that I would feel safe buying again.
Was this review helpful to you?
Avery
Reviewed On:
June 24, 2016
My friend chose these dresses for a traditional church wedding in Georgia; she needed something that wasn't strapless and this was the one that caught her eye. And I can see why; this dress is beautiful--and more than that, it's COMFORTABLE. you'd think the sheer sleeves would itch, but nope, they don't! The lining is soft, the fabric is breathable, and it's flattering and modest on pretty much any body type you can imagine. I'm very short (well, you can see the picture) and had to get the custom sizing because the length of all the plus-sized dresses was waaaay too long. I ordered in on Valentine's Day 2016 and they said "ok, 8 weeks," but I got it on March 28, two weeks early, and it fit PERFECTLY. Most of the other bridesmaids (who ranged from dress size 4 to 22) also got custom sizing and theirs fit perfectly as well. If you are short or plus-size (or short and plus-size like me) DEFINITELY get the custom sizing. Custom sizing is free (thank you, Azazie!) and like I said: it fit perfectly. Overall I am ABSOLUTELY satisfied with the dress and will definitely come back to this site when it's my turn to get married!
Was this review helpful to you?
kirbyblue8
Reviewed On:
June 03, 2016
I absolutely love this dress. It seriously looks exactly like the picture. The bust was a bit big but I can work with it (probably because I'm pretty flat lol). I wanted something that has sleeves and this dress does it in a stylish way by making the sleeves semi see through but has a beautiful pattern on it. Overall I would definitely recommend this dress.
Was this review helpful to you?
Linda Schmidt
Reviewed On:
June 25, 2020
Color:
Dark Navy
Size Ordered:
Custom Size
I was able to get this sample in my size which, aside from being too long, fit very well. I wasn't able to get the color I wanted but the navy blue was a nice rich color. I think it may have looked nicer on me. The tipping factor for me on purchasing it was the cap sleeves. It's a lovely design but it is not really very complimentary on me and a tiny bit restricting. I have returned the dress and can see that FedEx has delivered it. It is a lovely style though.
Was this review helpful to you?
kbankes
Reviewed On:
July 10, 2019
Color:
Grape
I tried sample on and it fit fine in my normal size, it just needed 2 inches to zip at the back line. I ordered a custom size, and it does not even come close to zipping up! Now i am stuck with it or I have to alter and pay which i shouldn't have to pay for since i gave my measurements! Azazie= fail- do not recommend this company- plus I am out 10$ for the sample! Tight is bust area and the straps are irritating!
Was this review helpful to you?
Mammy
Reviewed On:
May 16, 2019
Color:
Dark Green
Size Ordered:
Custom Size
We ordered sample sizes to try before committing to buying. I ordered a size 12, when it arrived my daughter tried it on and could not zip the last three inches, so I special ordered her specific size as we were pleased with the quality. When the dress arrived my daughter did not have a chance to try it ion for two weeks as she was in college. Believing it would fit as we ordered her specific size, I was not worried. When she did try it on it fit length wise fine but she still could not zip the last three inches. The wedding is in two weeks and we do not have time to reorder. I purchased one from Ov-- St--k for 35.00 that looked identical but the quality is not the same.
Was this review helpful to you?
bdmkma
Reviewed On:
April 26, 2019
Color:
White
body type:
Straight
Size Ordered:
A14
The dress is beautiful. Fit is pretty close to measurements. Very nice quality. We are Canadian so I was surprised by the amount of duty on the purchase- $80 Cdn.
Was this review helpful to you?
nvcr
Reviewed On:
April 19, 2019
Color:
Dusty Rose
I just tried this dress as a sample. It is an attractive dress, but I was uncomfortable with the exposed back. Otherwise a very nice dress!
Was this review helpful to you?
rfoshlag
Reviewed On:
March 20, 2019
Color:
Dusty Rose
I ordered this to try on the cut/size, and samples for the color - this is a great dress, good quality, and the bodice fits great! I'll be taking in the shoulder caps just a little and getting the hem trimmed, but overall great fit!
Was this review helpful to you?
epurple82
Reviewed On:
July 30, 2018
Color:
Tahiti
This dress is beautiful it fit me perfect! Thank you. Blessed :)
Was this review helpful to you?
Kdsa6b
Reviewed On:
July 11, 2018
Color:
Dark Navy
body type:
Pear
Size Ordered:
A6
This is not a flattering dress. There is a lot of extra material around the midsection and the material kind of "fluffs" over your stomach area. It does seem like a sturdy dress and fits, it's just not doing a girl's silhouette any favors.
Was this review helpful to you?
micheles
Reviewed On:
June 07, 2018
Color:
Burgundy
body type:
Straight
Size Ordered:
Custom Size
My daughter just received her Tobey bridesmaid dress the other day. We did custom fit and I am so happy that we did. The dress fit her perfectly and the color of the material is wonderful. I have and will continue to recommend Azazie to all brides looking for good quality and reasonably priced bridesmaids dresses.
Was this review helpful to you?