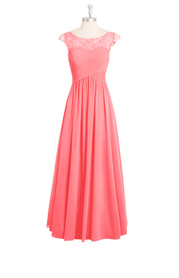 Azazie Tobey
Bridesmaid Dress
FABRIC: Chiffon and Lace
$149
product info

The lovely floor-length bridesmaid dress by Azazie has an A-line/princess cut in a beautiful chiffon and lace. Style Tobey features a boat neckline, and comes in a full size range (A0-A30). A pleated detail at the front and back of the flowing skirt makes it perfect for the reception or a city hall wedding. Ask a question
Aurora Derdzinski
Reviewed On:
2016-09-21 12:58:45
I recently purchased from the Azazie company. I ordered the bridesmaid dress called Tobey in the color burgundy. I would highly recommend this dress and company. My sister is getting married in November and wanted dresses that were inexpensive, and yet good quality. The Azazie Tobey dress delivered on both. This dress is going to be ideal for anyone on a budget looking for a bridesmaid dress, or even just a nice evening gown and wants a little lace detail and a wide range of colors to choose from. It is also ideal for a bride who may not want to burden her bridesmaids with a high price, but won't settle for poor quality. The criteria I used to evaluate the dress were: • custom sizing accuracy • physical dress versus the dress online • quality of material and make • delivery time and quality I was most nervous about the custom sizing when ordering the dress, but it came and fit me perfectly. If you are looking for a place to order a bridesmaid dress where you just plug in the measurements and order, knowing that when it arrives, it will fit well without tailoring, this dress and company will do that. The custom sizing worked optimally and asked for all the right measurements. It is worth noting that the website does not ask for a measurement for torso length. I am a little short wasted and noticed that the dress was a little long for me in the torso. But this is very minor and won't be noticed. The picture of the Tobey online matched the dress I received. Color is the most difficult feature to judge when ordering online. After my sister had decided on a color, she was able to order a fabric swatch. The dress matched the swatch color exactly. The dress was made with a good quality chiffon and was not see-through in any areas. It also had good structure around the waist. There were no tears or rips in the chiffon or at the seams, hem, or zipper of the dress. The zipper also was hidden and not an obvious eye sore. The time from ordering online to delivery was better than we had hoped. The website gave a time range for delivery and it came in the beginning of that range. The confirmation e-mail provided a tracking number and we could track it from city to city and it came on the day it said it was supposed to be delivered based on the confirmation e-mail. It was very efficient and came in very sturdy and clean packaging. The dress even came with a cloth dress bag to put the dress in once it was opened. I believe the Azazie Tobey made in burgundy chiffon is a wonderful dress you would look beautiful in on anyone's special wedding day. The custom sizing is accurate and doesn't need extra tailoring. I believe this dress is an inexpensive, well-constructed dress that I would feel safe buying again.
Avery
Reviewed On:
2016-06-24 11:01:40
My friend chose these dresses for a traditional church wedding in Georgia; she needed something that wasn't strapless and this was the one that caught her eye. And I can see why; this dress is beautiful--and more than that, it's COMFORTABLE. you'd think the sheer sleeves would itch, but nope, they don't! The lining is soft, the fabric is breathable, and it's flattering and modest on pretty much any body type you can imagine. I'm very short (well, you can see the picture) and had to get the custom sizing because the length of all the plus-sized dresses was waaaay too long. I ordered in on Valentine's Day 2016 and they said "ok, 8 weeks," but I got it on March 28, two weeks early, and it fit PERFECTLY. Most of the other bridesmaids (who ranged from dress size 4 to 22) also got custom sizing and theirs fit perfectly as well. If you are short or plus-size (or short and plus-size like me) DEFINITELY get the custom sizing. Custom sizing is free (thank you, Azazie!) and like I said: it fit perfectly. Overall I am ABSOLUTELY satisfied with the dress and will definitely come back to this site when it's my turn to get married!
kirbyblue8
Reviewed On:
2016-06-03 18:05:03
I absolutely love this dress. It seriously looks exactly like the picture. The bust was a bit big but I can work with it (probably because I'm pretty flat lol). I wanted something that has sleeves and this dress does it in a stylish way by making the sleeves semi see through but has a beautiful pattern on it. Overall I would definitely recommend this dress.
boimasn
Color:
Blushing Pink
Reviewed On:
2017-01-10 19:55:00
The dress is beautiful!!!! We ordered the custom fit (measurements and all) and it was flawless!! Thank you for the excellent service!!!
stagil3
Color:
Grape
Reviewed On:
2016-10-22 12:29:25
Beautiful and fits perfectly. Back is lower than we expected and lace is very sheer. The built in bra is a great idea.
jellybeens14
Color:
Red
Reviewed On:
2016-05-23 17:48:01
This dress is beautiful. I had it custom fitted and it fits like a glove. The material is absolutely gorgeous. The dress arrived in a great travel bag. Our wedding is and hour and a half away so this bag will be great! I have only positive things to say about the whole purchasing experience. It was easy to order, customer service was fabulous. The communication was also great. I knew when the dress was done and shipped. I only have one thing to say that is not positive and that is when the dress arrived, either the bag and/or the dress have a terrible odor. It smells like a dye maybe of some sort. I hope it airs out and goes away. Otherwise, I could not be more satisfied!!!
sfloyd0219
Color:
Mint Green
Reviewed On:
2016-04-16 19:54:57
Couldn't be any more satisfied. Beautiful dress. Fit great, just needed hemming!
skye
Color:
Emerald
Reviewed On:
2016-02-14 16:40:51
Beautiful dress! I did the custom sizing and it fits perfectly. Love it!