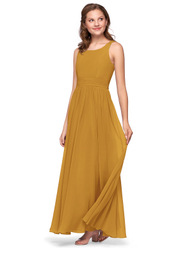 Azazie Tiana JBD
Junior Bridesmaid Dresses
FABRIC: Chiffon
$69
product info

Style Azazie Tiana JBD by azazie is a Floor-Length A-line/Princess bridesmaid dress in an exquisite Chiffon. The graceful dress features a Scoop neckline and Bow/Tie Back back style. A pleated detail at the front and back of the flowing skirt makes it perfect for the reception or a city hall wedding. azazie's Azazie Tiana JBD style comes in sizes J6-J16. 
dstew
Reviewed On:
July 07, 2017
The dress was absolutely beautiful and came earlier than expected. One thing I did not like. I had to do a custom order because my daughter is very short for her age. It asked for a measurement at her true waist (where it curves in). But the dress is high waisted and the tightest part is across the ribs right at the bra line. Well (as most people) the rib cage section is larger than the true waist. My daughter is an inch larger there...so the dress is extremely tight across her ribs and barely zipped up. I wish they would have asked for the measurement across her ribs just under her breast. Now I may have to have it altered before October.
Was this review helpful to you?
sone1a
Reviewed On:
September 23, 2018
Color:
Mulberry
Size Ordered:
J14
This was a dress for my daughter, she's 12y.o. and typically wears general size 14 clothes. We had the dress altered to cut the length as she's only 5'1". She wore the dress with dark brown sandals and looked beautiful!
Was this review helpful to you?
Margaret Michelle Kaiser
Reviewed On:
September 07, 2018
body type:
Straight
Size Ordered:
Custom Size
My sister is a junior bridesmaid in my wedding and she looks fantastic! I got it custom sized, and made it a little large because she's about to turn 12 and we expect a small growth spurt right before the wedding. It came in exactly how I imagined, and will give her room to grow! The picture they have online doesn't do the dress justice.
Was this review helpful to you?
alessapoe
Reviewed On:
July 27, 2018
Color:
Wisteria
body type:
Straight
Size Ordered:
J14
My niece is very skinny to begin with so finding a fit to suit here length and skinny stature was difficult. Perfect option, even tho we will have to take it in slightly.
Was this review helpful to you?
pandcgethitched
Reviewed On:
July 17, 2018
Color:
Grape
Size Ordered:
J12
I highly recommend this site! These dresses came in record time (one full week prior to the earliest date in the delivery range they gave me upon ordering) This particular dress was a little large in the back (where the zipper is) on my junior bridesmaid, but we didn't go for custom sizing on this one (I'm not sure why, I didn't know it was available). Slight alterations are needed for this reason but extremely minimal! The only critique I would have for this dress is that I would like to see some knee-length styles for the junior bridesmaids, as well. The options for style were a bit limiting. We are needing to alter her dress to knee length, now, which just seems wasteful for fabric. HOWEVER, that being said - this is the only dress we need to alter, at all, and I am over the moon!
Was this review helpful to you?
cmice9
Reviewed On:
June 01, 2018
Color:
Cabernet
Size Ordered:
Custom Size
Dittto from the above comment! I will recommend YOU to others!!!!! This dress fits my daughter perfectly!!!!! And reasonably priced as well!
Was this review helpful to you?
familyharris7
Reviewed On:
May 19, 2018
Color:
Dusty Blue
body type:
Straight
Size Ordered:
J14
Overall, it fits well and I am satisfied. It is a little big in the shoulder area and a bit loose overall. Perhaps I could have ordered one size smaller, but that may have been a little on the snug side and since my daughter is 11, I think this was a safer choice.
Was this review helpful to you?
nkdurfeyfamily
Reviewed On:
May 16, 2018
Color:
Sky Blue
Size Ordered:
J16
Jr. Bridesmaids are hard to shop for. I prefer to have my 11 year old look like a young girl so we ordered this style. Of course as with all tweens, bodies are changing according to their own timetable. The Jr. Bridesmaid styles available were not able to accommodate her thicker sturdier frame (she really is not overweight at all....just getting thick before the growth up.) even with custom ordering. I think in an effort to encourage a positive body image for young girls (I mean who wouldn't want to dress in a long flowing princess gown) I would love to see a wider range of sizes/shapes for that already awkward teen stage. Who wants to get the biggest dress available only to have it too small at your waist? Even with mom downplaying it you feel like something might be wrong. However after persistent searching I found a phone number and Azazie customer service was fabulous and helpful and made several reasonable suggestions. I ended up altering the dress myself and it was well constructed. With a little creativity (and fabric from the bottom of the skirt) it turned out beautifully. We shortened the dress to knee length to match the other bridesmaids. It certainly would have been more convenient to have been able to custom order the size and shape we needed.
Was this review helpful to you?
Donna Brooks
Reviewed On:
September 20, 2017
My junior bridesmaids dresses turned out beautifully. The quality was wonderful and they fit perfectly. My dresses arrived earlier than predicted and when I had questions for customer service, they had a quick response and were able to answer all my questions. I will recommend Azazie to anyone looking for dresses for special occasions.
Was this review helpful to you?
Cmansfield32
Reviewed On:
August 31, 2017
Color:
Dusty Rose
The custom dress fits perfectly and is gorgeous and comfortable. Great quality for the price... However, the ordering process was misleading. I ordered a custom dress, which takes the same amount of time to construct and ship as the sized dresses. The website says 6-7 weeks for delivery. I ordered early August for a September 23rd wedding, and then I panicked when I checked out and it said "expected delivery between September 19th and September 26th. So I e-mailed Azazie with my concerns about the Sept. 23rd wedding date. The customer service rep offered to CANCEL my order and suggested I re-order and pay the extra $50 for "Rush Delivery." The dress was ready and delivered within like 2 1/2 weeks. I was disappointed that I paid and extra 50% of the value of my original purchase without having needed to. That made me feel cheated and angry.
Was this review helpful to you?
claudine
Reviewed On:
August 03, 2017
Color:
Silver
SATISFIED! Came just as it appeared and MUCH quicker than anticipated. Would order from here again!
Was this review helpful to you?
Amy Gilbert Hummel
Reviewed On:
June 14, 2017
Color:
Dark Navy
Beautiful fit for a 10 yr old junior bridesmaid! Elegant and age appropriate! Love it!
Was this review helpful to you?
Marniehillier
Reviewed On:
March 19, 2017
Color:
Azalea
Other than being long, fit my 11 year old junior bridesmaid pretty well. Just had to get it hemmed. I was freaking out because my wedding is April 1st but it was projected to get here March 28-April 4. However, THANKFULLY it arrived the week of March 13th.
Was this review helpful to you?
ASmith8830
Reviewed On:
January 16, 2017
Color:
Ink Blue
Dress arrived sooner than expected. Great as it needed some alteration. Very good quality and workmanship for the price.
Was this review helpful to you?
mpower33
Reviewed On:
April 07, 2016
Color:
Grape
We received our dresses within 5 weeks, ahead of the ETA. Other than a few minor alterations which were expected the dresses fit great!
Was this review helpful to you?
annie_marsh4
Reviewed On:
January 15, 2016
Color:
Black
The dress is lovely and very appropriate for a junior bridesmaid especially since the color of the bride's choice was black! Unfortunately, the measurements were too exact and a larger size had to be ordered. Hopefully, the replacement will arrive with time to spare, as the original dress did! Looking forward to its arrival :-)
Was this review helpful to you?