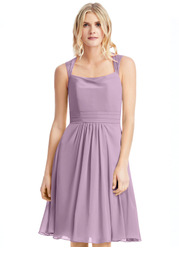 Azazie Siena
Bridesmaid Dress
FABRIC: Chiffon and Lace
$119
product info

Style Siena by Azazie is a knee-length A-line/princess bridesmaid dress in a gorgeous chiffon and lace. The lovely dress features a neckline and illusion back style. A pleated detail at the front and back of the flowing skirt makes it perfect for the reception or a city hall wedding. Azazie's Siena style comes in sizes A0-A30. Ask a question
hcronk1
Reviewed On:
2016-07-25 13:54:04
Ordered Custom- Added an extra inch to each measurement (which was needed). There was cheap boning in the front and the back of the dress which sticks out and looks funny. I had to rip it out before the wedding because it looked so bad. Once the boning was removed, it looked good.
Chelsea Crowell
Reviewed On:
2016-04-13 08:38:36
Size 4, was accurate to measurements. Great material, very happy with purchase!
kjleas
Color:
Pool
Reviewed On:
2016-04-02 06:47:02
I received this dress it was beautiful. This was a custom ordered dress and it didn't fit. The straps were to short. I called and got a hold of Rachel. She was awesome. I was given some choices of what they could do for me. I made the choice and had the dress fixed. I am very happy with the service i received. We ordered several dresses of the same color for my daughters wedding and the rest fit great.
Ashley Cahill
Reviewed On:
2016-03-21 05:33:54
terrible fit. looks cheap. built in bra above 3 inches above my actual chest.
ginampanno
Color:
Dark Green
Reviewed On:
2016-01-30 08:49:32
I placed a custom order, which went great - fit perfectly. However, during my correspondence before the dress was made, I was asked if I would like the padding and boning removed. I replied I would like to keep the boning, but I wanted the padding to be left out. When I received the dress the padding was sewn in. Not a huge deal, but now I have to go get the padding removed on my own time.
jelenouchka
Color:
Peach
Reviewed On:
2015-08-17 13:12:25
I got my dress on time, even on the early side, how exciting! The fit was perfect, exactly what I had ordered (custom) and the finishes are very well made. It fits very well on the hips and around the breasts with the stiff armature. Quite comfortable for a bridesmaid dress! Looking forward to dancing in it! :)
h_elder
Reviewed On:
2015-07-24 11:55:30
I bought this dress for my friends wedding where all of the dresses are different styles but the same color. I fell in love with this dress because of how beautiful the back is. I chose to do custom measurements because I am taller than most women and wanted to make sure the dress was not barely covering my thighs but right at the knee where she wanted the length. I love how it fits, feels, and how elegantly simple it is! I did measure one inch more than my actual measurements in case I gained any weight and I'm glad I did because the other girls did not and they were a big snug for my preference. Anyways, Love the design, color and how I look in it. The only downside of the custom measurements is that the back is a snug on my shoulder blades, but I also have terrible posture so that could be an issue too. Absolutely going to wear this as much as I can after the wedding to get good use out of it!
Cynthia Lally
Color:
Royal Blue
Reviewed On:
2015-03-12 17:50:56
This dress fits my younger daughter perfectly. My older daughter asked all of her bridesmaids to pick a dress in the royal blue color and this is the one my other daughter chose to be the maid of honor. They look great together.