Azazie Sidney JBD Reviews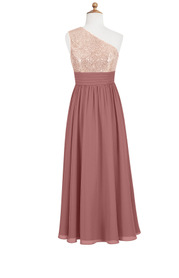 Azazie Sidney JBD
Junior Bridesmaid Dresses
product info

Fun and flirty, this fabulous Chiffon, Signature Sequin bridesmaid dress is appropriate for any wedding from the beach to the church. Your bridal party will love this fantastic A-line/Princess dress with an One-Shoulder neckline.  
aaldaba92
Reviewed On:
July 27, 2020
Color:
Dark Navy
Loved the dress. It looks just like the picture. Beautiful ❤️
Was this review helpful to you?
Dawncline0704
Reviewed On:
September 28, 2020
Color:
Dark Navy
The dress fit how I thought it would. The fabric is heavy which was okay for a late September wedding, wouldn't recommend for a warm month wedding. The neck line has a small mesh "modesty" cover, it tore trying the dress on. (I was gentle too) I had to cut it out ? next, the zipper up the back.... the zipper end ended right on the roundest part of your bum, causing your butt to look pointed. I had to cut all excess of the zipper bottom off and scrounge for a safety pin to tack it down. All in all it worked. For a wedding guest dress that I had to alter I feel the price was too high.
Was this review helpful to you?
LC
Reviewed On:
August 21, 2020
Color:
Dark Green
I bought this dress with high expectations for my niece so she can use it on my wedding. I have to admit that I was a little scared of the color not being what I wanted. However, when it arrived, it was better than what I expected. I totally loved the shape of it, the color, the good quality, and GUESS WHAT, it comes with a cover to protect the dress. I'm totally in love with this purchase I made.
Was this review helpful to you?