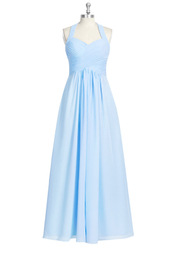 Azazie Savannah
Bridesmaid Dress
FABRIC: Chiffon
$119
product info

Style Savannah by Azazie is a floor-length A-line/princess bridesmaid dress in a simple chiffon. The charming dress features a halter neckline and bow/tie back back style. A pleated detail at the front and back of the flowing skirt makes it perfect for the reception or a city hall wedding. Azazie's Savannah style comes in sizes A0-A30. Ask a question
Spencer.hannah01
Reviewed On:
2016-06-29 19:22:49
Extremely well made, flattering, high quality material, good value, fate than advertised creation &shipping and excellent service team. My 5th star is missing because all my girls had them custom ordered to their measurements, and several of them were too large
HereComeTheYorks
Reviewed On:
2015-10-22 07:12:00
Here are our dresses from my sister's wedding. They are azazie in the color lavender and they did not come out looking white in the pictures. I hope this helps some.
Tiffany Walker
Reviewed On:
2015-09-11 04:12:00
Thanks for the amazing dresses Azazie! They all looked amazing at my sister's wedding! Xoxo
Walkert426
Color:
Lavender
Reviewed On:
2015-09-02 12:07:51
The Savannah bridesmaid dress is amazing! The fit is very flattering and it looks so elegant on. I cannot wait to wear it in the wedding next week! Also the custom sizing is a god send! Thanks again for another awesome dress!
ktippellsmith
Color:
Blushing Pink
Reviewed On:
2017-01-03 05:57:07
Ordered the custom sizing and the dress fits perfectly right out of the box.
Gina Renee
Color:
Lemon
Reviewed On:
2016-10-11 07:25:15
I loved this dress. Has support already built in to the bust area. It is very long. I'm 5'2". A few of the girls who are also around my height had to have their dresses cut. Might want to purchase a matching shawl to go with it depending how conservative you are.
alei0716
Color:
Wisteria
Reviewed On:
2016-10-07 16:12:55
So happy with my dress! Custom measurements fit well; my only complaint would be that the measurements from the top of my head in relation to my entire height was off... It required me to use the "typical" 8 inches between your head and base of your neck, so the dress ended up about an inch or 1/2 inch too long for comfort... I will be getting it hemmed just slightly, but that's totally workable. Very happy with the order! The color was exactly what I was imagining it to be, and it fits just right. Very excited to be wearing it as a bridesmaid, and will likely keep the dress for any future occasions due to the simplicity of the gown style and color, yet it's very flattering and elegant. Thanks, Azazie!
mhejny3
Color:
Steel Grey
Reviewed On:
2016-06-22 16:02:09
I am highly satisfied with this beautiful dress. The custom measurements are the way to go. The bodice couldn't fit more perfectly and the color and fabric are great. The dress is a little long, but that's preferable, since we aren't quite sure which shoes my daughter will wear! I would recommend Azazie to others looking for beautiful and affordable bridesmaids dresses!
rkat365
Color:
Blushing Pink
Reviewed On:
2016-04-19 09:07:50
Great fit, loved that it was packaged in a garment bag, and wonderful material
Mary Orr
Reviewed On:
2016-04-09 10:03:09
Beautiful dress and color! It fits me perfectly and it's super comfortable. It is a bit long, but that's better than being too short! Plus, I paid $35! Amazing!
igavrila09
Reviewed On:
2016-03-28 11:05:39
I am so beyond pleased with everything I have ordered from Azazie ! 6 custom Savannah bridemaids dresses are absolutely beautiful and perfect fit for all of my girls , as well as the sashes I ordered ! It has been such an easy process and stress free! The variety of colors are awesome! I was looking for something different and had a hard time finding lime green ! I ordered the color swatches of the multiple greens and the lime green was exactly what I was looking for! The color of the dresses is very bright and beautiful:) I am so grateful my sister in law found this website and I didn't have to settle for any other color! The prices are also great!
Sarena.Cruz
Color:
Blushing Pink
Reviewed On:
2015-09-22 09:06:14
Beautiful color, well made, fast shipping.... I am so thrilled with this website!!
pgnewman
Color:
Watermelon
Reviewed On:
2015-07-07 06:09:35
The dress is beautiful and well made. Unfortunately even though I double checked my daughters measurements and added an inch to each, the dress is too small. She is pregnant and trying to anticipate growth before the wedding is a challenge. Since the dress was custom ordered it can not be returned. I ordered a standard size two sizes larger and am hoping it will be okay as there is not enough time to order another.