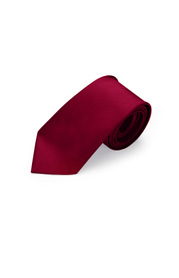 Azazie Satin Wide Tie
Groomsmen Accessory
FABRIC: Satin
$16
product info

Azazie Satin Wide Tie is a classic choice for your groom and groomsmen. The wide design is ideal for more formal affairs. Constructed in a lovely charmeuse and available in all our dress colors to perfectly match any suit, bridal attire, and wedding palette. Please note that all accessories may not be an exact color match to the corresponding dress due to color variations between fabrics. Approx. 60" x 3.2" wide at widest point. Ask a question
aleana.f
Color:
Jade
Reviewed On:
2016-07-02 12:59:37
I got my boyfriend this jade coloured tie to match my Aliya Jade dress. The colour of the tie was the same colour as the lining of my dress, not the outer layer. So the tie did not match properly but the colours completmented eachother well. All in all we were very happy with it!
Cmauro03
Color:
Mulberry
Reviewed On:
2017-01-03 06:49:09
These ties are really nice and are going to look amazing on all 9 of the groomsmen in our upcoming wedding in February! The color looks great and they packaged them well so they are not wrinkled at all. I also have 11 bridesmaids who ordered from Azazie and everything has been wonderful! The quality of the products along with the amazing customer service from the company has been such a relief. I would 100% recommend Azazie to everyone!
mcdonoughmolly
Color:
Burgundy
Reviewed On:
2016-10-30 12:22:49
Not the best quality tie but worth it because it matched my bridesmaid dresses perfectly.
chelseasjordan92
Color:
Wisteria
Reviewed On:
2016-10-12 10:43:24
The tie matched perfectly with the bridesmaid dresses that I bought from Azazie. It is great quality and plenty long!
Skwalstad
Color:
Grape
Reviewed On:
2016-08-13 09:06:42
I would definitely recommend to any one who needs a tie for any occasion. I ordered 4 of these for my upcoming wedding in October and not only did they come ahead of schedule, they look great! These were true to the color and stitching was perfect.
avaloncostumes
Color:
Grape
Reviewed On:
2016-06-24 05:31:41
The tie is a little thin but well made. It is great that we can match the bridesmaids dresses so well
jodigeorgeboyd
Color:
Blushing Pink
Reviewed On:
2016-03-08 20:29:16
Perfect "blushing pink" tie. Seems a little less quality than the other Azazie pieces that I've ordered but will be great for $16 groomsman gifts. Still really nice regardless.
elangdon
Color:
Sage
Reviewed On:
2016-03-05 11:50:50
I love this website!!! I got ties that match the color of the bridesmaid's dresses. I loved that I didn't have to hunt around and go to all these different stores to find something close to the bridesmaid dress color. I love how quickly everything came and the updates I got via email. So happy with everything!!!!
amm0016
Reviewed On:
2016-02-11 10:18:25
I ordered these ties in turquoise after also ordering several swatches. I'm not a tie expert but my fiancé is very pleased with these ties. The color and quality is perfect and is going to look wonderful on our wedding day. I will note that the turquoise color is closer to a dark mint, but that is actually the exact color I was aiming for after finding the mint swatch to be too pale.
amm0016
Color:
Turquoise
Reviewed On:
2016-02-08 06:41:04
After ordering several color swatches for my bridesmaids dresses, I was still a little torn on the color to choose. I decided to order these ties to see the color in a bigger piece of fabric. The ties are perfect and they were delivered much quicker than the estimated time. I'm not a tie expert, but my fiancé is very pleased with the quality. The turquoise color is more of a darker mint, which is exactly what I was hoping for since the actual mint color is a bit pale. I can't wait to see the dresses!!
csullivan
Reviewed On:
2015-11-29 13:48:16
I was so excited about this tie and being able to order perfectly matching ties to the dresses and the color was great. However, I received the tie and it has a huge bulge in the middle of it from the sewn loop on the back. I am so bummed that I now have to find 10 ties that will match our dresses.
BeckyBeeson86
Color:
Sky Blue
Reviewed On:
2015-07-02 10:01:25
We ordered ties for our groom and groomsmen. They were all beautiful! The colors were exactly what I had come to expect from the samples and other items I ordered from Azazie. I know they will look absolutely wonderful on our wedding day. I am so pleased with everything I have ordered from Azazie so far. They are a wonderful company and I will definitely be recommending them to my friends who are getting married!