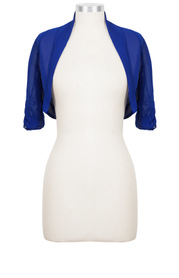 Azazie Salma Chiffon Wrap
Wrap
FABRIC: Chiffon
$40
product info
maureenmadsen
Color:
Dark Navy
Reviewed On:
2016-10-24 17:58:28
Not as. Expected. Very thin and did not stay on shoulders, and kept falling off so could not wear. Better if it was lined and had shoulder so it would stay on and hang better. Not recommended
sallypopa
Color:
Peacock
Reviewed On:
2016-05-03 15:20:58
It is at least two sizes too small. I am unable to wear it!
Diana Vlack Reardon
Reviewed On:
2015-08-07 15:37:57
Sad to say I returned the wrap as the arms were not ample enough for my plus size arms. How're ever, the return process was friendly and painless and quick . Love this company!
seth
Color:
White
Reviewed On:
2015-07-27 17:07:33
The style of the shrug was not flattering, the gathered sleeves were very bulky looking and it seemed to have too much material overall.
jim.ellen.diehl
Color:
Coral
Reviewed On:
2015-07-20 17:40:59
the arms were too small and we will have to try something else.
Vlbrendel
Color:
Dark Navy
Reviewed On:
2015-06-04 20:06:40
Love it. Very cute and fit perfectly. Color was a perfect match. A bit pricey for what it is.