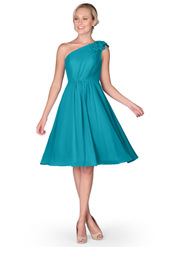 Azazie Sabrina
Bridesmaid Dresses
FABRIC: Chiffon
$109
product info

The graceful Knee-Length, Knee-Length bridesmaid dress by azazie has an A-line/Princess cut in an exquisite Chiffon, Chiffon. Style Azazie Sabrina features an One-Shoulder neckline, and comes in a full size range (A0-A30). Whether you dress it up with statement jewelry or down with flats and a cardigan, it epitomizes timeless beauty. 
Ginger Marie
Reviewed On:
September 29, 2015
3 of the 4 bridesmaids ordered their dresses from Azazie for a wedding I was in last weekend and they looked so amazing! I ordered Scarlett in a custom size and I love it so much. The other girls picked Sabrina and Deanna. All in champagne.
Was this review helpful to you?
Lauren
Reviewed On:
January 10, 2021
Color:
Lilac
Size Ordered:
A8
The dress looked really cheaply made in person. Doesn't look much like the picture at all. I would not recommend this dress unless you're able to fix it yourself.
Was this review helpful to you?
jill.maher
Reviewed On:
January 16, 2019
Color:
Blushing Pink
body type:
Hourglass
Size Ordered:
A6
Waist up was beautiful and probably didn't need altering...but from waist down dress billowed out too much and was unflattering. I think it will look good after alterations but that is the trick...alterations are going to cost me a TON! I don't think custom ordering (which I didn't do for fear I might not like the dress on me and then its not returnable) would have helped much as that is the shape of the dress. I do think I will like it a lot after altering. Due to chiffon and style however, it is just super expensive to do.
Was this review helpful to you?
carlsonlabslaurel
Reviewed On:
September 07, 2018
Color:
Watermelon
Size Ordered:
Custom Size
Across chest near zipper had to try to let it out
Was this review helpful to you?
EJ
Reviewed On:
May 10, 2018
Color:
Ocean Blue
body type:
Hourglass
Size Ordered:
Custom Size
I had this dress custom made and the overall fit is as it should be. There is too much material hanging down in the front (it doesn't cinch as tightly around the bow/flower as pictured, and I will need to have that altered. Additionally, the fit around the top of the bust is not even on both sides-- much looser on the right side, but I imagine that having the extra billowing material tightened up slightly will take care of this issue. Definitely needed to air out as there was a fairly off-putting smell to the fabric. But the dress is pretty, color as anticipated, and fit is to specified sizes.
Was this review helpful to you?
alh12
Reviewed On:
March 13, 2017
Color:
Emerald
I got this dress a little bit bigger than my actual chest measurement because I wasn't sure how the fit was going to be - the size is true to the measurements, so I will have to have it altered a bit. It seems to be of good quality and I love how it's conservative enough to cover all I want covered, but still has flair and youth to it. It's more knee-length than it appears in the photo, but I prefer that as I am taller. The only things I can criticize are that the bra cups are a bit pointy and stiff. (I'm glad it has built-in cups though.) The embellishment on the shoulder is also floppy and not as flower-like as it looks in the picture, but I still like it and it doesn't take away from the overall look.
Was this review helpful to you?
trixiemay81
Reviewed On:
May 18, 2016
Color:
Burgundy
Material is nice. Build in bra is very large if standing, gets tighter when I sit. This happened to a few dresses for this wedding ordered on this site. Dress did arrive a few weeks earlier than given arrival time.
Was this review helpful to you?
dhanislynch
Reviewed On:
January 13, 2016
Color:
Sky Blue
This dress is not as flattering as I had hoped. The gathered waist makes it look cheap. I will probably add a satin ribbon to the waist to make it look complete. The bust is also designed for a larger bust than the measurements indicate.
Was this review helpful to you?
Nadia Johnson
Reviewed On:
July 13, 2015
Color:
Coral
The two dresses I ordered are BEAUTIFUL!!! The only con I have is both dresses still needed to be altered even they were custom dresses. The bust were entirely too big. But other than that. Great Price, Great Dress!!!
Was this review helpful to you?
slzavisho
Reviewed On:
May 06, 2015
Color:
Grape
Ordered 3 dresses - all 3 had the same problem - bust size was HUGE!!!! Made for someone with a DD cup size, even though the dresses were custom sized - but no option to include a cup size. They are unacceptable!
Was this review helpful to you?
Kassandraveldhuizen
Reviewed On:
April 09, 2015
I'm speechless! The dress is exactly what I was wanting. I'm getting married on the beach so I wanted a second light loose flowy dress because I've got a full length one for the ceremony but for the reception I wanted something easier to handle on the beach. This dress I bought here from Azazie is perfect!!! And plus when I opened to box it already came in its own little dress bag that zips!! Thank yall so much!!
Was this review helpful to you?