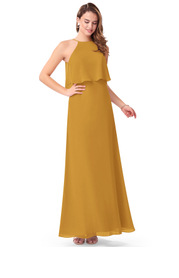 Azazie Rosella
Bridesmaid Dresses
FABRIC: Chiffon
$89
product info

The chic Floor-Length, Floor-Length bridesmaid dress by azazie has an A-line/Princess cut in a gorgeous Chiffon. Style Azazie Rosella features a Halter neckline, and comes in a full size range (A0-A30).  
jworthen22
Reviewed On:
August 07, 2020
Color:
Rust
body type:
Pear
Size Ordered:
A12
This dress is the PERFECT fall "rust" color. The bride was hesitant on having us order it because no place had that true rust color she was looking for. But here it is! The fit of the dress is great. 100% true to size. Other than needing to shorten the dress (because I'm 5'3") it is great. The overlay of the chest area is very flattering. I have had 2 different styles from azazie (this and the kailyn) and this one by far is my favorite!
Was this review helpful to you?
Shannon.kustra
Reviewed On:
May 24, 2020
Color:
Steel Grey
This is the dress I'll be going with, I love this style. It fits true to measurement and the standard length is perfect for 2" heels. The slit in the middle goes the whole way up but there's enough fabric that even sitting it stays covered, the fabric is also heavy so I don't think it will blow in the wind. The draping on the bodice is a lovely blouson with a clean pretty and simple high neck. A little extra draping down the back provides a little extra coverage and detail there. A previous reviewer said the built in cups are comically low and this is true, so that's the one thing I'll either have to custom order or get altered.
Was this review helpful to you?
zoeblife
Reviewed On:
January 15, 2020
Size Ordered:
A8
This dress is more beautiful in person! I was worried about it looking lumpy and causing my bridesmaids to look flat due to not showing curves, but it is actually beautiful and doesn't do that at all. The only thing is that I think the back hangs a little longer than I would prefer, but it's still nice. It fits well, is comfortable, and seems like something my girls could wear again to a special event without it obviously being a prom or bridesmaid dress. I was worried about the thin straps, but the dress is so light that it was perfectly comfortable and gave no tug on the straps. Obviously it'll look better steam ironed as it is very wrinkly here, but overall I would say that it is a nice, modest dress that really is beautiful. This is Pearl Pink and size 8.
Was this review helpful to you?
bellfa226
Reviewed On:
June 14, 2019
I really liked wearing this dress! I had the dressed altered since it was too long and had it taken in at the side. It fit fine on the lower half, but was larger in the chest. I wore a strapless bra with it because the built in cups were too big for me and didn't provide support. The dusty sage color looks very light in artificial light, but shows up darker in natural light. I would definitely recommend Azazie to other people.
Was this review helpful to you?
Krista M.
Reviewed On:
May 19, 2019
Color:
Champagne
I was really happy with this style for a wedding I was in this past weekend. It has a lot less fabric than many of the other styles I have tried on, and no pleating, which was more flattering for my body type. I ended up ordering the custom size but I used all of the measurements for the size A0 except for the length, so I wouldn't need to get it hemmed. One thing I noticed was that it fit just slightly tighter in the bust/neck area than my other azazie dress in the exact same size. It wasn't an issue for me as I have a relatively small bust, but for those who don't, you may want to order up a size in this style. I received lots of compliments and this is honestly the first bridesmaids dress that I've bought that I would consider re-wearing. Highly recommend!
Was this review helpful to you?
Rachel Alison Feikema
Reviewed On:
April 29, 2020
Color:
Mulberry
body type:
Hourglass
Size Ordered:
A0
Overall I love the dress! I am a bridesmaid in a wedding and ALL of us are built very differently. I have an insanely small body shape but lift, and was worried about how everything would fit because of my bigger shoulders. I had no reason to fear at all. My only complaint is that it is pretty long, but hemming isn't hard! Overall for brides picking a dress that fits a wide variety of body shapes, I think that this is a really good dress shape! My sister who is build a bit more like a pear looks absolutely lovely in it!
Was this review helpful to you?
Glory B.
Reviewed On:
March 24, 2020
Color:
Pearl Pink
body type:
Straight
Size Ordered:
A2
Fits very well and exactly as I measured! It came in a fancy garment bag and arrived earlier than predicted. The dress is definitely quality and I can't wait to wear it as a bridesmaid!
Was this review helpful to you?
emeji007
Reviewed On:
April 11, 2019
Color:
Marigold
body type:
Hourglass
Size Ordered:
A0
WOW! Not only did I love the fit on this dress, but everyone else couldn't stop complementing me in it! I was skeptical on buying online and getting a size A0 since I haven't been a size 0 since highschool, or even younger, but I read the measurements and they were exactly my fit. I totally recommend to anyone who has a slim body and larger waist and thighs, dress was loose and tight in all the areas. The color was right on, and great material and many layers. Can't wait to wear this for more events/special occasions!
Was this review helpful to you?