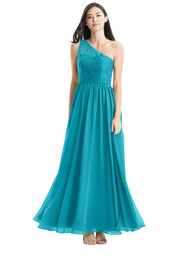 Azazie Rochelle
Bridesmaid Dress
FABRIC: Chiffon and Lace
$149
product info

Style Rochelle by Azazie is a floor-length A-line/princess bridesmaid dress in a fabulous chiffon and lace. The attractive dress features an one neckline and illusion back style. Fine lace covers a fitted bodice above the skirt, this perfect maids frock has a dash of romance. Azazie's Rochelle style comes in sizes A0-A30. Ask a question
jaretalan
Reviewed On:
2018-07-18 16:03:31
Color:
Burgundy
Body Type:
Hourglass
Size Ordered:
A6
This dress fit me perfectly and I totally loved it!! Definitely worth the money and I was beyond pleased with this dress! Color was exactly like the sample dress.
cramvg
Reviewed On:
2017-10-16 21:19:11
Perfect choice of company for my sister's wedding! We were able to sample the dresses before purchasing and it was easy to return the sample. The dresses arrived ahead of schedule and in perfect condition! The added garment bags made transporting the dresses to the venue simple and worry free. Will definitely be using Azazie again. 5 stars!
Adriane Laine
Reviewed On:
2017-09-05 15:27:44
LOVED using Azazie for our bridal party! All of my girls got their dresses on time, and one girl had to order hers on rush (late add-on) and she STILL got her dress in time! Most of the girls did the custom sizing, and they loved it! Everyone at our wedding loved the girls dresses, and the fact that they were all different helped every girl show off her own personality.
k4yteeee
Reviewed On:
2017-05-26 15:43:11
I ordered a sample of this dress, it was pretty but nothing too exciting.
nursenatalee
Reviewed On:
2018-05-30 16:36:17
Color:
Sky Blue
Body Type:
Hourglass
Size Ordered:
A6
Needed minor alterations. Beautiful dress. Looked great on the bridesmaid who wore it. Matched great with the other bridesmaid dresses.
merissa
Reviewed On:
2017-09-20 15:23:11
I loved the fit and cut of this dress! I was super skeptical ordering it online, but the size 6 fit perfectly when I got it. The hem is a little long for an average person so alteration will probably be necessary, but overall it is a great dress!
Kristen
Reviewed On:
2017-02-05 12:47:08
Loved this dress! The dresses were done in navy blue for our fall wedding and they were gorgeous. My bridesmaids said that although they ordered custom sizing, the dresses came quite long and the shoulder needed to be shortened on most, but both of those were a simple alteration! I had girls both small and large chested and it fit well for both! Would highly recommend this dress!
Melissasteinberger
Reviewed On:
2017-01-09 16:39:38
Color:
Black
Loved the dress, only issue I had was the zipper getting stuck in the waistband area. It kept grabbing the fabric. Otherwise, everything else was perfect. Did a custom measure and everything fit just fine. Would reccomend Azazie
mkagilligan
Reviewed On:
2017-01-06 12:12:47
Gorgeous dress! My bridesmaids each wore a different long, chiffon dress in steel grey. The lace details on this dress are absolutely lovely.
Tsbymo
Reviewed On:
2016-10-06 05:37:41
Absolutely amazing! Designers worked one-on-one with me to make this dress an easy process. I have an 11 year old daughter who is quite tall (5'4" & growing)... and all the dresses we previously tried on just were.not.working... women's were too large & juniors were to small. Azazie made it work perfectly & the dress is beautiful! Thanks a million!
jaretalan
Reviewed On:
2016-10-03 09:04:03
Color:
Burgundy
I absolutely love this dress!! I followed the video on how to properly measure myself and the dress fits me perfectly!! The quality of this dress is above and beyond for the price! I would definitely recommend this dress and whole website for anyone who is wanting bridesmaids dresses or even a nice dress for an evening! I am so happy and very pleased with my experience with Azaie!! I can't wait to wear this dress for my brothers wedding in February! Thank you!! :)
jaretalan
Reviewed On:
2016-09-01 07:27:25
Absolutely loved this dress. This is the dress I will be ordering for my bridesmaids dress. I measured myself and this dress matched my measurements and fit great. Great quality for the price!
chowdownusa
Reviewed On:
2016-06-15 18:40:07
I cannot recommend Azazie enough! This dress arrived perfectly fitted to my measurements, and is incredibly comfortable. With honestly impressive high quality of material and craftsmanship, it would be perfect for a wedding or any formal event. You really feel like a princess in this one!