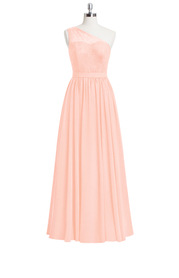 Azazie Rochelle
Bridesmaid Dress
FABRIC: Chiffon and Lace
$149
product info

Style Rochelle by Azazie is a floor-length A-line/princess bridesmaid dress in a fabulous chiffon and lace. The attractive dress features an one neckline and illusion back style. Fine lace covers a fitted bodice above the skirt, this perfect maids frock has a dash of romance. Azazie's Rochelle style comes in sizes A0-A30. Ask a question
Melissasteinberger
Color:
Black
Reviewed On:
2017-01-09 16:39:38
Loved the dress, only issue I had was the zipper getting stuck in the waistband area. It kept grabbing the fabric. Otherwise, everything else was perfect. Did a custom measure and everything fit just fine. Would reccomend Azazie
mkagilligan
Reviewed On:
2017-01-06 12:12:47
Gorgeous dress! My bridesmaids each wore a different long, chiffon dress in steel grey. The lace details on this dress are absolutely lovely.
Tsbymo
Reviewed On:
2016-10-06 05:37:41
Absolutely amazing! Designers worked one-on-one with me to make this dress an easy process. I have an 11 year old daughter who is quite tall (5'4" & growing)... and all the dresses we previously tried on just were.not.working... women's were too large & juniors were to small. Azazie made it work perfectly & the dress is beautiful! Thanks a million!
jaretalan
Color:
Burgundy
Reviewed On:
2016-10-03 09:04:03
I absolutely love this dress!! I followed the video on how to properly measure myself and the dress fits me perfectly!! The quality of this dress is above and beyond for the price! I would definitely recommend this dress and whole website for anyone who is wanting bridesmaids dresses or even a nice dress for an evening! I am so happy and very pleased with my experience with Azaie!! I can't wait to wear this dress for my brothers wedding in February! Thank you!! :)
jaretalan
Reviewed On:
2016-09-01 07:27:25
Absolutely loved this dress. This is the dress I will be ordering for my bridesmaids dress. I measured myself and this dress matched my measurements and fit great. Great quality for the price!
chowdownusa
Reviewed On:
2016-06-15 18:40:07
I cannot recommend Azazie enough! This dress arrived perfectly fitted to my measurements, and is incredibly comfortable. With honestly impressive high quality of material and craftsmanship, it would be perfect for a wedding or any formal event. You really feel like a princess in this one!