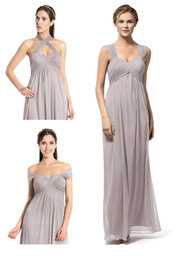 Azazie Remi
Bridesmaid Dresses
FABRIC: Mesh
$99
product info

The lovely Floor-Length bridesmaid dress by azazie has an A-line/Princess cut in a faddish Mesh. Style Azazie Remi features a Sweetheart neckline, and comes in a full size range (A0-A30). A pleated detail at the front and back of the flowing skirt makes it perfect for the reception or a city hall wedding. 
eccl_3_1
Reviewed On:
May 03, 2020
Color:
Sky Blue
body type:
Straight
Size Ordered:
A6
I am very satisfied with this dress! I will be 5 1/2 months pregnant at the time of the wedding and looked at many dresses that could work for my unknown chest and waist size. (I am a little over 4 1/2 months pregnant in this picture). After reading other reviews of this particular dress I decided to buy this one in my regular (pre-pregnancy) size. The stretch mesh fabric that is gathered along the empire waist line works well for an expanding waist line and I could probably even wear it into 7 months. The chest part of the dress fits perfectly now that I'm a little larger busted during pregnancy and would be too tight if I was further into pregnancy, but at this point, it works well! I am almost 5'6" and will be wearing 2-3" heels and the dress needs hemmed about an 1.5" so that I'm not tripping on it. The dress is very light weight and comfortable. The straps are very versatile.
Was this review helpful to you?
Stefanie
Reviewed On:
December 14, 2019
Color:
Peacock
Size Ordered:
Custom size
I am absolutely in love with this dress. The customizable straps are my favorite part,they're really fun. I ordered mine in a customer size so the fit is perfect, it's comfortable, really it's just stunning. The group photo I am attaching is off of Facebook and since Facebook is pretty much the worst thing ever I can't just save the photo to my phone so instead it's a poor quality screanshot.
Was this review helpful to you?
ellie.longfellow
Reviewed On:
November 10, 2019
Size Ordered:
A4
I loved every moment in this dress. It was everything I wanted it to be! The fit is large, I sized down but could have gone down 2, before alterations. Ordered a 4, I am 5"6, normally a small/medium
Was this review helpful to you?
Azazie Stylist
Reviewed On:
August 13, 2018
body type:
Hourglass
Size Ordered:
A24
SO when I was trying on the Remi, I got called into a meeting (it's not surprising for us to be sitting at our desks, talking to a customer or in a meeting with one of our gowns on). I have to say, I was soooooo comfortable in the Remi... more so than my regular clothes - I could have taken a nap in it! The mesh had a bit of stretch, so I don't feel restricted when sitting down or if I were to bust out some moves on the dance floor (before gloriously falling on my butt). This gown is comfy, versatile, and flattering. I would probably wear a low back bra with it for added support though. I do really like that you can wear it so many different ways. If you have all your maids in the Remi, you could potentially have them all wear it completely different ways (and then send Azazie your photos!).
Was this review helpful to you?
Azazie Stylist
Reviewed On:
August 13, 2018
Size Ordered:
A8
I feel like when I first put on the dress and I wore it as a halter, the bust wasn't supported. When I put the straps through the loops is much better - definitely the way to go. Its comfortable. I really like the fabric - it looks fancy, but feels like I'm wearing pajamas! I could wear this dress for a long time and not get tired in it. I like the dress. For maternity this may not be the best dress because of the halter not supportive, and the sides come down lower than the Kaitlynn or Francesca. Overall: I like it!
Was this review helpful to you?
Azazie Stylist
Reviewed On:
August 13, 2018
body type:
Straight
Size Ordered:
A2
I could definitely see this as maternity friendly. Very comfortable, loose fitting skirt, very light, and good quality. The bust is a little bit bigger than the other dress I tried, but that one was a corset back. Super comfortable, it's a good fit for any shape because it is so loose and flowy. I like that you can wear the dress in different ways, you can wear it one way to an event, and then completely different style for another event. This may be a good option for postpartum, depending on how you wear the straps.
Was this review helpful to you?
kat.hedden13
Reviewed On:
November 23, 2020
Color:
Dusty Rose
Size Ordered:
A12
I ordered this dress at 5 months pregnant in preparation for a wedding in which I will be 1 month post partum. This fabric and fit helped me feel confident going into the unknown size of the future!
Was this review helpful to you?
KMD123
Reviewed On:
July 07, 2020
Color:
Burgundy
body type:
Straight
After trying several different dresses one of the other bridesmaids recommended trying this dress. I ordered 3 of the same dress in a size 10, 12 & 14. The 10 fit me like all other size 10 dresses fit and felt very nice. I honestly felt so comfortable in all the sizes I tried on in this dress. It was an incredibly comfortable material and I believe looks flattering on all body types!! I would have ordered this dress for sure had I not fallen in love with the ginger allure dress but this dress was my runner up!! Completely recommend!!
Was this review helpful to you?
CML
Reviewed On:
September 09, 2019
body type:
Hourglass
Size Ordered:
A20
My sister got married when I was 26 weeks pregnant, this dress was perfect for a growing belly. It felt like my belly could've been much larger and had plenty of room in the dress. It was a very comfortable dress all around. I did need to get it hemmed and taken in a little because I ordered a size up.
Was this review helpful to you?
Alexandra S.
Reviewed On:
June 14, 2019
body type:
Pear
Size Ordered:
A2
Went back and forth for awhile on what size to get and ended up ordering the A2 based on reviews saying this dress runs large. This size fits perfectly (I'm rating it "slightly large" because I had to order down)! I am typically somewhere between a 4-6 dress size, but I do have a smaller bust, and since this dress is only fitted in the bust, I was especially concerned with a larger size being too big. As long as your waist measurement is smaller than your bust, base the size on bust and strongly consider ordering down.
Was this review helpful to you?
Jessi Kulpa
Reviewed On:
October 20, 2018
body type:
Hourglass
Size Ordered:
A4
First I have to say that when they say it takes 3-4 weeks to get your dress, they aren't kidding. Took almost a full month for it to get here. So if you're ordering, allow yourself a few months in case you need to return/exchange, which is exactly what I'm having to do. I ordered an A4 which was slightly smaller than my actual measurements, based on reviews that this runs large. Well it's too big, so i'm returning it and getting the A2 instead, and it's going to be coming just barely in time for my cousins wedding. Hopefully it's not too much shorter seeing as the A4 is just barely long enough. The dress seems well made and looks just like the picture, just don't be afraid to order down a size or two.
Was this review helpful to you?
abbita
Reviewed On:
August 21, 2018
body type:
Pear
Size Ordered:
Custom Size
This dress was recommended as a maternity dress, but wow, they did an amazingly bad job following my measurements. When I ordered, I sent an email to ask about how to do the measurements, even noting that they were missing the under-bust measurement - they responded right away, asking for the missing measurement, and noting that they'd make sure the sizing would be maternity-friendly. Instead, they made the dress 4 inches too big around in the bust, and the top part is so long that what is supposed to be an empire waist instead falls where my pregnant belly sticks out. It's like the dress was made for a giant. It's so bad that the two tailors I've brought it to so far say it can't really be fixed. Now I am stuck with a wedding two weeks away and nothing to wear. If you are DD+ this dress may work for you. I do NOT recommend this as a maternity dress, and I do NOT recommend Azazie's "custom" sizing.
Was this review helpful to you?