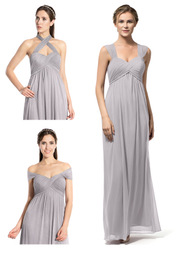 Azazie Remi
Bridesmaid Dress
FABRIC: Mesh
$109
product info

The lovely floor-length bridesmaid dress by Azazie has an A-line/princess cut in a faddish mesh. Style Remi features a sweetheart neckline, and comes in a full size range (A0-A30). A pleated detail at the front and back of the flowing skirt makes it perfect for the reception or a city hall wedding. Ask a question
Refine Reviews By:
Sort By:
Ratings (Show High to Low)
Helpfulness (Show High to Low)
Azazie Stylist
Reviewed On:
2018-08-13 13:30:59
Body Type:
Hourglass
Size Ordered:
A24
SO when I was trying on the Remi, I got called into a meeting (it's not surprising for us to be sitting at our desks, talking to a customer or in a meeting with one of our gowns on). I have to say, I was soooooo comfortable in the Remi... more so than my regular clothes - I could have taken a nap in it! The mesh had a bit of stretch, so I don't feel restricted when sitting down or if I were to bust out some moves on the dance floor (before gloriously falling on my butt). This gown is comfy, versatile, and flattering. I would probably wear a low back bra with it for added support though. I do really like that you can wear it so many different ways. If you have all your maids in the Remi, you could potentially have them all wear it completely different ways (and then send Azazie your photos!).
Was this review helpful to you?
Azazie Stylist
Reviewed On:
2018-08-13 13:07:17
Size Ordered:
A8
I feel like when I first put on the dress and I wore it as a halter, the bust wasn't supported. When I put the straps through the loops is much better - definitely the way to go. Its comfortable. I really like the fabric - it looks fancy, but feels like I'm wearing pajamas! I could wear this dress for a long time and not get tired in it. I like the dress. For maternity this may not be the best dress because of the halter not supportive, and the sides come down lower than the Kaitlynn or Francesca. Overall: I like it!
Was this review helpful to you?
Azazie Stylist
Reviewed On:
2018-08-13 13:04:50
Body Type:
Straight
Size Ordered:
A2
I could definitely see this as maternity friendly. Very comfortable, loose fitting skirt, very light, and good quality. The bust is a little bit bigger than the other dress I tried, but that one was a corset back. Super comfortable, it's a good fit for any shape because it is so loose and flowy. I like that you can wear the dress in different ways, you can wear it one way to an event, and then completely different style for another event. This may be a good option for postpartum, depending on how you wear the straps.
Was this review helpful to you?
abbita
Reviewed On:
2018-08-21 10:30:38
Body Type:
Pear
Size Ordered:
Custom Size
This dress was recommended as a maternity dress, but wow, they did an amazingly bad job following my measurements. When I ordered, I sent an email to ask about how to do the measurements, even noting that they were missing the under-bust measurement - they responded right away, asking for the missing measurement, and noting that they'd make sure the sizing would be maternity-friendly. Instead, they made the dress 4 inches too big around in the bust, and the top part is so long that what is supposed to be an empire waist instead falls where my pregnant belly sticks out. It's like the dress was made for a giant. It's so bad that the two tailors I've brought it to so far say it can't really be fixed. Now I am stuck with a wedding two weeks away and nothing to wear. If you are DD+ this dress may work for you. I do NOT recommend this as a maternity dress, and I do NOT recommend Azazie's "custom" sizing.
Was this review helpful to you?