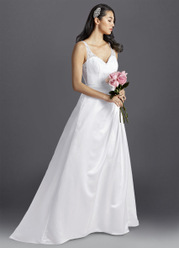 Azazie Presley BG
Wedding Dress
FABRIC: Satin and Lace
$249
product info

This sweep train, A-line dress by Azazie is constructed in a gorgeous satin and lace. Presley BG features a back zip back style and a v-neck neckline. Presley BG by Azazie comes in sizes WD0-WD30. Accented by glittering rows of sequins, the dress has a polished ladylike appeal that's entirely elegant. Ask a question
Azazie Stylist Review
Reviewed On:
2017-10-09 15:20:42
Body Type: Plus size and curvaceous (Very booby) Size worn: 20 Usual Size worn: 20 I love the bodice, especially from the front and the I love the beading and how thin the straps are. I like the skirt more than I thought because it camouflages what I want it to. I like the side pleating in in the back and I love the illusion cut outs on the side of the bodice. I feel like the quality is good and I feel really supported without having to showcase too much fo the girls. I think it's good but the sizing is different from what I was expecting, It is really tight though and I am getting a butt back. I feel I would need a little extra length due to the fabric.
Azazie Team Review
Reviewed On:
2017-10-05 14:27:40
Height: 5'5" Size worn: 8 I feel like the illusion panels are loose and I don't like the pleating at the hips, it adds too much to my shape. The satin and the skirt feels heavy. I like the beading and the neckline.
amlower0620
Reviewed On:
2017-11-30 10:55:18
This dress is a dream, it is one of the most comfortable dresses I have tried on, and it would be very easy to wear for a whole day. The lace detail on the bodice and side panels is beautiful, and the beading on the neckline gives just a little added sparkle. The way the skirt lays is incredibly flattering, and you just feel beautiful and confident when you're wearing this dress, if there was a bit more of a train and if it wasn't for the final dress that I had chosen to try on, this would've been the winner by a large margin.