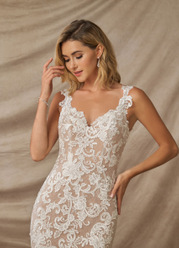 Azazie Poppy BG
Wedding Dresses
FABRIC: Tulle
$299
product info

This Chapel Train, Trumpet/Mermaid dress by azazie is constructed in a concise Tulle, Lace. Azazie Poppy BG features a Back Zip, Scoop back style and a Sweetheart neckline. Azazie Poppy BG by azazie comes in sizes WD0-WD30. Accented by glittering rows of sequins, the dress has a polished ladylike appeal that's entirely elegant. 
Scintillating Bride
Reviewed On:
March 04, 2021
Color:
Diamond White
Azazie was amazing!! I was trying to find an affordable dress that would still look nice and Azazie was perfect and beyond what I wanted!! It was super helpful to rent 3 gowns and try them on at home. I had my roommate take my measurements and got the custom dress and gave like an extra inch or two and it fit me pretty well! It looked a tad big but better than too small and I did not have to pay for tailoring. The dress was beautiful and I received so many compliments on it. It's super easy to put on [don't even need help cause it's one zipper] and I discovered through my mom that there is a dress train hand loop. I highly recommend purchasing your wedding dress from this place. Shipping took about a month and a half and arrived earlier than expected. I've attached some pictures for viewing of the successful gown purchase from this awesome place!!!!
Was this review helpful to you?
Shannon
Reviewed On:
February 12, 2021
Color:
Diamond White/nude
BUY THIS DRESS! I usually order a medium in tops, have no boobs, and am a size 6 pant and ordered a size 4 in this dress. For the price of this dress, it fits PERFECTLY. I honestly could get away with no alterations. There is some extra fabric in the waist/booty area, but overall I am so impressed. The lady doing my alterations could not believe I got such a deal and said the quality matched a designer dress. I'm opting to have the waist brought in so it's a bit more flattering and buttons added to the back for a fun touch, but it absolutely wasn't necessary. When wearing 2.5 inch heels it's the perfect length, no hemming necessary.
Was this review helpful to you?
warnockcmckenzie
Reviewed On:
January 04, 2021
Color:
Diamond White/nude
Beautiful dress! Great material! A little big in the bust area for me! Really good quality!!
Was this review helpful to you?
dmbye92
Reviewed On:
November 12, 2020
Color:
Diamond White/nude
Size 4 was a little big in the waist/bust area but overall gorgeous dress ?
Was this review helpful to you?
miss b
Reviewed On:
October 17, 2020
Love it! Everything I wanted - lace, mermaid, a light train and sweetheart cut. I ordered this dress in white. I was eyeing it for a while but my size wasn't available for try at home and I hadn't seen any reviews of it. I finally tried it it on and it was more beautiful in person. I didn't get my size, I should be an 8 or 10 and this is a 12 (I'm 5'8).
Was this review helpful to you?
Mollykid2002
Reviewed On:
November 12, 2020
Color:
Diamond White/nude
This is it! This is THE DRESS!!! As a 50-something, curvy plus size woman looking for a dress for a second marriage, Poppy fits the bill on so many levels. It's beautiful enough to feel special, but not over the top, and the straps have the lace all the way, which makes it feel a bit more grown up. And yet, the shape makes me feel beautiful and sexy while still covering everything it needs to cover (did I mention I'm 50-something and things are not where they were when I was first married at 27?) I love the confidence I feel and the beauty of this dress. I'm 5'5", and even in 5" heals, Poppy is VERY long - I'm going to custom order so that I have the right length. But otherwise, the size 16 dress I ordered fits like a dream. I wear size 14w-16w pants depending on the cut, and I wear a large or extra large top most of the time (I've been blessed with wider shoulders), and am not sure I could have custom ordered a much better fit! And the try at home service is the best thing EVER! I love that I can get the dresses I want in a size that fits to try at home, where there's no pressure. I'm able to try on the dresses that I want without having someone try to talk me into trying something I don't really like or feeling pressured to make a selection NOW! I was able to try on this beautiful dress by myself, and then have my best friend/maid of honor come so I could get her opinion, too.
Was this review helpful to you?
ambercrowley
Reviewed On:
November 11, 2020
Color:
Diamond White/champagne
This dress was really pretty but a bit scratchy. The back was the best part. The dress fit wasn't what I had pictured for myself but it was a lovely dress.
Was this review helpful to you?