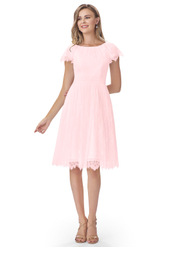 Azazie Phoebe
Modest Bridesmaid Dresses
FABRIC: Chiffon and Lace
$139
product info

Style Phoebe by Azazie is a knee-length A-line/princess bridesmaid dress in a comfortable chiffon and lace. The stunning dress features a scoop neckline and back zip back style. A pleated detail at the front and back of the flowing skirt makes it perfect for the reception or a city hall wedding. Azazie's Phoebe style comes in sizes A0-A30. Ask a question
Refine Reviews By:
Sort By:
Ratings (Show High to Low)
Helpfulness (Show High to Low)
keowyn
Reviewed On:
September 14, 2017
I stumbled across Azazie and wondered if they were too good to be true. I've gotten my toes wet with Chinese companies and have heard horror stories from brides who ordered overseas, but I rested easier when I saw that Azazie was based in California. I just want to say that my experience with them was 100% positive and they really are as good as they seem! I got a deal on free swatches from them, and the swatches arrived in a timely manner. I was a little taken aback by how different the colors looked depending on the type of material they are (I ordered Regency and Grape), so if you have your heart set on one particular color shade, be careful. My bridesmaids and I also ordered three sample dresses from them (sample dresses=a GREAT program!). They may have taken a few weeks and FedEx delivered them to the wrong houses in both Michigan and upstate New York. This made it so that my bridesmaids got the dresses back to Azazie late, but when we explained everything to the company, they were very kind and understanding and they didn't charge us for the mistake. We settled on the Phoebe dress in Grape and were VERY satisfied. The cons of the dress are that it isn't as flattering as it COULD be (the way the dress falls, it slightly accentuates the hips) and that the zipper sticks slightly at the waistband, but other than that, we were very happy! We ordered the dresses in custom sizes and they fit my bridesmaids perfectly, even with their varying body shapes! They were really quite lovely. Of course, we only ordered four dresses and we tried to allow plenty of time. My wedding was in mid June and we ordered the dresses in early March, but they arrived by the end of April! Since large wedding parties are growing in popularity, I suggest making sure that you allow the company plenty of time to process the dresses. I had absolutely no complaints on my end, but we did have a smaller order than some people. And here's a picture, in case it helps!
Was this review helpful to you?
ellyirene
Reviewed On:
February 09, 2017
I ordered this dress with custom sizing in one of my bridesmaid colors for my bridal shower. I took the measurements myself so I was a bit nervous but it fits pretty much perfectly. I absolutely love it. It is so soft and the skirt has several layers making it nice and full. The lace is really pretty. The only two small things are the back neck part is a little big so it doesn't lay flat across my back but it's not super noticeable. It might also be due to the measurements I gave. Second, the zipper sticks near the chiffon belted part and I had to have my fiancé help but again not a huge deal. Overall extremely satisfied and would recommend both this dress and the custom sizing!
Was this review helpful to you?
Rebekah Miller
Reviewed On:
March 29, 2019
Size Ordered:
Custom size
Good
Was this review helpful to you?
katwilkins63
Reviewed On:
June 07, 2018
Body Type:
Hourglass
Size Ordered:
A16
My other daughter did not like this dress, it was too big and we had to ship it back. We are awaiting a new dress she has chosen and hoping it will work out better. Thanks
Was this review helpful to you?
adh3709
Reviewed On:
August 30, 2017
DO NOT ORDER A CUSTOM DRESS. Even if you think there is nothing possible that can go wrong since you took your measurements three times with help from two different people after watching the instruction video twice, ordered a color swatch, and ordered a sample dress there is still a way that they will mess up leaving you scrambling to figure out what to do. This will cause undue stress on the bride who will then cause more stress for you. Because custom dresses are not refundable there isn't much the company was willing to do for me when they made the sleeves too short. The options I was presented with are either send it back so they can investigate it and then not have a dress for the wedding in three weeks or a 15% refund. They finally sent me fabric to have a local seamstress fix their mistake, but none of the lace was sent and this was not communicated. The customer service I received was the best I could expect, but was still lacking in communication. I will add that the dress is beautiful and comfortable and would be a 4-5 star review had it come with the sleeves that are pictured and are on the standard size sample dress.
Was this review helpful to you?
hooked1126
Reviewed On:
August 30, 2017
This fit my little sister/junior bridesmaid perfectly! We did a custom sizing, and we knew that at least if something was a bit off that Azazie would reimburse $50 for alterations, but we won't even need it! High quality, gorgeous material. Took a little longer to arrive than other dresses, but worth it!
Was this review helpful to you?
emwil11
Reviewed On:
April 01, 2017
The dress I ordered came within the specified time frame and the customer support was great. However, I was very disappointed in the dress itself. The color was not as depicted (I even ordered a color swatch before ordering) and some of the details of the dress did not match the stock photo. Additionally, I ordered according to the sizing chart and my dress was far too big. Unfortunately I am now left scrambling last minute trying to find a dress for my event. Luckily the return process has been slick so far.
Was this review helpful to you?