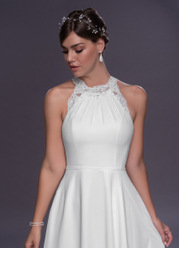 Azazie Peggy BG
Wedding Dresses
FABRIC: Chiffon
$249
product info

Dress Azazie Peggy BG by azazie is an exquisite Chiffon, Tulle bridal gown featuring a Halter neckline on a Tea-Length A-line skirt. The back of the gown is finished with Side Zip, Illusion back style. Available in sizes WD0-WD30 at azazie. Accented by glittering rows of sequins, the dress has a polished ladylike appeal that's entirely elegant. 
smlb19
Reviewed On:
June 07, 2020
Color:
Ivory
I tried on quite a few dresses from Azazie in all different styles because I had no idea what I wanted. I am getting married in Las Vegas and decided to try on a tea length so I wouldn't be profusely sweating in a long heavier dress. I love the length and the beading/back is beautiful! It is so comfortable and absolutely perfect. The only thing that would make it even more perfect is pockets ;) Sorry for the picture quality, it's hard to get a good one by yourself!
Was this review helpful to you?
Ashley
Reviewed On:
May 15, 2020
Size Ordered:
6766
As I'm sure most people do, I had my reservations about ordering a wedding dress online. So I opted for the "try before you buy" option to give me piece of mind - and I'm so glad I did. The dress is gorgeous, perfect for my simple ceremony. You can feel the quality of the dress in the fabric - there's definite weight to it (so you wont have to worry about a slight breeze if you're outside :P ). Its soft and the beading is beautifully done. I opted to try the WD4 size and it was a bit big on me (i'm 5'5" 118 lbs, smaller bust sized), which is the one pictured below. After (more properly) measuring myself I ended up ordering the WD2 size to give room for adjustments if needed. There is mild built in padding in the dress, so it can be worn without a bra if one so chooses. If you're concerned about sizing definitely give their "try before you buy" a try - it's worth the piece of mind to know exactly what you will be getting. And if you have any issues their staff is also extremely helpful. I loved the dress and am looking forward to wearing it come my wedding day.
Was this review helpful to you?
Alissa
Reviewed On:
August 22, 2018
I had previously ordered the WD8 sample of Dolores, which fit me perfectly. There was no WD8 sample for the Peggy, and the closest options were WD4 and WD12. Since there was no way I was going to squeeze down two sizes, I ordered the WD12, which was pretty large on me (but I put that the fit was "right" because that was obviously going to happen). I used clothespins to take some of the pictures. I am 5'5", 138lbs, and normally wear a 4 or 6. This is a nice dress. It is the only tea-length option without the poofy mesh stuff, which is why I wanted to try it on after trying out the Dolores. This dress wasn't as flattering on me as the Dolores--the lower waistline on the Peggy just didn't work for me (probably partially because I have a relatively short torso). I also couldn't put it on myself like I could with the Dolores: the Peggy has a size zipper and clasps to hook one of the straps onto the other on the back. This dress does have enough boning/support that a bra isn't required. This isn't my dress--I'll be ordering the Dolores for my wedding--but Azazie is an awesome company. The sample dress program is easy. You receive the dress with a return label, and all you have to do is drop it off at a FedEx location. I highly recommend utilizing this program!
Was this review helpful to you?
Amy M
Reviewed On:
December 01, 2020
Color:
Ivory
body type:
pear
Size Ordered:
WD8
I realllly like this dress! I tried three for the try-at-home and this was my favorite for the beading, the back and the neckline. I thought I might want a tea length but not sure I do, that's the only downside that I could find, fit really well and great quality. Now-- if it had this top with the Florine flowy pants bottom I'd already have ordered it! Can you do that for me??
Was this review helpful to you?
Mary Val
Reviewed On:
August 31, 2020
Color:
Ivory
body type:
Hourglass
Size Ordered:
WD22
The dress was rather large in the bust. I would not consider myself small chested (38C/D). This would work better on larger sized chest. The neck line was too high on me and uncomfortable. The beading was larger and very glittery in person, not quite as shown in the photos and not my personal taste. This is definitely a dress to try on before you buy. Its a love or so not right kind of dress.
Was this review helpful to you?
Hllawrence97
Reviewed On:
September 30, 2019
Color:
Ivory
Loved it
Was this review helpful to you?