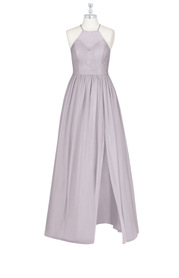 Azazie Patience
Bridesmaid Dress
FABRIC: Chiffon and Lace
$129
product info

Style Patience by Azazie is a floor-length A-line/princess bridesmaid dress in a fabulous chiffon and lace. The fashionable dress features a halter neckline and back zip back style. Fine lace covers a fitted bodice above the skirt, this perfect maids frock has a dash of romance. Azazie's Patience style comes in sizes A0-A30. Ask a question
Katherine Crosby
Reviewed On:
2018-05-07 08:57:52
Body Type:
Straight
Size Ordered:
A0
raechelbecker
Reviewed On:
2018-05-02 06:24:02
Color:
Dusk
Body Type:
Pear
Size Ordered:
A10
I am so happy with my purchase. I used the size chart and I need very minimal alterations. It is definitely long but that is a very easy alteration. I will be taking the top up a little as well just so it's extra snug, again minimal. I recommended this site after I stumbled upon it planning my own wedding. I also saw amazing dresses while I did hair for a wedding. I tell all my clients who are planning a wedding to check out Azazie. The dresses are gorgeous, amazing color selections, & the price is right. Perfect for someone who has a bridal party who live everywhere. You never have to leave your couch or go to one of those hassle bridal stores. I would definitely order again!
Aubrey Nitschelm
Reviewed On:
2018-03-12 14:03:38
Ordered this dress as a sample and FELL IN LOVE! Not only was it comfortable... it was truly gorgeous. I have an athletic build with wide shoulders so this high neck look was perfect for me! I will be definitely be ordering this for my friend's wedding. The only thing I would mention is that it was a bit long so I will be custom ordering when I do get the dress. I am 5'6" and this dress was a size 6 in Dusty Rose.
Chelsey Is
Reviewed On:
2018-03-09 16:04:03
Body Type:
Hourglass
Size Ordered:
A8
This was my very first time ordering a dress online, let alone a bridesmaid dress! Had some issues with customs (I'm in Canada) so I would suggest shipping to a US PO box if you have access to one. The company was very understanding and helpful when I contacted them about the customs issues (even though it totally wasn't their fault). Very impressed with the customer service. The dress fit amazingly (I ordered a size 8, one size up due to being 13 weeks pregnant at the time of the wedding). I was very surprised with how well it fit considering I have a hard time finding dresses that fit me properly in stores. All I had to do was have it hemmed, and the tailor remarked on how well the dress was made. Would buy from this company again 100%. :)
Lala22
Reviewed On:
2017-11-07 09:52:34
Ordered the dress size closest to my measurements and it fit perfectly although had to be hemmed because it was very long. Received many compliments on the dress and the pockets were great!
LaLa90
Reviewed On:
2017-11-06 17:17:22
Received many compliments on the dress. Ordered dress closest to my measurements and it fit perfectly although I had to hem it as it was way too long. Loved the pockets.
ashelsey
Reviewed On:
2018-04-11 19:13:13
Color:
Grape
Size Ordered:
Custom Size
ABSOLUTELY AMAZING. Was so thrilled with my order- custom measured and it fits LIKE A GLOVE and is SO FLATTERING. this dress is very beautiful and great for us smaller chest ladies out there :) Slit is a nice touch. Also came in a wonderful dress bag. color was different than online (which was desired as the bride ordered swatches) so just make sure to do the swatch first!
Ngootee16
Reviewed On:
2018-02-28 10:51:44
Color:
Dusty Rose
Body Type:
Hourglass
Size Ordered:
Custom Size
This was my first Azazie purchase and I'd totally do it again! We had a tight timeline for getting dresses ordered as the couple planned the wedding for 6 months after they got engaged so we ordered in January hoping they would arrive by April and I got mine in February! I did custom sizing and it is perfect. I don't have to have a single alteration (even length which is incredible as I am 5'3" and always have to get things hemmed!) This dress has built in cups so no bra needed (PRAISE) and the slit and pockets are a great touch. I can't wait to wear this in June!!
laurenerin89
Reviewed On:
2018-02-18 10:55:14
Color:
Dusty Rose
Size Ordered:
A4
Quality fabric, pretty color and design. Seems to run a half to 1 whole size bigger and made for taller body stature. Once alternations are made I believe I will be happy with the dress!
KS
Reviewed On:
2018-01-03 13:47:05
Color:
Dusty Rose
Size Ordered:
A14
I ordered this for my sister's wedding in one stock size smaller than my current measurements (measured at A16, ordered A14). I either lost weight in the time it took the dress to be delivered, or it was larger than the size listed; it fit perfectly. This was actually disappointing as I will need a smaller size by the wedding. I'm not a fan of the for either as the waist of the dress fell right at my natural waist (go figure, right?). I did expect this a bit as that is what the photos showed. Regardless, I returned it.
Sam
Reviewed On:
2018-01-02 15:18:21
Color:
Emerald
Body Type:
Hourglass
Size Ordered:
Custom Size
fit very well lace looks a bit threaded but besides that its a great dress
jphelan87
Reviewed On:
2017-10-06 04:52:16
Color:
Ink Blue
I love the fit! I am a 2xl shirt, size 20 jeans, 44DD, and 5'6". It has a built in bra and it holds the girls really nice! I LOVE the pockets and the cut of the top. The slit is not as noticeable as the picture either. It's a little long with flats but I got a nice 4 inch heel that has it falls nicely on the floor. I got the standard size, NOT the custom.
ctrip242
Reviewed On:
2017-09-27 10:10:43
Color:
Wisteria
Beautiful dress and nice packaging! I ordered the standard size and it was WAY TOO LONG! Planning on wearing to a beach wedding without heels, and now I have to get it altered. Disappointed in the length, so if you are 5'4" be aware it will be too long for you. Other than the length I really love the dress! Nicely made and came weeks before they said it would ship!