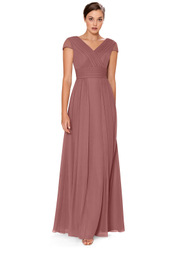 Azazie Organa
Bridesmaid Dresses
FABRIC: Chiffon
$99
product info

Style Azazie Organa by azazie is a Floor-Length A-line/Princess bridesmaid dress in a simple Chiffon. The sweet dress features a V-Neck neckline and Back Zip back style. A pleated detail at the front and back of the flowing skirt makes it perfect for the reception or a city hall wedding. azazie's Azazie Organa style comes in sizes A0-A30. 
Becky Brandt
Reviewed On:
November 01, 2020
Color:
Lilac
body type:
apple
Size Ordered:
CUSTOM SIZE
Darned near perfect! Just a little long. But I think that was due to my own measurement. Very flattering.
Was this review helpful to you?
Kirsten Lorio Vincent
Reviewed On:
October 25, 2020
Color:
Stormy
I ordered custom size - give at least 2 inches per measurements. I gave about 1 inch and it was very tight. A review mentioned the sleeves being tight and it is. I only had about chest length range of motion. Overall, a beautiful dress. Just be aware of sizing and give yourself some room.
Was this review helpful to you?
Christianfilmmaker21
Reviewed On:
September 25, 2020
Color:
Marigold
Size Ordered:
A4
This dress is beautiful and the sizing was great. However the hem was uneven and long. It's been quite a process trying to hem it.
Was this review helpful to you?
goulbourne2280
Reviewed On:
September 19, 2020
Color:
Cabernet
I so love this dress, even though it was a try on to see how it would look on one of my bridesmaids. It was big, I should have ordered a 22. My only problem is I want it in the purple and lemon yellow but you don't carry the shades I want. Love it none the less.
Was this review helpful to you?
cmroczkowski
Reviewed On:
September 05, 2020
Color:
Orchid
body type:
Straight
Size Ordered:
A18
Fit was perfect. Exactly as measured. The construction of the dress seems a little "cheap" with threads showing on the "neck scarf." It was quick and that is what I needed. It will cost me a small fortune to have hemmed because of the layers in the dress. It's has the silk underneath and then the chiffon over in a couple layers and the dressmaker/seamstress said this will be pricey because of that. Might be worth it to try ordering it in the right length from Azazie. This dress does have weird cups in the top that I am going to have removed as they make visible circles in my chest when it is on. Weird. Overall, what I needed as far as fit, speed, and color (beautiful).
Was this review helpful to you?
Laina
Reviewed On:
August 08, 2020
Color:
Dark Navy
So this dress is beautiful and flattering on all my bridesmaids who have various body sizes and shapes, HOWEVER, the 1 Star is due to the sleeves. Literally every single one of my bridesmaids could not lift their arms in any capacity because the sleeves prohibited that. The design of this dress is a fail, and they must not of actually tried this on their models because the functionality and comfort is poor. We are having to remove the sleeve entirely and the two strands of extra fabric in the front of the dress so the seamstress can make functional sleeves with that extra fabric. After the cost of alterations to the sleeves and hemming (because the dress is 3 layers) my bridesmaids are paying more for alterations then they did the dress. So yes, while this dress is pretty, the sleeves allow for an un-functional and uncomfortable dress, and will cost more in alterations than what it cost to purchase. Due to these problems, the dress is a 1 Star in my opinion.
Was this review helpful to you?