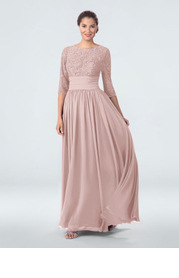 Azazie Olga MBD
Mother of the Bride Dresses
FABRIC: Chiffon
product info

Dress Azazie Olga MBD by azazie is an elegant Chiffon, Tulle, Lace mother of the bride dress featuring a Scoop neckline on a Floor-Length A-line/Princess skirt. The back of the gown is finished with Back Zip back style. Available in sizes A0-A30 at azazie. A pleated detail at the front and back of the flowing skirt makes it perfect for the reception or a city hall wedding. 
Emily Wilson
Reviewed On:
October 18, 2020
I ordered this as a conservative bridesmaid dress. I am a big girl and I didn't see too many big girl reviews on Azazie so here I am. I wanted something to cover my arms and smooth my back, as well as not be too form fitting on my extreme pear shape. I searched this app high and low for weeks until I found this dress and it was perfect for me. I did the custom sizing which worked ok, but when I was entering my measurements I wasn't allowed to have the waist and hip measurements be as extreme as they are so the waist/underbust area was a little snug on me but still fit comfortably. I did get the sleeves hemmed a little shorter and took off the extra bead decals at the ends of the sleeves as well. I would definitely recommend for bigger girls who want to smooth/hide pear shaped lower bodies.
Was this review helpful to you?
jimandsylvia
Reviewed On:
March 06, 2021
Color:
Black
The only problem I had with the OLGA MBD dress, is that it did not come in Dusty Sage. I purchased this dress for several reasons. The fullness of the skirt, sleeve length, neck, and comfort are all very important to me. I sent my measurements so the waist and length would fit me. The details around the neck and cuff area are very nice. All of the materials used in this dress were very lovely.
Was this review helpful to you?
ruthie631
Reviewed On:
October 31, 2020
Color:
Grape
The dress is gorgeous. It was a little tight at the arms. Going to get the next size up.
Was this review helpful to you?
Claudia Karely Castillo
Reviewed On:
October 28, 2020
Color:
Dusty Rose
As usual, Azazie surpassed all my expectations. Even though my dress was used to be tried on, the dress had no damages. Everything was so detailed. Also, it was shipped immediately and arrived just in time
Was this review helpful to you?
Tamara
Reviewed On:
October 15, 2020
Color:
Black
This dress really surprised me and in the best way. My only concern was that the sequins seemed a bit rough and snagged on my (curly) hair. Not a deal breaker for me, but definitely a few annoying moments. It fit well everywhere and despite initially feeling snug across the shoulders, the material had enough give to be very comfortable. It was easy to wear and move in and the compliments were endless.
Was this review helpful to you?
tdebruhl66
Reviewed On:
June 29, 2020
Color:
Grape
Love this dress. Every comfortable and the purple is just beautiful. I ordered the sample and I am now going to order the dress for my son's wedding.
Was this review helpful to you?