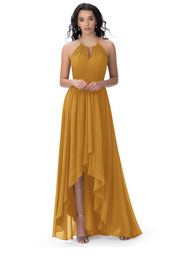 Azazie Oaklynn
Bridesmaid Dresses
FABRIC: Chiffon
$79
product info

The attractive Asymmetrical bridesmaid dress by azazie has an A-line/Princess cut in a lux Chiffon. Style Azazie Oaklynn features a neckline, and comes in a full size range (A0-A30). A pleated detail at the front and back of the flowing skirt makes it perfect for the reception or a city hall wedding. 
michellerose
Reviewed On:
August 10, 2020
Color:
Sky Blue
This is the dress I chose. Between the four dresses I ordered, this one was my absolute favorite. Very comfortable and flowy. I love that it slims me in all the right places. I feel like a Grecian goddess in it. I would like to note, that my body type is small breasted with wide hips and a large butt. It may not look like it in the photos, but the dress's internal "corset" really hugs your torso, sooo if you are busty make sure you size yourself based on your boobs, cause the lower half is flowy enough that it wont make a difference whether your big or small, but the top portion really matters. Cheers!
Was this review helpful to you?
gloriaesposito22
Reviewed On:
August 06, 2020
Color:
Dusk
There were only 2 sizes to try. Unfortunately it was too small on my bridesmaid and too big on me so it was hard to get a good feel for it. I loved the high low look of it. It looked like the picture where others I've tried same high low style are too long. Downside and maybe it was the only color offered is you couldn't see he sheerness of the top. That makes me wonder if in my color if you would see or not. So I wasn't completely happy with it, but it's super cute dress!
Was this review helpful to you?
gloriaesposito22
Reviewed On:
August 04, 2020
Color:
Dusk
While I love the look of the dress. They only had 2 sizes to try on (6 or 18) and therefor couldn't get a great feel for it, too big on me too small on my bridesmaid. Plus the color available doesn't show the sheer as much as I was hoping. The best part was the high low of the dress. It was actually high in the front and longer in the back where other dresses we tried similarly were too long in the front.
Was this review helpful to you?
kurbs
Reviewed On:
February 20, 2021
Color:
Cabernet
I Had the dress custom-made… I was measured by a professional seamstress yet the top was about 4 inches too big all of the way around way too much fabric… I will say that azazie made this right and reimbursed me for more alterations. The rest of the girls in the wedding party were very happy with the fit of their dress, it might have just been this particular dress. I will use the company again because of their customer service and again making this right. It is a high-quality fabric and easy to get in touch with customer service.
Was this review helpful to you?
syvonnatrettel24
Reviewed On:
January 07, 2021
Color:
Royal Blue
Size Ordered:
A4
Terrible! Loose in the top, wayyy too long, on the bottom feels like there's so much fabric. And took almost a month and half to get ? doesn't look anything like the picture on.
Was this review helpful to you?