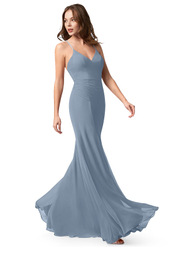 Azazie Nile
Bridesmaid Dresses
FABRIC: Chiffon
$99
product info

Style Azazie Nile by azazie is a Floor-Length, Floor-Length Trumpet/Mermaid bridesmaid dress in an elegant Chiffon. The chic dress features a V-Neck neckline and Back Zip, Strap Detail, V back back style. A pleated detail at the front and back of the flowing skirt makes it perfect for the reception or a city hall wedding. azazie's Azazie Nile style comes in sizes A0-A30. 
Nadejda906.personal
Reviewed On:
January 05, 2021
Color:
Desert Rose
Size Ordered:
A12
I really thought it would be the same as in the picture. It is not unfortunately for a few reasons. The straps are too long and the back is more exposed and the front at the bust is too big which can be adjusted. I don't really like the hanging fabric on the dress at the hip and it's shown on the picture I wish I had a better look at the dress before buying it. Overall after a few adjustments it will look much better. I wouldn't buy from here again just cuz it's probably better for me to buy a dress for a place a bit more expensive but at-least I can see how it fits.
Was this review helpful to you?
Katelyn
Reviewed On:
December 02, 2020
Color:
Burgundy
Love love love this dress!! Very beautiful material and a gorgeous back. The front is very simple (but still beautiful) which make room for the awesome open back and studded straps. The straps can be adjusted (either crossed or uncrossed) and were a bit flimsy. I would probably pick a style and sew the straps in one spot. They kept coming off the hook while I wearing the dress. I tried on size A2 and might try a size smaller. There was a lot of room in the bust area, and there was a small amount of space in the waist. Length was also a little long, but just about perfect if I were to wear heals.
Was this review helpful to you?
Lalaverne77
Reviewed On:
November 30, 2020
Color:
Flamingo
The dress is beautiful, everyone is complementing on the color and the style.
Was this review helpful to you?
Djrmun
Reviewed On:
July 21, 2020
Color:
Fog
Size Ordered:
Custom Size
My girls love this dress. My bridesmaids are all picking out their own styles in the same color. This will be one of the dresses.
Was this review helpful to you?
emacduff
Reviewed On:
June 22, 2020
I went with the custom sizing because they didn't charge extra. Worth it considering none of the sizing lines up will with my figure. The material is gorgeous and flows beautifully as you walk though not as soft or stretchy as I anticipated. Will only need minor adjustments around the waist and a little around the bust. Straps are adjustable on the inside which is a really nice feature. Ordered in lavender and the color is gorgeous as well.
Was this review helpful to you?
Ashleighweglicki456
Reviewed On:
June 21, 2020
I ordered a standard A0 just incase I hated the fabric I would be able to return it. Luckily, that wasn't the case, the fabric is beautiful all I have to do is get it tailored to me. Though straps seem very flimsy, they have a hook on them where you attach it to little tiny string to hold the whole dress together, will have to change that. I'm 5'7", 110 lbs, with a 34D. This dress was loose around the top (that's a good thing for me), tight at the waist and had kind of a sad mermaid look to the bottom. It took a full month to arrive. After I ordered it I found out you can google "azazie coupons" which could've save me about 10-20 dollars :,(
Was this review helpful to you?
Trendirendi
Reviewed On:
June 18, 2020
This dress is not Very pretty on! It fits weird and has this fabric Across the stomach area that makes it look bulky
Was this review helpful to you?
alyssadelahunt
Reviewed On:
June 12, 2020
Color:
Dusty Blue
The sizing was totally off. Through my hips and butt it was incredibly small and seemed to be totally different sizing then what I measured at. However, the bust was at least two sizes too big. There were also some kind of grease marks down the front of the bodice, along with loose threads at the hemline. It was not a good experience, unfortunately . I will need to return. However, I love Azazie and have used them in the past. Usually, I have had a fabulous experience with them.
Was this review helpful to you?
Linda
Reviewed On:
June 10, 2020
body type:
Hourglass
Size Ordered:
7491
The dress was large. I am usually a 2, but I ordered a 0, and the dress was still large. On the side of the bust, there was excess fabric causing for there to be visible gaps on each side.
Was this review helpful to you?