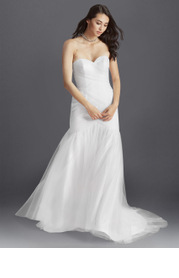 Azazie Misty BG
Wedding Dress
FABRIC: Tulle
$249
product info

This sweep train, trumpet/mermaid dress by Azazie is constructed in a faddish tulle. Misty BG features a corset back style and a sweetheart neckline. Misty BG by Azazie comes in sizes WD0-WD30. A pleated detail at the front and back of the flowing skirt makes it perfect for the reception or a city hall wedding. Ask a question
Azazie Team Review
Reviewed On:
2017-10-27 17:22:53
Height: 5'5" Size Worn: 8 Mermaid is always my last option , but this dress looks wonderful on me. I like how the corset back supports my waist . The dress elongates my body , and makes me look taller =) The only concern is I don't like the tulle , that is just my preference.
Azazie Stylist Review
Reviewed On:
2017-10-17 16:47:04
I adore this mermaid shape style, I especially love the beautiful corset back! I like the fabric, but I don't like all of the pleadings in some areas as it makes me feel a bit larger than I really am. There is definitively extra room to be able to sit comfortably, which is great!
Azazie Stylist Review
Reviewed On:
2017-10-09 16:23:35
I absolutely love this fit and the fact that it has a corset back! I tried a WD2 and as someone who has a bust as WD0, waist as WD2 and hips as WD4, it was nice to have a dress with a corset back because it is very forgiving! You can adjust it to be tighter in all the right places. Also, I had enough room in the hips to sit comfortably. The quality is great and I felt fully supported without a bra. I am 5 feet tall, so a strapless neckline was perfect for my petite body. Personally, I would add a sash for a little extra bling. Overall, this dress is amazing for my body type and style preferences!
Azazie Team Review
Reviewed On:
2017-10-05 11:28:46
Height: 5'4" Body Type: Straight Size worn: 14 Usual Size worn: Medium 8/10 I love the corset back! It fit greats and gives me a more defined waist. I like the pleating on the bodice and I think the tulle over over the organza adds a softer touch to it. I don't like the extra room in the hip area, which is comfortable, but ends up bunching up. I would have to get altered, but it is very comfortable and I can dance all night without feeling restricted. The strapless top is also very secure and I haven't needed to pull it up at all. The boning is a little pointy on the bust, so I would get that fixed as well.