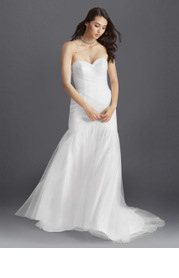 Azazie Misty BG
Wedding Dresses
FABRIC: Tulle
$249
product info

This Sweep Train, Trumpet/Mermaid dress by azazie is constructed in a faddish Tulle. Azazie Misty BG features a Corset back style and a Sweetheart neckline. Azazie Misty BG by azazie comes in sizes WD0-WD30. A pleated detail at the front and back of the flowing skirt makes it perfect for the reception or a city hall wedding. 
Ohsosweetnadine
Reviewed On:
February 25, 2021
Color:
Rose Petal
body type:
Pear
Size Ordered:
6772
This dress is so beautiful ? I love it, I gave 4 stars because the snaps in the corset back to hold the piece in is the only cheap part, got all my undergarments on the way! Can't wait untill my special day, it does need to be steamed out and also I will need just a simple hem
Was this review helpful to you?
19Bride
Reviewed On:
May 24, 2019
Color:
Ivory
body type:
Hourglass
I was disappointed to see that my size was not available in the sample dress. I had to sample a dress one size bigger than what I needed. Naturally, it was big. However, it was way too big in the thigh area. With the corset, I got the top to "fit" but it was not very flattering on me in general. The dress was very stiff with a body of it's own. Instead of fitting my curves, it made my body conform to the shape that the dress already had. I took a picture with my hand on my hip and you can actually see my hand pushing into the dress to get to my hip because the dress had it's own curve there. I am disappointed to have wasted money trying on this dress.
Was this review helpful to you?
shannond
Reviewed On:
August 19, 2018
I️ cannot say enough positive things about this dress! I'm not very confident in my appearance and I️ was getting so frustrated trying to find a dress that made me feel pretty and this is the one!!! I've never been a small girl but this dress makes me proud of my shape. Size worn 16, normally wear 16.
Was this review helpful to you?
Azazie Team Review
Reviewed On:
October 27, 2017
Height: 5'5" Size Worn: 8 Mermaid is always my last option , but this dress looks wonderful on me. I like how the corset back supports my waist . The dress elongates my body , and makes me look taller =) The only concern is I don't like the tulle , that is just my preference.
Was this review helpful to you?
Azazie Stylist Review
Reviewed On:
October 17, 2017
I adore this mermaid shape style, I especially love the beautiful corset back! I like the fabric, but I don't like all of the pleadings in some areas as it makes me feel a bit larger than I really am. There is definitively extra room to be able to sit comfortably, which is great!
Was this review helpful to you?
Azazie Stylist Review
Reviewed On:
October 09, 2017
I absolutely love this fit and the fact that it has a corset back! I tried a WD2 and as someone who has a bust as WD0, waist as WD2 and hips as WD4, it was nice to have a dress with a corset back because it is very forgiving! You can adjust it to be tighter in all the right places. Also, I had enough room in the hips to sit comfortably. The quality is great and I felt fully supported without a bra. I am 5 feet tall, so a strapless neckline was perfect for my petite body. Personally, I would add a sash for a little extra bling. Overall, this dress is amazing for my body type and style preferences!
Was this review helpful to you?
Azazie Team Review
Reviewed On:
October 05, 2017
Height: 5'4" Body Type: Straight Size worn: 14 Usual Size worn: Medium 8/10 I love the corset back! It fit greats and gives me a more defined waist. I like the pleating on the bodice and I think the tulle over over the organza adds a softer touch to it. I don't like the extra room in the hip area, which is comfortable, but ends up bunching up. I would have to get altered, but it is very comfortable and I can dance all night without feeling restricted. The strapless top is also very secure and I haven't needed to pull it up at all. The boning is a little pointy on the bust, so I would get that fixed as well.
Was this review helpful to you?
Carllebrooks07
Reviewed On:
September 28, 2018
body type:
Hourglass
Size Ordered:
WD12
LOVE!!!! Will be ordering a custom size of this dress within the next two months. I am so excited. It's gorgeous on and looks expensive
Was this review helpful to you?