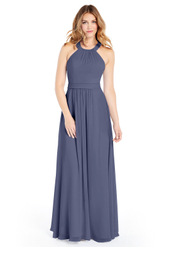 Azazie Misha
Bridesmaid Dress
FABRIC: Chiffon
$109
product info

The stunning floor-length bridesmaid dress by Azazie has an A-line/princess cut in a fabulous chiffon. Style Misha features a halter neckline, and comes in a full size range (A0-A30). Ask a question
Refine Reviews By:
Sort By:
Ratings (Show High to Low)
Helpfulness (Show High to Low)
cwhitbread
Reviewed On:
May 15, 2019
Body Type:
Hourglass
I absolutely love this dress. The best part about the dresses that I tried on is that they all have a built in bra and they are super comfortable
Was this review helpful to you?
Mia
Reviewed On:
May 13, 2019
Body Type:
Straight
Size Ordered:
Custom Size
Fairly comfortable and flattering fit. I ordered a custom size and found that it fit just right except at the waist, where I had gained a few inches since sending my measurements, but I found the cut of the dress to be pretty forgiving (at least for my body type). I wasn't super into the back once I saw it on myself - attaching a photo because it can look quite different on a non-model. The fabric does snag (don't handle it with broken nails) but if it happens on the skirt, it probably won't be noticeable. Skirt was fun to dance in! Overall a good dress for the price, and non-wedding-y enough to be donated to someone's prom.
Was this review helpful to you?
jennifer.losson
Reviewed On:
April 22, 2019
Body Type:
Hourglass
Size Ordered:
A6
Fits true to sizing! I am 5'6" 155lbs. Color is taupe. I ordered based off the measurements of my bust and waist since it is a flowy dress. I had the straps in the back shortened a little bit because I felt like it just hung on me/didn't sit right on my chest. The color is a little more brown than we were expecting. If I can add more pictures after the wedding I will, this is the only photo I have at the moment.
Was this review helpful to you?
AL
Reviewed On:
May 13, 2019
Size Ordered:
A4
I am 5'8, 140 lbs, small busted and had to get the dress shortened because I ordered a size 4. Everything else fit perfectly, but I needed about 3 inches off the bottom. I would do custom sizing next time and just order the length that I want. The dress is really comfortable for all day wear and I didnt need to wear a bra with it.
Was this review helpful to you?
tramainetrotman17
Reviewed On:
April 10, 2019
Size Ordered:
A12
Colour and Style on point but it was slightly large.
Was this review helpful to you?
Megan M
Reviewed On:
March 05, 2019
Body Type:
Pear
Size Ordered:
A10
I tried this on as a sample dress along with the Veronica & Natasha. I ordered my samples in early February, received them about a week and a half later & had a week to try them on. Originally ordering multiple samples at the same time was tough availability wise. One item would be available in my size but the other 2 not, then another item becomes available but the first one is gone ect. Had to order 2 in one order then the last one in a separate order. Because of this they arrived at different times so it would have been hard to try them on together to compare styles. Azazie was great in giving me a few days extension on my first order. Size 10 is true to size, no areas felt too large or tight. If between sizes go by the waist 1st & bust 2nd. Hip measurements don't matter much with the flowing skirt material. I would've been a 6 by bust, 8 by waist & like a 14 by hip guidelines. A10 fit well enough for sample purposes but I will do custom when it is time to order. (it's free and they reimburse up to $50 for alterations so why not!) This dress was my favorite of the 3 mentioned above & I will be doing a custom order with the wedding party soon (will update or add another review in August after the wedding!) Pros: neckline isn't as high as appears (I can't stand chokers or too high of necklines). This is one of the only few dresses Azazie makes that doesn't have crazy amounts of pleated material- this has a very smooth, lightweight and sleek feel vs bulky with the thicker pleated folds in all the other dresses. The thin waist band is very slimming and actually hits at the natural waist (the others with thick waist bands are too high and make the torso look shorter than it is and allows for lower belly pooching). I have a small bust (barely an A) but this made me look like a solid B/C! Cons: No pockets but the dresses that do have pockets tend to make the hips look wider than they are due to the excess material to make them. The straps on the back are sort of stretchy elastic and due to being tried on a lot as a sample were stretched out and didn't lie flat. Could easily be pinched, folded and sewn in alterations.
Was this review helpful to you?
katie.mohan15
Reviewed On:
February 27, 2019
Body Type:
Hourglass
I ordered this sample dress and was pleasantly surprised by how true to size it was! It felt very comfortable and high quality. My one complaint would be that even my strapless bra showed in the back, but there's enough structure and padding in the front to allow me to go braless. I'm fairly short so it could also just be a matter of having it altered to raise the back up a bit to cover a bra. Overall, it's very cute and flattering!
Was this review helpful to you?
sdallachie
Reviewed On:
January 21, 2019
Body Type:
Hourglass
Size Ordered:
A8
I will acknowledge first that I did not pay attention to the size chart and did not know my measurements before ordering my dress and that was my fault. I thought these dresses were according to standard sizing so I ordered an 8, which is usually the size dress I normally wear. The dress arrived about a month after ordering and of course was too small in the waist. The bust however was very big and was awkwardly cone-like due to the boning and padding. I was disappointed by this because I thought these dresses were supposed to look natural without a bra but the boning made the bust look so stiff and awkward. Realizing my predicament with the wedding approaching in a few weeks, I got online immediately to try to contact Azazie and was shocked to find that there was no customer service number or way to get in touch with someone. I had to submit a message request and waist 3-5 days to be contacted, which was very unfortunate due to the urgency of my situation. I was disappointed that this was the case. As far as the dress itself, the quality about matches the price. Very pretty design and color. I cannot stress enough how important it is to have your correct measurements, whether you order by size or custom. I'm afraid I've made my situation extremely difficult for myself due to my error. However I've never worn a bridesmaids dress with such an unusual size chart, which is why I didn't pay close enough attention.
Was this review helpful to you?
morganjamesnutt
Reviewed On:
December 18, 2018
Body Type:
Hourglass
Size Ordered:
Custom Size
I was somewhat skeptical about ordering this dress for a friends wedding but decided to try it. SO glad I did! The back of the dress is SO flattering and even has rhinestone buttons at the back of the neck. I went with a custom sizing, so it needs a few minor alterations but overall, it fits well. For the price, this dress is a steal!
Was this review helpful to you?
Angel
Reviewed On:
November 28, 2018
Body Type:
Pear
Size Ordered:
Custom Size
I've never been more satisfied with purchasing a dress before. It's exactly what I pictured and really well constructed. Also, the delivery was fast, and I ordered pretty last minute so I am thoroughly impressed. I got a custom size and didn't need alterations at all. Overall great experience with Azazie!
Was this review helpful to you?
blasingame.caitlin
Reviewed On:
November 25, 2018
Body Type:
Apple
Terrible! The dress fit right, but it didn't fall in the right places. The back of the dress was also awful, the stripes of fabric going down were all loose, not tight against the skin. The halter top didn't fit any of the girls right, and came down lower than in the picture.
Was this review helpful to you?
lisaclark2
Reviewed On:
October 19, 2018
Body Type:
Pear
Size Ordered:
Custom Size
Looks, feels, and fits like a cheap bridesmaid dress. Not surprised, but never what I would pick for my own wedding.
Was this review helpful to you?
mdudley826
Reviewed On:
June 22, 2018
Body Type:
Hourglass
Size Ordered:
A10
I absolutely LOVE this dress! I can wear an 8 but I ordered a size 10 just to be on the safe side and needed very little alterations (I am short so I needed to have it hemmed). I love how this dress looks on me. It is extremely flattering. I am a B but this dress made my bust look wonderful. My waist looks tiny but it also accented my hips. It feels so light but will keep me warm for the wedding in December. The color (burgundy) is gorgeous as well! I would definably recommend this dress.
Was this review helpful to you?