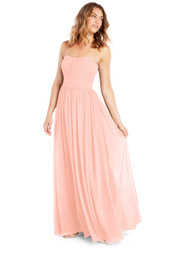 Azazie Milagros
Bridesmaid Dresses
FABRIC: Chiffon
$129
product info

The attractive Floor-Length, Floor-Length bridesmaid dress by azazie has an A-line/Princess cut in an elegant Chiffon, Chiffon. Style Azazie Milagros features a Sweetheart neckline, and comes in a full size range (A0-A30). A pleated detail at the front and back of the flowing skirt makes it perfect for the reception or a city hall wedding. 
Lauren.ishman
Reviewed On:
October 23, 2018
The dress is super pretty and comfortable. It was about 5 inches too long when I bought it (my bad because I costume ordered it and added too much length) but I ended up having it altered. I also had to have it taken in an inch at the waist but it was perfect after that. I'm 5'3 and 120ibs. The only negative I had was that the built in top makes you look like you have huge boobs so I wouldn't suggest it if you're already busty. (I'm the last one on the left) hope this review helps.
Was this review helpful to you?
acsukley
Reviewed On:
July 28, 2020
Color:
Sky Blue
Size Ordered:
Custom size
I unexpectedly needed to order a new size, only a month before the wedding date. I worked with customer service and you were able to get the dress to me 2 weeks early. Thank you so so much! It took so much stress off my shoulders.
Was this review helpful to you?
Casyn Smith
Reviewed On:
March 04, 2020
Color:
Tahiti
Fit true to size and hugged me in the right places so that the dress would not fall down. Only down side I found was that it didn't have pockets.
Was this review helpful to you?
henningmckenzie
Reviewed On:
July 22, 2019
Color:
Dusk
Loved the color!
Was this review helpful to you?
korimteas
Reviewed On:
July 07, 2019
Color:
Stormy
Dress I showed up as expected and super cute upon arrival. We all got dresses off here with the same fabric and different styles. Three of the bridesmaids clasps broke off within minutes of us getting ready. AND the stains this fabric collects is insane. So unreal. I've never seen any material absorb and keep whatever touches it. We all looked like a dirty napkin halfway through the wedding (one girl had to hide in the pictures after getting ready because she put lotion on and it stained her whole dress) I get that this is relatively "cheap" but I still doesn't over $130 and I've had dresses last longer with better fabric from forever 21 haha. Would NEVER ever buy from this site again.
Was this review helpful to you?
Mathisen.kl
Reviewed On:
June 03, 2019
body type:
Straight
Size Ordered:
A4
Beware, the sizing is NOT right on this dress! I ordered my usual size 4 based on the measurements which is 34 bust (I am actually a 32 even) It was WAY too small! I have a very small chest and generally in clothing I am a 2/4, this is the first time ever I've had issues with something being too tight on my chest area.
Was this review helpful to you?
goshop999
Reviewed On:
May 19, 2019
Color:
Blushing Pink
Super dress... purchased on clearance so a great deal :) . Fit is true to size
Was this review helpful to you?
dcr2014
Reviewed On:
February 12, 2019
Color:
Jungle Green
body type:
Pear
Size Ordered:
Custom Size
This is such a pretty dress! The fabric is a nice quality and the shape will look good on any body type!
Was this review helpful to you?
jenna.miller242
Reviewed On:
January 04, 2018
Color:
Lavender
The dress is absolutely beautiful and angelic, but it just may not be for everyone. I wanted it to be my top choice but I gave it 3 stars for not accenting a woman's figure in the areas it should. A sweetheart neckline should provide a sexier outline, but it was more straight than expected (like a tube top). The fitted waistband was also on the shorter side. This made the bottom flare out too high, making a woman's figure nonexistent. I am 5'0, 120lbs, bra size of 34B with an athletic/lean build. Even though size (2) fit me perfectly, I still felt/appeared bigger and simply unfeminine due to my short stature. I was short and stubby, for a lack of better words Haha! But again I'll say, it just may not be for everyone. Nonetheless, my objective opinion states this dress is well-made and gives a beautifully angelic expression.
Was this review helpful to you?
Mia
Reviewed On:
December 05, 2017
I love this dress and the size fits very well 5'5 just a little bit too long
Was this review helpful to you?
sbmccarter
Reviewed On:
November 08, 2017
Color:
Grape
This dress is poorly made. The zipper was broken when I took it out of the bag and the boning in it is very weird. It hits me at my ribs instead of below the ribs. I guess you get what you pay for. I've been in MANY weddings, but purchasing the dress online was new for me. And I hope I can encourage future brides to use local retailers instead of "saving the bridesmaids about $20). Good thing my mother-in-law can use a sewing machine because she had to replace the zipper for me.
Was this review helpful to you?
holtlois
Reviewed On:
June 29, 2017
Color:
Cabernet
the color is very nice and the dress is pretty, this one fits really nice will get back to you with pictures
Was this review helpful to you?
Alix
Reviewed On:
April 16, 2017
Color:
Dusty Rose
Really happy with this dress! I was nervous about getting a custom size but I'm super happy I did. This dress is super nice and got here super fast! The material is nice and I like how it has space to show your toes on the front to walk but it's a little longer in the back.
Was this review helpful to you?
Allie Laurie
Reviewed On:
March 22, 2017
Color:
Stormy
Beautiful color and fit. It is well made, and the fabric is quite comfortable. I may shorten the dress after my sister's wedding to make the dress more versatile in for future events.
Was this review helpful to you?
Akpine
Reviewed On:
March 15, 2017
Color:
Pearl Pink
Normally between a 0 and 2, I ordered a 0 to ensure it was snug enough. The 0 fit great on top. Bottom has a lot of fabric and is forgiving with plenty of room. Size down if you have a smaller chest. Great quality and pretty color.
Was this review helpful to you?
lea
Reviewed On:
November 02, 2016
My dress arrived a week before the estimated arrival date, which was great! I had a friend measure me, and the dress came back the perfect size (around the chest and waist). The only measurement that was a bit off was the length... I'm 5'4, and I chose not to add length to the dress as i wasn't planning on wearing heels, but the dress is about 2 or 3 inches to long. The dress is very well made, and doesn't feel cheap at all. Very happy with my purchase!
Was this review helpful to you?
Akeola
Reviewed On:
September 16, 2016
My Azazie dress came before the estimated date of arriving which was awesome and caught me by surprise cause I wasn't expecting it. My dress was neatly packaged and looked awesome. I place my measurement in to get the dress to my exactly shape it still was bigger around the bust area, therefore I have to take it to get it resized. I'm not excited about that! I also asked for 2 more inches in length and it doesn't seem to be longer, I know I didn't grow more inches. So I'm definitely not excited I have to pay someone else to take back the size around my bust areas. Overall my dress feels great on me and the color is the exact color I was looking for.
Was this review helpful to you?
rsireno
Reviewed On:
April 05, 2016
Color:
Ink Blue
The Milagros bridesmaid dresses are FABULOUS! Shipping was quick and the quality is FANTASIC. My Azazie stylist was very responsive and helpful with all my questions and concerns. I was not sure I wanted to order online, but I'm so glad I did. With Azazie, the process was so easy. Since all my bridesmaids live all over the place, I did not have to go through the hassle of getting them all to the same store. They sent me their measurements from the online chart and each dress fit almost perfectly. All most of them will need is the bust taken in and a hem. I made sure to order the dresses and ties on the same order so that the colors were all from the same dye-lot. I also ordered some additional fabric in case anyone needed their dress let out. To start the process, I ordered sample swatches in the two colors I was thinking and then a sample dress of the Milagros to confirm the fit and quality. I ended up ordering 6 of them in color Ink Blue and they look PERFECT. The picture of the dress is completely accurate. I highly recommend this dress if you are looking for a simple strapless. I can't wait to see all my bridesmaids in these on the big day in May!! Thank you Azazie!!
Was this review helpful to you?
brandy_jenna15
Reviewed On:
February 17, 2015
Color:
Fuchsia
The dress was too long and did not close around the chest area. I did get measured for this and know have to fix my dress!!!
Was this review helpful to you?