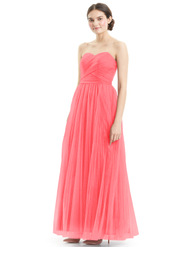 Azazie Mavis
Bridesmaid Dress
FABRIC: Tulle
$129
product info

Style Mavis by Azazie is a floor-length A-line/princess bridesmaid dress in a comfortable tulle. The lovely dress features a sweetheart neckline and back zip back style. A pleated detail at the front and back of the flowing skirt makes it perfect for the reception or a city hall wedding. Azazie's Mavis style comes in sizes A0-A30. Ask a question
Casey
Reviewed On:
2018-06-12 11:02:12
Body Type:
Apple
Size Ordered:
Custom Size
I sent in custom measurements for this dress and it was PERFECT. Instead of a bridesmaids dress, I used this for my wedding dress because I wanted something more simple.
dana_leigh1
Reviewed On:
2018-01-14 11:27:30
This dress is beautiful. Great quality. Does NOT look cheap as someone else mentioned. Very classy and made me feel like a princess. Gorgeous and comfortable. Would highly recommend purchasing this dress. I ordered 4 sample dresses including Yazmin and ended up not liking ay of them. Blindly ordered this one without trying it first and was more than pleased.
dana_leigh1
Reviewed On:
2018-01-13 17:07:59
Stunning dress. I felt like a princess but not out doing the bride.
gracethroughrain
Reviewed On:
2017-04-15 19:53:18
I am so thrilled with the mint green azazie mavis! I am 5'10 and wear a size 10/12. I got the dress custom made to my measurements and it fits like a glove ! Not only that, but the dress came two weeks earlier than expected. I am so happy. I cant wait to wear this to my best friends wedding. It will be the perfect maid of honor dress.
Britt
Reviewed On:
2016-12-18 19:43:46
This dress was perfect for the September burgundy/eucalyptus/natural tones wedding I was in. The tulle is much better quality than I was expecting! The color is a beautiful dark apple side of burgundy. I got it sized specifically to my measurements and it fit like a glove! Normally I hate strapless because they fall down and get annoying but this stayed up the entire night! It flowed with the breeze and was a dream to wear.
MirandaPanda
Reviewed On:
2016-09-14 09:04:51
This dress is beautiful! The tulle is so much better quality than I expected and it was delivered several days earlier than promised which is definitely reassuring. I ordered a sample so that I could see the Mavis dress in person before ordering it as my wedding dress, and I am very happy that I did. I really wish Azazie offered a sample for this dress in my size, it was a little difficult trying to envision myself when the sample was 4 sizes too large. The dress is beautiful nonetheless and the Dusty Rose color would be perfect for anyone wanting a blush colored dress. It is much more flowey and ethereal in person and will be perfect in Ivory for my vintage glam October wedding!
vlwillock
Reviewed On:
2018-05-17 10:42:22
Color:
Dark Navy
Body Type:
Straight
Size Ordered:
Custom Size
This dress is beautiful! I love the top tulle layer of the dress. It looks exactly as pictured and fits perfectly.
herecomethehermillers
Reviewed On:
2016-12-10 19:57:17
This dress is beautiful!! I ordered 8 in silver for all of my bridesmaids for my upcoming wedding. I was a bit anxious about making such a big order without seeing the dresses in real life but I loved the dress and after ordering color swatches, doing some research on the company, and their very helpful and quick responses, I put in a single order with 8 customized dresses. They arrived on the first day of their expected arrival window and are perfect!! Each has a tag with the customized measurements so we were able to easily identify which dress belonged to which girl. My mom will be doing a few slight alterations but those are needed due to weight loss and one girl that ordered her dress a little big on purpose (she's large chested and was worried the dress would be too small). The fabric is beautiful and flowy and the girls all look amazing! I'll post photos after my wedding! Thank you for the gorgeous and affordable dresses, Azazie!
danielletudor05
Reviewed On:
2016-10-07 10:23:19
Great quality and the color- dusty rose- looks so much better in person! This is the dress that the Bride chose!