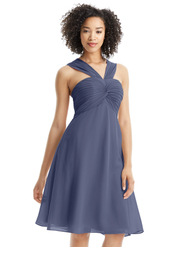 Azazie Mariana
Bridesmaid Dress
FABRIC: Chiffon
$99
product info

Style Mariana by Azazie is a knee-length empire bridesmaid dress in an exquisite chiffon. The charming dress features a v-neck neckline and bow/tie back back style. A pleated detail at the front and back of the flowing skirt makes it perfect for the reception or a city hall wedding. Azazie's Mariana style comes in sizes A0-A30. Ask a question
Refine Reviews By:
Sort By:
Ratings (Show High to Low)
Helpfulness (Show High to Low)
Kellyanntuttle
Reviewed On:
September 01, 2017
I absolutely wish I never bought this dress. Here is why; 1. The dress doesn't fit me. Due to issues on my end (not Azazies) I didn't have time to order a sample to try on so I had to go on blind faith that it would fit. To top it off I am 39 weeks pregnant for the wedding I am wearing this in next weekend so it was difficult to judge what size to order. The dress JUST fits my pregnant belly but is too big in my bust and the shoulder straps fall off my shoulders. Very unflattering on my pregnant body. 2. The dress is listed at 99$ USD but I am in Canada so after exchange rate and shipping the dress is about 200$ for me. 3. I had to have a rush fee of an extra 50$ because Azazie said they couldn't guarantee it would be here by Sept 9th (wedding date - I ordered end on July). EVEN with the rush fee it wasn't estimated to ship till Aug 31st-Sept 14th!!! Then it showed up in the first two weeks of August. So i feel like I was cheated out of an extra 50$ to unnecessarily rush this order. 4. To top it off I was charged an additional 65$ custom fee when it arrived. I couldn't send it to my American p.o. box because Azazie doesn't allow that. In the end this listed 99$ USD dress cost me almost 300$ Canadian (that's before I have it altered to actually for me). And it's not even flattering to wear. I realize Azazie cannot control or necessarily be blamed for all my reasons I am unhappy with this purchase but I can offer this as a warning to non US residents that this is a gamble to order from them. You might as well go to a David's Bridal store where you can try the dress on and talk with a consultant; it'll cost about the same for the same quality.
Was this review helpful to you?
econrad
Reviewed On:
September 22, 2017
Dress is nice. It will need minor alterations as expected with all dresses ordered specifically for weddings. Somewhat UNHAPPY with the process. I ordered the dress. It gave a date of when to expect delivery based on "normal" delivery time. This did not fall into the time frame that the dress was needed. I had to pay an extra $60 in shipping to expedite shipping and that put delivery to within 2 days of the wedding. So, dress wasn't supposed to arrive at destination until somewhere between 9/28 and 10/5/17 and it arrived during the 1st week of September. I feel that I deserve a refund on the expedite fee since the dress clearly did not need to be expedited in the 1st place arriving long before the shipping that I paid for. Just another way to make an affordable dress less affordable. After alterations and shipping which will cost more than the actual price of the dress. SCAM!
Was this review helpful to you?
lfunderburk
Reviewed On:
September 16, 2017
This was the best of the six samples I tried. The empire waist was high enough to be flattering. (I have a little waist, wide hips, and a 32A bust. Hooray.) The straps are pretty weird, though on my very modest bustline. I don't have enough chest to pull off the Mother-of-Dragons look. I sent a pic to the lady who does my alterations and she said it is possible to change the straps so that they're more of a traditional halter style.
Was this review helpful to you?
abrown
Reviewed On:
September 14, 2017
Didn't fit my body type well. Still beautiful and great fabric!
Was this review helpful to you?
jbjkbbmbkklk
Reviewed On:
August 10, 2017
So far this is the winner!! Love the fit!
Was this review helpful to you?
sarahmcelhaney
Reviewed On:
December 07, 2016
This was a wonderfully unique yet cleavage-covering choice! A bridesmaid of mine selected this as her favorite (with the $10 dress try-out offer), and we were both trilled to see how flattering the style turned out. We may take the bow off the back, but besides that, it fit like a glove. I am also very happy with the material: I am having to be a bridesmaid myself, and I can say that the (*cough* more expensive *cough*) David's Bridal chiffon dresses do not feel nearly as lush.
Was this review helpful to you?
mrsjessiewomble
Reviewed On:
April 18, 2016
I ordered a dress using customer measurements and it fits perfectly! Got here in six weeks. Looking forward to wearing it to the wedding in July. Would definitely buy a dress from Azazie again!
Was this review helpful to you?
Jilliann Nicole Bryant
Reviewed On:
November 09, 2015
The dress fits perfectly thanks to the nice customer service lady I talked to who recommended it. She even extended my return policy for the previous dress I had ordered from the old size chart which was way too big on me. I had to pay $50 rush shipping to get the new size before the wedding, which I realize is because of custom tailoring, but it does take a little too long to receive the dresses in the mail standard shipping (about a month).
Was this review helpful to you?
stellamerteuil
Reviewed On:
September 23, 2015
Love, love, love this dress. It was slightly big on my daughter, but after a few alterations, it was awesome. The quality was amazing, and I would recommend Azazie dresses to anyone looking for quality, affordable dresses.
Was this review helpful to you?
aknodt
Reviewed On:
September 08, 2015
This is a great quality dress at a great price! It seems really well made and the fabric is quite substantial (not thin or cheap or anything). I ordered in custom sizing (my waist to hip ratio is very unusual it seems), and it fits perfectly! Also it arrived very quickly, less than 5 weeks after I ordered it. I did end up liking the sleeves less in person than I thought I would from the pictures online, in part I think because I incorrectly got the impression that they come together and gather with the rest of the material in the middle of the chest, but in reality they stop at the neckline which I think looks just a little odd. I realized, though, that I can tuck the sleeves into the dress for a really cute strapless dress, so that's a redeeming bonus!
Was this review helpful to you?