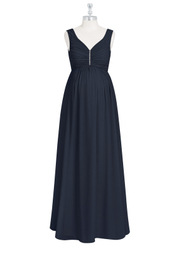 Azazie Madison
Maternity Bridesmaid Dress
FABRIC: Chiffon
$129
product info

Fun and flirty, this exquisite chiffon bridesmaid dress is appropriate for any wedding from the beach to the church. Your bridal party will love this charming floor-length empire dress with a v-neck neckline. Whether you dress it up with statement jewelry or down with flats and a cardigan, it epitomizes timeless beauty. Ask a question
Refine Reviews By:
Sort By:
Ratings (Show High to Low)
Helpfulness (Show High to Low)
Missaimeevarner
Reviewed On:
February 27, 2019
Body Type:
Apple
I loved the dress. It fit beautiful, and felt comfortable. I do wish it had pockets for my phone. I look forward to wearing this in my best friend's wedding!
Was this review helpful to you?
prettyinpink0290
Reviewed On:
February 01, 2019
Holy HECK!!!!!!!!!!!!!!!!!!!!!!!! THIS PLACE IS THE BOMB!!!!!!!!!!!!! My matron of Honor found out about 5 months before my wedding that she was pregnant. Cue my stress lol. Anywho, we ordered this the day that azazie upped creation/shipping time and was very very scared we werent going to get the dress in time. WELL SHE HAS IT!!!!!!!!!!!!!!!!!!! 6 weeks before the wedding!!!! THANK YOU will never be enough!!!!!!! One less stress on my plate!!!!!!!!
Was this review helpful to you?
sarahviolet19
Reviewed On:
May 17, 2018
I am in my sisters wedding and will be 8 months pregnant. I did not like how this dress or the other maternity ones looked but I sampled this dress and two regular dresses and actually really liked how this one looked and fit. The others were not stretchy at all but this one had lots of room and I didn't feel super restricted. It was very long so I would definitely recommend doing the custom sizing. Out of the 3 dresses I sampled I ordered this one and am waiting on it to arrive. The other two were also great, but would not work for me and my growing belly.
Was this review helpful to you?
Hannah Ruiz
Reviewed On:
March 22, 2018
I ordered this dress for my sister, my matron of honor who at the time of my wedding was 8 months pregnant. We ordereda standard size in December, guessing at what size she would be come March and when the day came she looked so elegant. The dress fit perfectly and she was comfortable in her dress all night.
Was this review helpful to you?
jcrane4
Reviewed On:
March 08, 2017
I absolutely loved this dress. I ordered a sample in my size (10) and it fits like a glove. I'll most likely order one size up to make room for my growing belly (I'll be 8 months pregnant at the time of the wedding) but I'm definitely ordering this dress!
Was this review helpful to you?
berbkeecher
Reviewed On:
January 06, 2017
Dress did not fit that well, even though I did the custom size. Order was on time, fabric is great, customer service has been phenomenal!
Was this review helpful to you?