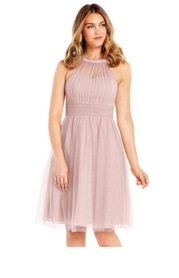 Azazie Mackenzie
Bridesmaid Dresses
FABRIC: Tulle
$119
product info

Fun and flirty, this simple Tulle bridesmaid dress is appropriate for any wedding from the beach to the church. Your bridal party will love this graceful Knee-Length, Knee-Length A-line/Princess dress with a Halter, Illusion neckline. A pleated detail at the front and back of the flowing skirt makes it perfect for the reception or a city hall wedding. 
MLGALLAGHER69
Reviewed On:
March 08, 2020
Color:
Spa
body type:
Straight
THE BACK PART BULGED -THE NETTING BUT REST OF DRESS FIT AS EXPECTED. JUST TOO MUCH MATERIAL /NETTING ON BACK OF DRESS- A SMALLER SIZE WOULDN'T FIX TTHAT ISSUE. THE SIZE WAS BIG BUT I ORDERED UP THE SIZE 2 BECAUSE ALL MY FRIENDS SAID TO. BUT I THINK MEASUREMENTS ARE ACCURATE AND I COULD HAVE GONE WITH THE SMALLER SIZE. COLORS ARE BEAUTIFUL AND VIBRANT. STYLE DIDN'T LOOK AS GOOD ON ME AS I HAD HOPED.
Was this review helpful to you?
Dallas.holden95
Reviewed On:
May 07, 2019
Color:
Burgundy
body type:
Straight
Size Ordered:
A8
My maid of honor got this dress for my upcoming wedding. She did a standard size. The dress was extremely too small. It goes below her knees, she couldnt get it to zip up, and the waist area is unflattering. All of my bridesmaids have to get major alterations done on their dresses.
Was this review helpful to you?
Mestrada474
Reviewed On:
May 02, 2019
Color:
Mulberry
body type:
Pear
Size Ordered:
Custom size
The dress was a little big in the back. The tulle hung and needed to be altered so it didn't sag. Overall the dress it beautiful, but my custom order still needed adjustments. Luckily it was too big and not too small.
Was this review helpful to you?
Alicia Rees-Drover
Reviewed On:
April 01, 2019
My girls got their bridesmaids dresses todaym while they're beautiful, i wish we had been warned about the customs that are added on when it gets delivered. We live in Newfoundland and the customs were $124. Which is ridiculous. Thats $62 each. So just be aware that you will get charged customs if you order any dress from this site.
Was this review helpful to you?
rnm.106
Reviewed On:
November 08, 2017
This dress looked soo good! I loved it. I will totally wear it again if the occasion arises. I ordered custom sizing and did the best I could. The fit was pretty close. The overlay fabric over the bust was a little excessive and I had to make an alteration to get the slack to be comparable with the under/structural layer that fit well against my bust. The alteration was simply enough but the excess definitely looked odd without it. I picked this style because I thought it would flatter my broad shoulders and IT DID!! IF THAT'S YOUR AREA OF CONCERN THEN TRY IT!
Was this review helpful to you?
Sara
Reviewed On:
September 11, 2017
Thank you Azazie for the beautiful bridesmaid dresses. The color I wore was Watermelon I ordered custom sizing, it came quicker than expected and fit perfectly.
Was this review helpful to you?
gabiethompson
Reviewed On:
June 06, 2017
Color:
Peach
This dress was fine, but the neckline was strange. THe strap over the shoulders ended up looking like a 90's era choker, which is certainly not the look I'm going for. This dress did feel well-constructed and flowed nicely over my hips. Zipper worked well. Overall, an OK dress, but not right for me.
Was this review helpful to you?
N
Reviewed On:
March 03, 2017
It was cute but the tulle was a little scratchy on my arms in the few minutes I had the sample dress on. Dress was huge on me so I can't really comment on sizing.
Was this review helpful to you?