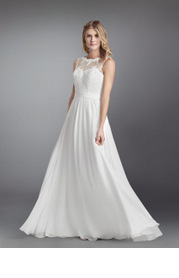 Azazie Macaria BG
Wedding Dress
FABRIC: Chiffon and Lace
$199
product info

Dress Macaria BG by Azazie is a fabulous chiffon and lace bridal gown featuring an illusion neckline on a floor-length A-line skirt. The back of the gown is finished with illusion back style. Available in sizes WD0-WD30 at Azazie. Fine lace covers a fitted bodice above the skirt, this perfect maids frock has a dash of romance. Ask a question
acockesteb
Reviewed On:
2018-04-11 10:35:05
Color:
Ivory
Body Type:
Straight
Size Ordered:
WD14
Beautiful dress, great fit. A little too long for me. Wasn't as flattering as I was hoping for. I ended up going with a shorter dress.
sarahnorberg5
Reviewed On:
2018-01-02 14:00:01
Color:
White
Size Ordered:
WD2
I love this dress! Was a little wary of ordering it online without ever seeing it but it fits perfectly. The illusion neckline is perfect because you get a little of the strapless feel without having to pull up your dress all day. Only thing is I need to get it hemmed because I'm 5'5" and it came very long, and the lace on the throat may become a little scratchy over the course of a day. Overall very happy with it and would definitely recommend this dress and this company.
theresatherriault22
Reviewed On:
2017-11-09 04:18:20
I just received my dress yesterday, and I am so in love! It fits perfectly, and is exactly what I have always dreamed about in terms of simplicity and elegance. The Macaria was the dress I had loved from the beginning of my searching, and I outright bought it because it wasn't available as a sample for awhile and I was impatient. I especially like that the material is not itchy or heavy, and I can move freely in it (VERY important component for the DANCE FLOOR!) I cannot wait to walk down the aisle in this dress-it is absolutely perfect.
Severena Whirry
Reviewed On:
2017-09-21 13:07:52
I absolutely loved my dress! It was light weight and fit perfectly. The style was exactly what I wanted. It was simple and elegant.
gatersauce
Reviewed On:
2016-07-08 11:28:32
This is going to be my wedding dress! I ordered the sample, so I'm adding pictures of me in the sample, and I will try to update once I order and receive my actual dress. I thought that the 14 would be too small on me, but it was the largest sample size they had, and it ended up just being a little too tight, but still able to zip all the way. It is beautiful, and looks just the way I thought it was going to look. It is very light and flowy, which I love because I want to be able to dance and be comfortable. I will agree with the previous reviewer that the top might end up being a little itchy/irritating, but I have pretty resilient skin. Beautiful dress!
ckaufman33
Reviewed On:
2016-01-20 08:21:40
This is a gorgeous gown and really did look exactly the way I thought it would, but unfortunately the detail in the illusion neckline and the underarm area wasn't soft enough. It was scratchy and I was blotchy around my collarbone and shoulders within having it on for 5 minutes. If you don't have sensitive skin, it might work better for you. As far as sizing, a size 10 fit me pretty well, but was a little long. I am 5'4'' 150lbs. You would need to get some type of cups/inserts because you cannot wear a strapless bra with this and it's not tight enough in the bust to support you. I wear a 34 DD, and it was still a bit loose on the bust. Hope this helps!
krislynn4031
Reviewed On:
2018-07-19 12:54:20
The size I wanted wasn't available so I went a size up. I love this dress so excited to order it for real! Love the illusion scalloped neckline its a classic modest dress, but definitely not prudish it shows the right amount of skin.
krislynn4031
Reviewed On:
2018-07-19 12:41:52
I ordered the wrong sample size as it was close enough and was what was available. I loved this dress especially the scalloped neckline. Also seems very movable as I plan to dance at my wedding. Illusion neckline is great too I don't have to worry about the dress sliding down. Modest, but flattering.
Juliana Heinemeyer
Reviewed On:
2018-07-19 05:45:18
This dress is BEAUTIFUL! I absolutely adore it and it looks identical to the picture. I did the "Try at home" for $25, which is awesome, and fell in love with this dress! This will most definitely be my wedding dress.
Stephanie.colleen.16
Reviewed On:
2018-02-15 08:44:40
Color:
White
Body Type:
Pear
Size Ordered:
WD26
I thought it would take forever to get here but only took a month! I ordered custom size and put in a bigger size then I needed because I didn't know how their sizes are but it's exactly what I ordered ! Once I get it altered and put some bling on it it'll be perfect ! :D
madisonlynfitz
Reviewed On:
2017-07-17 20:17:58
Color:
Ivory
I had the dress custom-sized, as I am much shorter than the standard sizing, and when I tried on the recommended size in the sample, it was MUCH too big in the bust. While I LOVE this dress and am very excited to wear it for my wedding next spring, even my custom size was still too large in the bust, and the measurement guides didn't mention anything about the boning needed to be taken into account when giving waist measurements--I couldn't zip it, but I had my measurements taken by a professional! Overall, I'm pleased, but I will need to have it altered, which was something I was hoping to avoid.
tofu72013
Reviewed On:
2017-03-02 06:58:59
Gorgeous material - just did not look flattering with my body type (tried on at home as a sample)