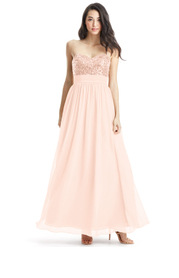 Azazie Lucy
Bridesmaid Dress
FABRIC: Chiffon and Sequined
$129
product info

Fun and flirty, this gorgeous chiffon and sequined bridesmaid dress is appropriate for any wedding from the beach to the church. Your bridal party will love this lovely floor-length A-line/princess dress with a sweetheart neckline. A pleated detail at the front and back of the flowing skirt makes it perfect for the reception or a city hall wedding. Ask a question
Refine Reviews By:
Sort By:
Ratings (Show High to Low)
Helpfulness (Show High to Low)
ceoppsg
Reviewed On:
May 11, 2018
This dress was absolutely beautiful on my daughter. The picture doesn't do this dress any justice!!
Was this review helpful to you?
Emily P
Reviewed On:
February 16, 2018
This dress was amazing! I have been in several weddings where I wore Azazie dresses, so when it was time for my wedding I only looked at putting my girls in Azazie dresses! And it did not disappoint! My bridesmaids were in the Estrella dress and my Jr Bridesmaid was in the Lucy dress. This was perfect because they all matched but my Jr Bridesmaid (my sister) stood out. My sister is 13 and didn't want her looking too old or grown up and this dress was perfect for that! She did the custom fit and we were a little nervous with a growing teenager that it wouldn't fit come wedding time, but it was beautiful and perfect! Just make sure you truly put the right inches in your custom fit because it is exactly true to size. The only complaint was the sequins scratched her arms when she put her arms down, but if that's the only complaint then these dresses are amazing! Thanks Azazie for always providing the perfect dresses. I tell every bride I know about Azazie and how I have only had superb experiences.
Was this review helpful to you?
Jlshriver11
Reviewed On:
December 15, 2017
These dresses were gorgeous. Perfect amount of sparkle, color was exactly how I pictured ! I couldn't have asked for a more beautiful dress. So many compliments!
Was this review helpful to you?
Elizabethm968
Reviewed On:
November 18, 2017
Beautiful gowns - so feminine and so glittery but not overly so. The color was stunning and they all "glowed" around our beautiful bride. The ladies all agreed they were very comfortable too! Such a breeze to order - all the dresses fit perfectly and we bought extra chiffon so we were able to do matching pocket squares for our groomsmen. We will definitely use Azazie again!
Was this review helpful to you?
ty
Reviewed On:
September 27, 2017
Great value for the price. This dress had better quality than some designer bridesmaid dresses that cost me $200, and the shipping was much faster than originally quoted. I loved the sparkly top and flowy bottom, so cute. The white elastic on the bust was the only improvement I'd recommend matching it to the gown, because it kind of shows on the strapless designs.
Was this review helpful to you?
Taylor D.
Reviewed On:
September 20, 2017
I absolutely love love love this dress! It's very different than other basic bridesmaids dresses you've seen a thousand times before, yet it is still understated enough to let the bride stand out on her day. I was a little afraid about the sequins looking cheap, but they're actually great quality and make the dress look more expensive than it is. I think it runs true to size, and even without alternations, professional photos, or great lighting, it is still very flattering. I can't wait to wear it to my sister's wedding in May!
Was this review helpful to you?
ashley
Reviewed On:
September 20, 2017
I loved this dress, and really love the simplicity of this website and how to order! I did a custom size and my dress fit me to a tee! Too bad though bc I got my dress really early and really kind of was hoping it was be a little to small so I could take my dress in a bit! None the less it was such a beautiful dress for such a beautiful wedding
Was this review helpful to you?
kdmoore
Reviewed On:
September 08, 2017
I loved the dress that I ordered. However, I ordered three different dresses from the bride's showroom for three bridesmaids and all of the dresses ran small and had to be let out. The dresses also run very long.
Was this review helpful to you?
forevermarceus
Reviewed On:
April 10, 2017
This dress is simply gorgeous! It is going to add the right amount of sparkle to my wedding! Shipped wayyy earlier than expected which was awesome! Bottom is very flowy so the most important measurements is the bust and waist in my opinion (unless you are very hippy). Too much fabric at the bottom can make you look wider than you are. We went with the smaller size of the two since my bridesmaid was in between a 14 and 16. The 14 gave her a perfect frame and we are just going to add additional boning in the breast area since she is busty and doesn't need a push-up. I can't wait for my big day.. I love these dresses!
Was this review helpful to you?