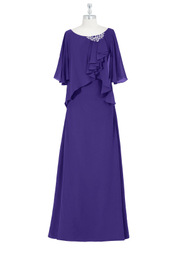 Azazie Lucille MBD
Mother of the Bride Dress
FABRIC: Chiffon
$166
product info

This floor-length, sheath/column dress by Azazie is constructed in a gorgeous chiffon. Lucille MBD features a back zip back style and a scoop neckline. Lucille MBD by Azazie comes in sizes A0-A30. We love this wrap dress for its universally flattering shape and soft cascading ruffles. Ask a question
Refine Reviews By:
Sort By:
Ratings (Show High to Low)
Helpfulness (Show High to Low)
kate12345
Reviewed On:
May 14, 2018
Body Type:
Apple
Size Ordered:
Custom Size
I wanted my Mom to look/feel beautiful at my wedding, but we didn't have much luck with formal wear options that could fit her shape. She became so disheartened after visits to department stores... Unless she went with a sleeveless dress, which was not a good option for a Chicago wedding in January, it seemed there were no dresses with sleeves that could accommodate her larger arms. And apparently all Mother-of-the-Bride dresses only come in like 5 boring colors?! A specialty shop offered to custom make a fitted sleeve dress for her, but she was nervous about spending so much money on a dress that might not be comfortable. Enter Azazie! I was already using them for my bridesmaids dresses and had gotten great feedback from my girls on the fit/quality of the dresses. I saw that they offered Mother-of-the-Bride dresses and looked through them with my Mom. We immediately were drawn to the Lucille dress with it's billowy, flattering sleeves that would be perfect for her, and Mom loved that she could pick from such vibrant colors. She couldn't believe the price either, and for a custom sized dress, too! I took her measurements, adding an extra inch to the waist and bust for movement. She was so nervous waiting for the dress to arrive, worried it wouldn't come on time or that it wouldn't fit right, but I still remember her happy call to tell me how well it fit. This dress was gorgeous and made my Mom feel like a million bucks, which rarely happens for her with clothes. The Lucille has a nice, draped looked, which is great for camouflaging the midsection, and the open, flared sleeves are terrific for bigger arms. We chose custom sizing and didn't need to make ANY alterations. The color (cabernet) was beautiful and the fabric quality was superb. It arrived in 3.5 weeks. I'd highly recommend this dress and Azazie!
Was this review helpful to you?
Juli Kemp
Reviewed On:
November 19, 2018
Body Type:
Straight
Size Ordered:
A10
I was delighted to take my dress out of the package and see that it was just as beautiful as pictured online----even prettier! Thank you for all your help in this process of ordering a dress for such an important occasion. Being allowed to order the dress in two different standard sizes and return the one that didn't fit made the process less daunting! I will be the grandmother of the bride, but will feel like a queen in my dress!! Juli Kemp
Was this review helpful to you?
pam77092
Reviewed On:
April 30, 2018
This dress is very heavy and does not look as pretty as in the picture. I ordered the Sage and it is very large and very wrinkled. Make sure your size is correct in ordering.
Was this review helpful to you?
kemnjm19
Reviewed On:
November 28, 2017
I am totally satisfied with my dress, glad I did Custom Size. This is a great way to shop ! Will be needing another dress for an April wedding. Thank you, Kathleen
Was this review helpful to you?
cindyfantl
Reviewed On:
November 03, 2017
This dress is very pretty. I did not buy a custom sized dress. I have 7 months before the wedding, so I will have it altered. It is a good quality dress. Love the chiffon. It has 2 layers under the chiffon, makes it too heavy and hot, so I will remove one of them. Dress was shipped in a timely matter. I would recommend buying from Azazie!
Was this review helpful to you?
Melanie
Reviewed On:
September 20, 2017
We ordered a custom dress for mom, and loved the results. The dress arrived in a garment bag and the fit was perfect. Mom felt like a queen! I would suggest this site to others as the price equaled the quality hands down.
Was this review helpful to you?
Terry Seretis
Reviewed On:
August 06, 2017
The dress is lovely. Unfortunately, I used the measurement guideline photo for the hip measurement, and it was too tight around my midriff (belly). And, my measurements were taken by a professional seamstress/alterations friend of mine. She is now in the process of altering the dress. I would recommend the dress, but advise to be wary and make sure the measurements are taken at the widest part of the midriff.
Was this review helpful to you?
Lori
Reviewed On:
July 25, 2017
Not only did I receive the dress for my Daughter's wedding two weeks early, I also received far more than I expected. The dress is perfect in every way. It's beautifully made. It fits perfectly. It's flowy and comfortable. It covers my arms nicely. It's everything I wanted and more. Thank you Azazie for being the only place I'll ever go when I want to feel special.
Was this review helpful to you?
kewlislandgirl
Reviewed On:
July 05, 2017
I so appreciate the level of service I received from Azazie support staff. I am a challenging size to fit, and having a dress made for me made sense. The Azazie staff promptly and courteously contacted me with concern for my submitted measurements might not be possible for my dress to be made with respect to the pattern. I was able to make adjustments, and my dress arrived 2 weeks early. The packaging was very good also having received a very nice dress cover was an added bonus. My only concern was that the dress is very wrinkled and I will need to find someone to steam the wrinkles out. The dress is beautifully made and fits me perfectly. No further alterations will be needed. This is a much better experience than my previous go rounds with wedding clothes at a brick and mortar shop. They ordered me a very large size and charged me major buck to alter it it fit me. The result was still an ill fitting dress. I am hoping that Azazie will expand to consider making a line of ladies career clothing using the same approach. When my other son gets married, Azazie is where I will go!!!
Was this review helpful to you?
kewlislandgirl
Reviewed On:
June 22, 2017
I love my dress!!!! Such a lovely shade of purple. I just got it today. 2 weeks early. It fits like a glove. I like the little extras like a nice dress cover to store it in and the ribbons that help keep it on the hangar. Nice touches. I am so elated. The only negative is that it is pretty wrinkled and I need to find someone I trust to steam the wrinkles out..
Was this review helpful to you?
ehoste
Reviewed On:
April 02, 2017
Love this dress for my mom! My mom is 80 (grandma of the bride) and has those dreaded large arms. I emailed Azazie before ordering to ask about the armhole measurement, They were so helpful and said all I needed to do was to email them with the order # and include the armhole measurement (with instructions how to measure). We ordered a custom dress and emailed the arm measurements. The dress arrived sooner than expected, fits my mom perfectly and is flattering to her figure. This dress looks very rich and the sleeves completely cover her arms. She is thrilled to have such a beautiful dress to wear to her granddaughters wedding!
Was this review helpful to you?
blondchick1189
Reviewed On:
March 11, 2016
Bought this for my mom to wear at my August wedding. It is a beautiful gown!!! The color Jade isn't as bright in person as it shows on screen, which was good since we didn't want it too bright. The only thing that was a little different than I expected is the crystal applique. Instead of a clear color, it has more of a colorful rainbow shine to it. It is still a very pretty decorative touch to the dress, though. The flutter sleeves on the dress are perfect for a hot summer day, while still offering coverage. Before purchasing, I measured my mom and went with the size closest to those measurements and it fits almost perfectly. We will just have to take it in a bit on the top and get it hemmed. For the price we paid, I feel the value is fantastic and I would highly recommend buying!
Was this review helpful to you?
livingwater4all
Reviewed On:
March 08, 2016
Sizing WAY off. Had to have it professionally altered.
Was this review helpful to you?
leboss
Reviewed On:
February 09, 2016
Very satisfied with my purchase. I had my doubts since this was the first time I had ordered through the web, but was pleasantly surprised at the results. I would definitely order from you again.
Was this review helpful to you?