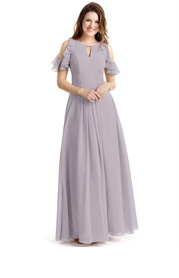 Azazie Logan
Bridesmaid Dress
FABRIC: Chiffon
$109
product info

Fun and flirty, this comfortable chiffon bridesmaid dress is appropriate for any wedding from the beach to the church. Your bridal party will love this chic floor-length A-line/princess dress with a scoop neckline. Ask a question
tiffany.posey9
Reviewed On:
2018-05-25 20:48:10
Size Ordered:
A4
This dress was BEAUTIFUL!! I don't like sleeveless dresses but the day was so hot, so this was the perfect balance. It fit just right, and was my exact size. The only negative: the cold shoulder was only attached right at the top so I had to pin the sleeves down so they wouldn't blow off in the wind. Overall though, I was so pleased with this purchase.
mhdess
Reviewed On:
2018-07-08 08:28:25
This is a beautiful dress, good quality and well made. I decided to go with a similar dress from a local company because I felt this dress was a little "thick" throughout the bodice. This was a sample so it is difficult to rate the sizing as it didn't come as a sample in my size.
shasta.kimbel
Reviewed On:
2018-06-20 13:10:08
Body Type:
Pear
This was great to be able to touch and feel the dress and try it on. It was a little long, but it was for a shorter person. Planning to order these dresses for my wedding and use the custom size feature!
Tammy Randy
Reviewed On:
2018-06-20 09:10:20
Body Type:
Hourglass
Fit well, very pretty. Nice fabric. The sleeves are weird and the only reason why I am not buying this dress and choosing something else. I like the open shoulder concept but the fabric for the sleeves is only attached at the top, so you have to adjust the sleeves to sit freely on your upper arm. Any movement, any breeze and you are essentially wearing a sleeveless dress with a piece of awkward fabric hanging off of it. It's too bad because the dress is really very pretty and flattering otherwise.
yanyanyui3
Reviewed On:
2018-04-15 06:31:30
Color:
Blushing Pink
Body Type:
Pear
Size Ordered:
A24
The dress is very pretty, well made, and the color is nice. The "sleeves" aren't really sleeves. They're fabric that lay over the upper arms, but they appear to stay in place well. The fit is just how I like it which is just slightly loose. The dress is very long, but I expected that. My only issue with it is that it came extremely wrinkled, but that can be fixed. I would definitely buy from this site again.