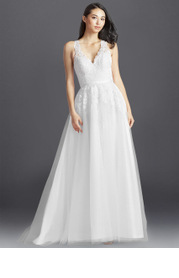 Azazie Leigh BG
Wedding Dress
FABRIC: Tulle and Lace
$299
product info

Dress Leigh BG by Azazie is a simple tulle and lace bridal gown featuring a halter neckline on a sweep train ball-gown skirt. The back of the gown is finished with back zip back style. Available in sizes WD0-WD30 at Azazie. Fine lace covers a fitted bodice above the skirt, this perfect maids frock has a dash of romance. Ask a question
Yvonne Reyna
Reviewed On:
2018-07-17 12:57:08
Body Type:
Straight
Size Ordered:
WD26
I love the dress I bought it for my wedding
Amanda
Reviewed On:
2017-12-27 15:56:32
I love this dress, and though I am early to the hunt, I am pretty confident this is the one. I'm currently a size 24 but hoping to lose a bit of weight before the wedding. I was dreading trying on -white- dresses, but I really love the way I look in this. It gives me shape and is very flattering. I think I will make some modifications to it if I end up getting it, but I'm overall extremely pleased! The photos are of me in a sample size 24.
Azazie Team Review
Reviewed On:
2017-10-18 17:55:28
Height: 5'5" Body Type: Hourglass Size Worn: 8 Usual Size: 8 For the fit I think it's perfect because it hides the the midsection well. I like the lace detail but in the back I would want a little less, just a smooth illusion would be perfect for me. If I didn't know the price I would say that this dress is very high quality, and I feel really comfortable to move and dance in this dress, I don't feel restricted at all.
Azazie Stylist Review
Reviewed On:
2017-10-17 17:47:26
Height: 5'4" Bust: 33" Waist: 27" Hips: 38" Body Type: Hourglass Size Worn: 2 Usual size worn: M This style is really itchy on the neck area, which would totally bother me. I do feel that it is really light, I don't feel weight down at all. I like the button and lace detail on the back. The quality is good and I can probably do burpee's in it. I feel this is flattering for my body type, and I like the ease of movement in this dress.
Azazie Stylist Review
Reviewed On:
2017-10-17 17:15:28
Height: 5'7" Bust: 54" Waist: 50" Hips: 61" Body Type: Big and Curvy Size Worn: 24 Usual size worn: 22/24 I love, love, love this style. It's extremely flattering, it's gorgeous. It's really flattering to my waist and cleavage. The lace details and the the halter back - <3. I feel really supported, it's very comfortable and if there was the circumstances for it, I could wear it to a wedding right now as is. My coworker and I both tried it on and looked *fabulous* in it. Seeing it on the both of us, would absolutely recommend it for every size!!
victoriabigay
Reviewed On:
2018-04-19 17:32:12
Body Type:
Pear
Fit well on my body type, but like the back. The front is beautiful but I wanted simpler straps. Definitely worth trying out!
Leporesabra
Reviewed On:
2018-03-29 10:35:18
Body Type:
Hourglass
Really cute dress, looks just like the picture, great quality. My only con is that the top sleeves were very uncomfortable and scratchy on my shoulders. I'm 5'6, 128 pounds and ordered a 2 but I still think I could have gone to a zero. In other shops, I was a 4 so I think these do run a little big.
pinkshockedd7
Reviewed On:
2017-12-05 10:42:57
I love the top part of this dress!! I am still seeking for the perfect dresses on this website for my special wedding day!
Sarah
Reviewed On:
2017-08-23 14:33:10
I'm so glad I decided to try this dress! It is exactly- if not better- than pictured. Came quickly and in nice packaging. Love the color and fit- it does leave a little room since I'm a size 8/10 and I tried an 8 so you have breathing room. Also 5 stars to the awesome customer service experience I just had with Alison