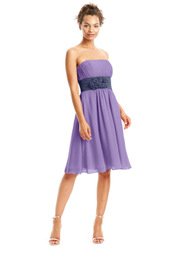 Azazie Kylie
Bridesmaid Dress
FABRIC: Chiffon
$99
product info

Style Kylie by Azazie is a knee-length A-line/princess bridesmaid dress in a gorgeous chiffon. The charming dress features a straight neckline and back zip back style. A pleated detail at the front and back of the flowing skirt makes it perfect for the reception or a city hall wedding. Azazie's Kylie style comes in sizes A0-A30. Ask a question
lindsay.cohn
Reviewed On:
2017-10-14 13:31:23
Color:
Burgundy
The dress is very pretty, but the sizing chart is way off. I originally ordered a different dress, based on matching my measurements to those in the sizing chart, and when the dress arrived it was far too large. I returned it and ordered this one, going down one size in the standard sizing chart (I was worried about going down two sizes, since that was WAY smaller than my actual measurements, and it's harder to deal with a too-small dress than a too-large one). This dress arrived just in time for the wedding, and was still too large. No time for the elaborate alterations that would be needed on a dress with so many layers/much fabric, so I sewed pieces of elastic into the dress - like a bra strap for the dress - so that at least the inch gap between me and the dress would be in the back instead of the front. That worked, dress stayed up, looked very pretty. I will take it to a seamstress and see how much it will cost to alter it to fit me, as I would love to keep it. If it's going to be expensive, though, I'll just have to sell it.
Erica Smithee Loewe
Reviewed On:
2017-08-18 09:06:35
Color:
Peacock
The dress arrived in beautiful condition, and was of very high quality. However, for my small frame, it totally overwhelmed me. I also have relatively large hips, and the additional fabric on the bottom only accentuated this. But, the dress did fit perfectly - just needed a different style!
Sandydink
Reviewed On:
2017-03-03 04:26:47
Color:
Burgundy
This dress fits perfectly! I have not ever bought clothing online and was fearful that the workmanship would not be good. This dress changed my mind about online shopping. Absolutely beautiful!
Lavivica Watts
Reviewed On:
2016-04-25 14:10:42
I absolutely loved these dresses, they wear stunning and perfect fits and made my wedding look beautiful.
cassienormand
Reviewed On:
2015-10-07 05:11:21
Color:
Silver
The dress was perfect it fit wonderfully.
stellamerteuil
Reviewed On:
2015-09-23 05:08:56
Color:
Jade
Gorgeous dress, wonderful quality. It fit my stepdaughter perfectly based solely on measurements.
nelsonkatieanne
Reviewed On:
2015-08-24 15:11:29
Color:
White
The dress is very true to size. I used my exact measurements and the dress came and fits perfectly. However, I am disappointed in the lack of attention to detail that was paid when making this dress. The dress is supposed to have a small clasp at the top of the zipper in the back. The dress that I received however, looks like it was sent out before it was completely finished. Only one side of the clasp was sewed on, making it useless, since it has nothing to attach to on the other side. It's a small detail, but I paid more than $100 for this dress that is supposed to be "hand made." One would think that this detail wouldn't be overlooked.
sarah_6_08
Reviewed On:
2015-07-29 15:52:23
Color:
Champagne
This dress is just as I imagined and arrived super fast!
Jill Donahoo
Reviewed On:
2014-11-20 22:16:37
They thought the dress was very elegant yet stunning, and loved the colors!